Editor's Note: This article covers a stock trading at less than $1 per share and/or with less than a $100 million market cap. Please be aware of the risks associated with these stocks.
My recent article written around the Super Bowl discussed several sports "derivative" industries, specifically sports apparel and equipment. Since then, the Winter Olympics in Sochi have provided a world stage for some of the companies discussed. The biggest story, alas not exactly a positive one, was perhaps the tale about speed skating suits made for the American team by Under Armour (NYSE:UA). In the second part of the article I will discuss other industries dependent largely on the professional sports, and hope to provide readers with more investing ideas.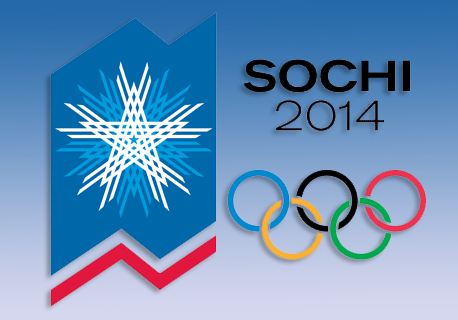 Media
In addition to the apparel and equipment manufacturers and retailers, several other industries are too large for the scope of this article. One example is sports game developers for PCs, mobile devices, and gaming consoles. The marketing and media markets certainly fit that category as well. As discussed in my original article on the business of sports, many media companies actually own interest directly in professional sports teams.
At the intersection of media and gaming is the fantasy sports business, which has grown to a surprising size, but most enterprises operating in it are tiny units of huge media and Internet companies. Yet if you thought that the giants aren't paying attention to it, perhaps the fact that one of Yahoo's (NASDAQ:YHOO) acquisitions last year was Bignoggins, a one-man fantasy sports app maker, will change your mind. The recent rise of the daily fantasy leagues combined with the push to legalize online gambling could be a catalyst to this group, highlighted by the micro-cap MGT Capital Investments (NYSEMKT:MGT). It is the closest to the pure play here, although with plenty of risk, while its two major direct competitors in the space have big corporate backing - FanDuel is backed by Comcast Ventures (NASDAQ:CMCSA) and DraftStreet by IAC/InteractiveCorp (IACI). Here's an overview of the daily sports fantasy sector by a fellow SA writer. In a recent development, Iroquois Capital Management, the largest shareholder, has delivered a letter to the company's board discussing specific points of their dissatisfaction with the company's recent direction. After an initial sell-off the stock has bounced back, but remains sharply down for the past 12 months.
One other company I would mention in the media context is Live Nation Entertainment (NYSE:LYV). Although the company derives significant revenue from production and promotion of music concerts, its 2010 merger with Ticketmaster provided it with a dominant position in sports tickets distribution. A fairly recent initiative by the company to provide ticket reselling marketplace combined with ticket authentication services is boosting the bottom line. So is its expansion overseas, especially in Asia, where plentiful opportunities remain untapped. Analysts have picked up coverage, and investors have taken a notice: the stock is at an all-time high, having climbed over 130% since the beginning of 2013.
Sports Memorabilia
One other niche play I'd like to mention isn't discussed much, yet relies exclusively on the sports industry for its livelihood - the sports card and memorabilia business. To be sure, the sports cards business has been in decline for years. Many companies have gone out of business or were acquired. However, the high-end cards and the sports memorabilia remains a viable if not thriving business, not unlike art, wine and exotic cars. Finding an investment opportunity in this space isn't easy, though. Famous card issuer Topps is owned by a private equity firm. Once a heavyweight Donruss, which over the years has acquired other brands like Score Board and Pinnacle, is now owned by Italian conglomerate Panini Group, which is engaged in seven businesses in addition to sports collectibles. SkyBox is a small subsidiary of a publicly traded diversified holding company Vector Group (NYSE:VGR). Upper Deck, which also owns once a formidable competitor Fleer, is the 800-pound gorilla in the card and memorabilia issuing space and is private. Several other tiny players like Press Pass are also private. Beckett Media and Steiner Sports, which both offer sports collectibles marketplaces and services such as grading, authentication (under BGS and Steiner brands, respectively), and in Beckett's case, pricing and collection organization tools, are both private companies. EBay (NASDAQ:EBAY) is the largest marketplace of sports memorabilia, but is obviously far from a pure play.
One place to look is Collectors Universe (NASDAQ:CLCT). The company doesn't issue its own cards but instead provides authentication and grading services to dealers and collectors of trading cards, event tickets, autographs and memorabilia. It also provides similar services for high-value coins, all under the PSA brand name, which is well-known in the industry. This business model provides the company with a steady and increasing revenue stream, as the increasing number of collectors, investors and dealers are looking to these services as a means to increase the values of their high-end collectibles and memorabilia. The company has $170M market cap, pays quarterly dividends at current yield of 6.75%, and the price has more than doubled since the beginning of 2013 before a pullback last week. The valuation may be getting rich at nearly 21 forward P/E, but Price/Sales ratio is at 2.8. As long as the business keeps growing and that dividend, unusually high for a small-cap, is sustainable, it may be worth keeping an eye on.
Conclusion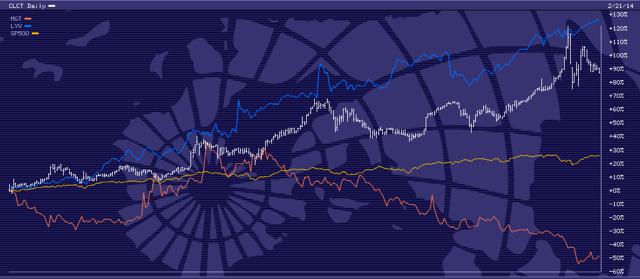 Source: MarketWatch BigCharts
With the professional sports industry growing, several potential investing opportunities remain in companies that benefit from sports derivative businesses. Collectors Universe, Live Nation Entertainment, and MGT Capital Investments are some of the choices to consider. Their relative stock price performance since the beginning of 2013 to date is charted above for reference.
Disclosure: I am long MGT. I wrote this article myself, and it expresses my own opinions. I am not receiving compensation for it (other than from Seeking Alpha). I have no business relationship with any company whose stock is mentioned in this article.