Last month, as I was flying from NYC to India for a business meeting, my company sent a cab from the usual taxi service we've been using for years. The only problem with this cab service is that they don't accept cards (cash only). But this time was different. At the airport, the cab driver took out his smartphone, plugged in his Square device, asked me for the tip amount, and it was done. As I settled in after the security check, I started to think about Square, Inc., which is planning to go public in 2014. I realized that the biggest beneficiaries of growth in mobile payments will be payment processing companies, such as MasterCard (NYSE:MA).
MasterCard's Past Growth
MasterCard is the world's second-largest processor of electronic payments, with global credit transactions market share of 33.5% and global debit transactions market share of 19%. Most people relate MasterCard to the financial services industry, whereas it is largely a technology company that uses its network to process millions of transactions between issuers and merchants every day. The company, which was founded in 1996, went public in 2006 at $39 per share and since then has provided its shareholders a cumulative return of almost 1,600%. This is a tremendous ROI for a company that has grown revenues by an average of 13%-22% in the same period. Despite this growth, the company is still in the early stages of growth. Its growth drivers are picking up pace, thus offering a nice entry point for those who want to invest in a safe, established technology company with a proven business model and fairly high barriers to entry.
Annual Revenue Growth for MasterCard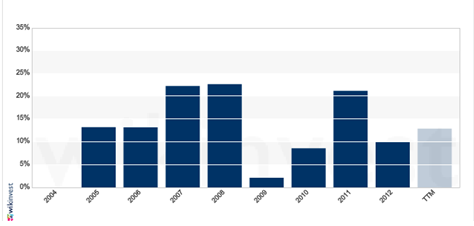 Source: WikiInvest.
MasterCard Future Growth Drivers
Global personal expenditure consumption is expected to rise by 4%-5% in the next five years, and that has an immediate impact on the growth of payment processing companies such as MasterCard. Any economic slowdown (as we are witnessing among certain European and emerging countries) has a direct influence on the top-line growth of these companies. However, there are other, non-obvious growth drivers that will continue to drive the double-digit revenue growth for MasterCard for the next five to 10 years, with little impact from cyclical factors. These growth drivers could largely be categorized into three areas:
1. Global migration from cash to electronic payments: Despite the significant growth in electronic payments in the last decade, 85% of global transactions still happen in cash and check form (56% in developed countries and 93% in developing countries). Excluding the U.S. and Northern Europe, the global transition from cash to electronic payments has happened rather slowly and insignificantly in the last decade. However, this is changing quickly, and apart from the obvious economic factors that are increasing the spending power of people in emerging markets, the biggest impetus behind the growth in global electronic payments is coming from governments throughout the world that have a vested interest in expediting this transition. This is because any reduction in a cash-based system in an economy adds a few more basis points to a country's GDP, as a result of the increased tax revenue and savings from printing lesser currency.
This sentiment was recently conveyed by the CEO of MasterCard, Ajay Banga, on the company's Q4 2013 earnings conference call:
The fact that we had a significant proportion of our growth in emerging markets comes from the secular shift to electronic payments, which I think is relatively uncorrelated to some of the economic cycles that we see the emerging markets are currently going through.
For instance, in 2012, the Italian government passed a law that requires all business transactions above 1,000 euros be done electronically. This has helped the government collect more tax revenue in 2013. Similarly, the governments in Nigeria and South Africa have issued biometric cards, in partnership with MasterCard, to distribute subsidies and welfare among their people. While these programs were intended to make sure that the full benefits pass down the system to the recipients, they have also helped MasterCard bring in more revenue from the emerging markets by increasing consumers' reliance on payment cards.
Recently, the company signed an agreement with EcoBank, the largest pan-African bank which reaches 65% of the African population. As per the agreement, the bank will issue MasterCard-based credit, debit, prepaid, and other payment solutions in 23 countries in Africa. Similarly, in India, the government is in the process of issuing biometric cards to each of its citizens (program Aadhar) and is investing in its payment infrastructure to minimize tax evasion.
2. Mobile payments: In 2013, the global value of transactions facilitated by mobile devices is estimated at $235 billion, of which $37 billion worth of transactions were generated in the U.S. alone. This number grew by 44% from $160 billion in 2012 and is estimated to rise to $721 billion by 2017 at an annual growth rate of 35%. Although much of the earlier growth in electronic payments came from developed countries, the growth in mobile payments will be fueled by the increased mobile penetration in emerging countries. This is due to the fact that in Africa and South East Asia, mobile payments serve as an alternate route of economic activity, since banking infrastructure is poor or nearly nonexistent. Some may argue that the growth in mobile payments will offer little benefit to the card payment companies, as consumers are just changing the channel here, but the payment method is still the same, since these are the same people who were using the electronic cards for most transactions anyway.
However, the idea here is that the growth in mobile payments will help boost the worldwide speed of adoption of electronic payments. For example, in India 90% of the retail stores are still mom and pop stores that do not take credit or debit cards. However, many of these mom and pop stores will prefer to accept and process cards via mobile in the future (using devices like Square), since the infrastructure cost of doing so is almost negligible. All this is bolstered by the fact that the mobile penetration in many of these developing countries has already surpassed the internet penetration, thus providing an upper hand to the mobile payments. MasterCard has recognized this opportunity and is working aggressively with telecoms throughout the world to upgrade their infrastructure in order to allow for the safer and seamless mobile payment transactions.
3. Co-branding and digital analytics: The third and probably the least known area of growth for MasterCard is its co-branding and digital analytics business. The co-branding business allows MasterCard to leverage its technology to provide credit services to loyal customers of different companies. The co-branding business is a significant business in the U.S. that is growing at a double-digit growth rate. MasterCard is a leader in this space, winning almost 60% of the total brand market share over the past 12 months, and the company is expanding aggressively by signing more deals and leveraging its data analytic capabilities to provide a greater value to its customers. The company recently signed a deal with American Airlines, the world's largest airline (after its merger with United Airlines), and is at the forefront of product innovation in the co-branding business. In the future, I see opportunities for the company to go beyond larger companies and partner with local businesses (through partnership with companies like Yelp), as well as benefit from the growth in rewards program industry.
With the above-mentioned growth drivers, and the rise in global income, MasterCard has a long runway for growth and possibilities ahead of it. For these reasons, MasterCard is an investment for every long-term serious investor who wants a less risky, high-growth technology investment in his or her portfolio.
Disclosure: I have no positions in any stocks mentioned, and no plans to initiate any positions within the next 72 hours. I wrote this article myself, and it expresses my own opinions. I am not receiving compensation for it (other than from Seeking Alpha). I have no business relationship with any company whose stock is mentioned in this article.