J.C. Penney (NYSE:JCP) has been a heavily discussed company in the run-up to its Q4 earnings report. The last article I wrote generated a lot of discussion, so I figured that I would attempt to address some of the questions in a full article. Below are 10 questions answered about J.C. Penney.
How much did the weather negatively affect J.C. Penney's sales in December and January?
Yes, the weather did have an impact on sales, but not as much as one may think. Seasonally adjusted sales for department stores fell 0.8% from November to December and 2.3% from November to January. If we assume that decline is wholly attributable to weather, then without the effect of weather, J.C. Penney would have done the following:
| | | |
| --- | --- | --- |
| Month | ($ Million) | Same-store Growth |
| November | $1,242 | 10.1% |
| December | $1,978 | -0.1% |
| January | $595 | -1.3% |
| Total Q4 2013 | $3,815 | 2.8% |
Without the weather-related impact, J.C. Penney would have improved Q4 same-store growth from 2.0% to 2.8% or by a total of $30 million during the quarter.
Why do you keep dismissing November's 10.1% sales growth?
I see November's sales growth as primarily driven by a one-time event (competitive opening hours on Thanksgiving/Black Friday). In 2012, J.C. Penney opened at 6 a.m. on Black Friday (the busiest shopping day in the year) while its main competitors opened at midnight. According to a National Retail Federation survey, 28% of Black Friday shoppers started shopping at midnight or before, and 40% had already started shopping by 5 a.m. By the time J.C. Penney opened, these shoppers would have already spent a lot of their money (or even finished shopping) and J.C. Penney is left competing for the leftover spend.
What is especially puzzling about the decision to open at 6 a.m. on Black Friday in 2012 is that J.C. Penney had in 2011 already "noted that its decision to respect Thanksgiving Day for families and open at 4:00 a.m. on Friday, as it had in prior years, adversely impacted Black Friday sales." Ron Johnson decided to make this adverse effect even larger by opening two hours later in 2012, while more shoppers started shopping earlier in 2012 compared to 2011.
J.C. Penney is not going to be able to significantly boost comps at any other time of the year by simply deciding to open at the same time as other competitors. As well, there was the effect of Hurricane Sandy. That effect wasn't as large as the Black Friday opening hours effect, but if you are going to adjust December and January sales due to FY2013 weather, you also need to account for weather in November 2012 sales.
Isn't J.C. Penney a bargain because it is trading for well under book value?
Just because something is trading for below book value doesn't make it a bargain. J.C. Penney's book value is also dropping quickly as it continues to lose money. J.C. Penney's book value was $8.69 at the end of Q3 2013. It will probably be $1 lower after the Q4 report and fall by several more dollars during 2014 unless J.C. Penney can demonstrate significant sales growth. As well, a large part of J.C. Penney's assets are not particularly liquid. To realize a fair value for some of its real estate would likely take a significant amount of time, as well as incurring additional costs related to store closures.
As for the idea that J.C. Penney can sublease out space in its stores for substantial amounts of income, Sears has been mentioning that idea for a while with very limited progress. It appears very doubtful that J.C. Penney will be able to generate anything from that idea that makes a difference with its current situation.
What about the improving trajectory? Q1 2013 was -16.6%, Q2 was -11.9%, Q3 was -4.8%, Q4 was +2.0%. Shouldn't that make Q1 2014 +9.0% or so?
I've discussed this in past articles, but you can either improve comps by increasing the numerator (current sales) or decreasing the denominator (prior year sales). In J.C. Penney's case the seasonally adjusted numerator has stayed the same while the denominator has decreased. This will change in Q1 though since seasonally adjusted sales bottomed out in Q4 2012.
Below is a look at Q1 vs. Q4 sales in millions (excluding the 14th week where applicable). Between 2006 and 2011, the change in sales between Q1 and Q4 averaged 44%. In 2012, the change in sales was only 18.1%, indicating the marked deterioration in sales throughout the year. In 2013, the change in sales was 43.6%, which is a pretty typical number for J.C. Penney. Instead of an 18.6% improvement in comps between Q1 2013 and Q4 2013, Q4 2013 numbers are basically where you'd expect them to be with flat or minimal growth from Q1 2013.
Basically, if this sales trajectory continues, Q1 2014 comps will be close to zero (I'd estimate between -2% and +2%).
| | | | |
| --- | --- | --- | --- |
| Year | Q1 | Q4 | % Chg |
| 2006 | 4220 | 6410 | 51.9% |
| 2007 | 4356 | 6390 | 46.7% |
| 2008 | 4127 | 5759 | 39.5% |
| 2009 | 3884 | 5550 | 42.9% |
| 2010 | 3929 | 5703 | 45.2% |
| 2011 | 3943 | 5425 | 37.6% |
| 2012 | 3152 | 3721 | 18.1% |
| 2013 | 2635 | 3785 | 43.6% |
The J.C. Penney stores in my area look very busy. Isn't this a sign of recovery?
I've expressed my skepticism about the usefulness of store checks (especially when done on a small scale) to determine sales levels in a previous article. It can be very difficult to tell how well a chain is doing by a store check, especially if you do not have the information to adjust based on typical traffic levels by time of day, day of week, etc.
The difference between bear and bull estimates for Q1 is probably around 10%. Basic store checks aren't going to be able to accurately distinguish where J.C. Penney is falling within that 10% difference either way.
For example. there were positive comments about J.C. Penney store checks in comments during December and January articles (when sales turned out to be flat to down versus last year), and also some positive comments about J.C. Penney store checks (and positive comments from store leaders, so asking employees doesn't seem to be particularly accurate either) in articles such as this one from last year (during a quarter where J.C. Penney put up -31.7% comps).
As well, there have been mentions of old customers returning for months now, but J.C. Penney's sales reports during that time have not borne that out (see the trajectory question above). If old customers are returning, they seem to be offset by other customers leaving.
What about the improving liquidity? Liquidity is going up from $1.71 billion in Q3 to over $2 billion in Q4.
Liquidity nearly always goes up in Q4 due to conversion of inventory into cash and substantially lower inventory levels after Q4. J.C. Penney increased liquidity by $405 million in Q4 2012 despite posting a net loss of $427 million that quarter (excluding charges). Liquidity will start to fall over the next three quarters as inventory gets replenished, likely reaching a low in Q3, which will be the most critical point for liquidity.
Couldn't J.C. Penney go up significantly due to a short squeeze or momentum?
Sure, J.C. Penney potentially could go up quite a bit due to short squeezes or momentum or other factors. Unless there is something tangible supporting it (such as markedly improved guidance), J.C. Penney is very likely to fall back down like it has during every run-up over the last couple years though.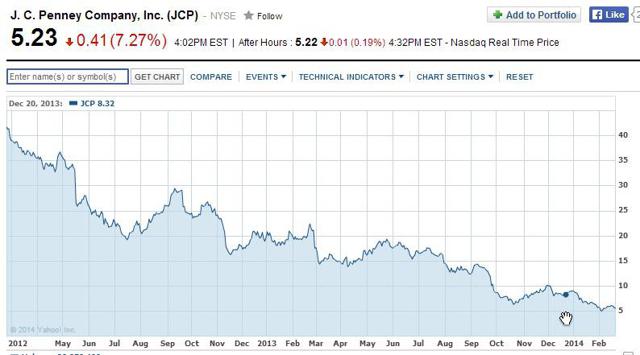 I'm not really into short-term trading strategies as much though, so personally I'm generally only interested in going long in these situations if I believe there is some reason to hold on to the stock if the short squeeze or other momentum play doesn't pan out. In J.C. Penney's case, I believe the stock is still currently overvalued without very significant growth and margin improvements. Obviously, even if a valuation estimate is fairly accurate long-term, prices can diverge greatly from that mark in the short-term.
What about a new CEO?
A new CEO could definitely help J.C. Penney's future. However, one argument that has been used by bulls recently is that retail turnarounds take time, and that it takes a while for a new CEO (Ullman replacing Ron Johnson in the current example) to be able to effect change. If FY2013's results are still attributable to Johnson (as has been claimed by some), it seems unlikely that another CEO change will have a significant impact in FY2014. A huge amount of extra damage will have been done to J.C. Penney's financial position before another CEO can make a major impact.
Is J.C. Penney worth a lot more if it can get sales above $14 billion and restore gross margins, while controlling SG&A?
Yes, J.C. Penney would be worth a lot more if it can do that. However, most companies would be worth a lot more if they can greatly improve performance. The issue is actually accomplishing that. As noted above in the trajectory answer, J.C. Penney has shown no indication that it can actually increase sales so far. If J.C. Penney is unwilling to provide guidance for at least high-single digit growth for 2014 during the upcoming earnings call, getting back to $14 billion would not be a realistic assumption. If management is unwilling to commit to getting to at least $12.5 billion (+5% to +6% comps) during 2014, there is no reason to believe that $14 billion is going to magically appear.
Gross margin improvement is probably a lot more achievable, although thoughts of 2010's 39.2% gross margin are probably very optimistic. An increasing reliance on lower margin Internet sales, the fixed nature of some warehousing, purchasing and distribution costs (which affect gross margin), and the heavily promotional nature of the current retail market makes me believe that gross margin will eventually top out in the 36.0% to 37.5% range instead.
As well, Ron Johnson already implemented $900 million in annual run-rate cost savings. J.C. Penney is a pretty lean company now. There are probably some additional cuts that it can make, but only if it decides to be a $12 billion or smaller company, not a $14 billion company. For example, slashing advertising some more is not what companies that want to grow by 20% do.
Aside from that, J.C. Penney will need to increase capital expenditures in future years if it wants to compete properly. A situation where it continues to lose money and have limited borrowing capabilities will prevent it from doing so, and consign it to a competitive position like Sears, which has been skimping on capital expenditures for a while.
What happens if J.C. Penney doesn't go bankrupt soon?
The short position doesn't require J.C. Penney to go bankrupt soon. By most valuation metrics, J.C. Penney is already overvalued without a very significant increase in sales and gross margins. Note that simple valuation metrics such as price to sales aren't very useful since that ignores J.C. Penney's heavy debt load. Using metrics that actually account for the debt load indicate that J.C. Penney needs a lot of improvement to even be worth its current amount.
Shorts also have recognized that J.C. Penney needs huge improvement in several areas over an extended period of time to even become free cash flow positive. J.C. Penney is still losing a lot of money each quarter, increasing the chance of dilution or maxing out its borrowing capabilities. Any additional borrowing will also increase its interest expense, and reduce its ability to become free cash flow positive even with improved metrics.
Each quarter that J.C. Penney fails to show significant improvement in its metrics does greatly increase the chances of a bankruptcy filing. If J.C. Penney cannot provide strong Q1 sales guidance, it reduces the probability that future quarters will be strong as well since retail turnarounds tend to be slow. Guiding for +5% for Q1 would probably put something like +8% within potential reach for Q2 if improvement continues (which is not guaranteed of course). However, guiding for +1% (or providing no guidance for Q1) probably indicates that in a best case scenario, Q2 will be at +4% or less, even if there is improvement towards the back half of Q1. Such a scenario would push Q3 liquidity well below J.C. Penney's targeted minimum level of $1 billion.
Disclosure: I am short JCP. I wrote this article myself, and it expresses my own opinions. I am not receiving compensation for it (other than from Seeking Alpha). I have no business relationship with any company whose stock is mentioned in this article.