Shares of Priceline.com Inc. (PCLN) are off sharply in early trading after the company announced earnings for the first quarter. On the surface, the numbers were strong. Revenue for the first quarter eclipsed a half-billion coming in at $584.4 million. This is a 26.5% increase over revenue for the first quarter of 2009. Earnings were even more impressive with EPS at $1.70, good for a 56% increase. The earnings figure beat consensus estimates by 4 cents, but the revenue came in about 2% below expectations.
While the historical numbers should be viewed positively (although analysts have become accustomed to the company actually beating expectations), the forward guidance was concerning. Management is guiding investors to expect earnings between $2.50 and $2.70 for the second quarter. This is an important quarter for the company given travelers tendency to book summer vacation trips. Revenue is expected to increase 18% to 23% which is significantly below the 25.8% average expectation.
Guidance for the second quarter still reflects growth for the company, but challenges are certainly pressuring that growth:
The Iceland volcano caused widespread disruptions in air travel which resulted in a significant increase in hotel room cancellations for our Booking.com business. Civil unrest in Thailand has substantially impacted hotel room reservations in Thailand, which is a key market for Agoda and Booking.com's Asia business. Lastly, sovereign debt concerns in Europe have resulted in a significant decline in the value of the Euro as compared to the U.S. dollar which adversely impacts our financial results as expressed in U.S. dollars. ~Jeffery H. Boyd, CEO
Priceline's stock price has been extremely volatile over the last week. This is in stark contrast to the sustained positive move which investors have enjoyed for well over a year. After setting a low near $45 in December of 2008, the stock has rallied more than 500% to its recent high above $270. And despite the sharp increase, the earnings multiple is not overwhelmingly expensive at this time.
Using the forward consensus earnings expectations of $11.21 for this year (which will likely be reduced after the earnings report), the stock is trading at just 18 times forward earnings. But while that number may appear reasonable, I expect these expectations to be reset lower and potentially continue to be adjusted as we move through the year.
Debt issues in Europe are almost certain to continue to be a problem. Yesterday (Monday) the Euro made very little progress against the dollar despite the fact that a $1 trillion dollar bailout package was put into play. If the Euro can't rally on this type of stimulus, then it is difficult to see what would pull it out of its decline anytime soon.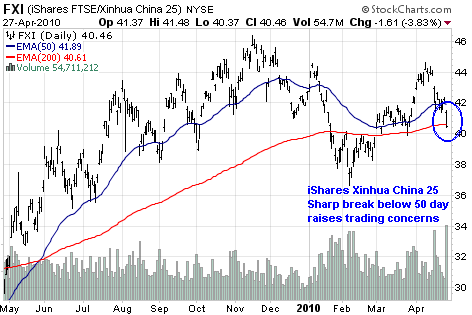 On top of that, the global consumer's confidence may quickly be shaken as we deal with sharp volatility in the market again. For over a year, a rising stock market (both domestically and abroad) has led to consumer confidence, and in turn has helped to propel consumer spending on many luxuries including travel. Businesses have become more active travelers too as liquidity and corporate spending has become relaxed.
But if those trends are reversed, PCLN could be very vulnerable to a sharp decline. If earnings for this year turn out to be 10% above 2009 and 2011 experiences the same type of growth, the market could easily use a lower multiple in the neighborhood of 12 which would yield a stock price closer to $112. And if earnings actually decline in 2010 or 2011 the stock could fall much farther.
At this point it appears that the risks in owning PCLN far outweigh the possible returns. While shorting outright at this juncture may be difficult (given intense volatility) active traders could consider selling out of the money calls (and possibly puts too) to capture volatility premiums. Before engaging in this type of trade, make sure you understand the risks of selling options and have a plan in place to offset your losses if the stock moves against you.
If PCLN rallies back towards the 50 day average, aggressive traders could take a shot at shorting the stock with a tight stop. The environment is changing for this successful travel business and I expect more weakness in the coming quarters. As an alternative, investors could also consider shorting Ctrip.com International (NASDAQ:CTRP) which could be under pressure both from weakening travel as well as less robust growth in the Chinese economy.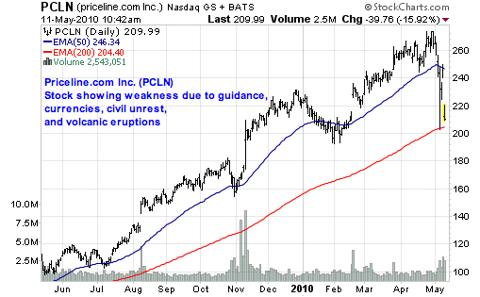 Full Disclosure: Author does not have a position in PCLN