By David Russell
Cardinal Health (NYSE:CAH) is stalling at a key resistance level, and now the bears are looking for a drop.
optionMONSTER's Depth Charge tracking system detected the purchase of more than 9,600 June 35 puts, most of which priced for $1.34 to $1.50. Premiums rose even as the share price increased, which suggests strong buying pressure, and volume was more than seven times the open interest in the strike.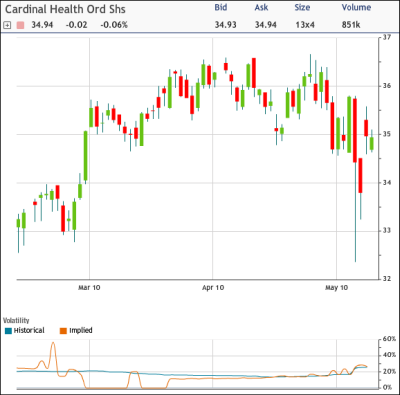 CAH rose was off slightly to $34.94 in morning trading. The medical-device company's profit slightly beat forecasts the last time it reported earnings on April 29, but revenue fell short of expectations. Management also nudged up full-year guidance and raised the dividend last week.
The shares have been struggling to break above the $35-$36 price area where they consolidated in late September 2008 before the broader stock market crashed. It has been making lower highs and lower lows in the last three weeks, which may cause some chart watchers to think it's going to head lower.
CAH must fall at least 5 percent by expiration for the options bought today to turn a profit. The company was making a presentation at the Bank of America / Merrill Lynch Healthcare Conference this morning and has invited analysts and investors to a meeting at its headquarters on May 18.
Overall options volume in CAH is 12 times greater than average today, with puts accounting for a bearish 84 percent of the activity.
Disclosure: No positions