Well the Samsung Galaxy S5 is finally announced and it looks a lot like the Galaxy S4.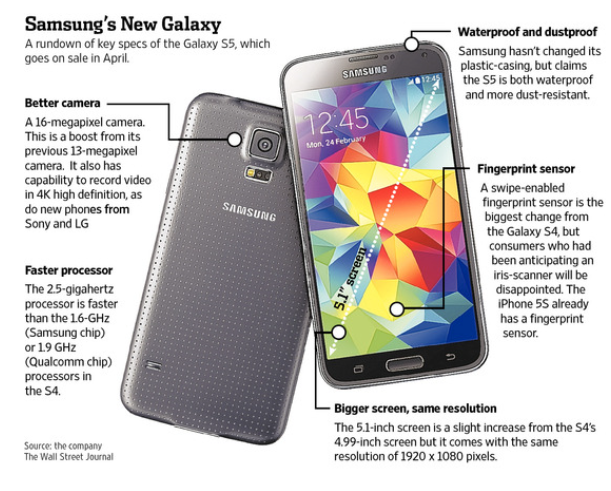 What is new is a fingerprint reader following the lead of the iPhone 5S; a slightly larger screen; a faster processor; a better camera; and, a case that is both waterproof and dust proof. Actually it seems the Galaxy S5 will come with two processor options - a 64-bit Samsung Exynos 6 and a Qualcomm Snapdragon 805. Both should offer the spirited performance users expect in a flagship model.
Battery life in the Galaxy S5 should be improved with its larger 2800Ah battery versus the 2600Ah battery in the Galaxy S4, another welcome improvement which combined with an "Ultra Power Saving Mode" new to the device should yield a 10 hour battery life.
Samsung (OTC:SSNLF) introduced the Galaxy S5 without a lot of fanfare despite the fact that it brings the Galaxy line head to head with the iPhone 5S and perhaps a bit past it in terms of both processing power, download speeds and features, at least as I see it.
Intel (NASDAQ:INTC) Inside?
At least one version of the Galaxy S5 is rumored to have Intel components for LTE connectivity.
If so, it could be the first really high end smartphone to sport Intel's latest LTE-Advanced solution. Hopefully a Samsung design will be one of the multiple contract win announcements expected from Intel this spring for its XMM 7260 LTE-Advanced solution.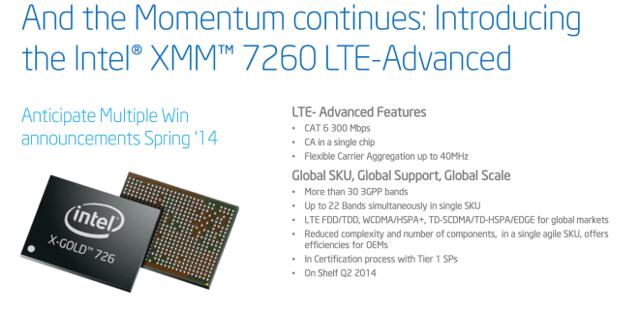 Source: Intel
Samsung's decision to offer more than one version of the Galaxy S5 with different processors is an interesting development as well. A Qualcomm (NASDAQ:QCOM) powered flagship model was widely expected. The 64-bit Exynos powered version connected with Intel LTE-Advanced (if both rumors pan out) potentially signals a fork in the road. I am probably heaping speculation on rumor going down this path, but I can see some interesting developments in the cards that may show a much closer relationship between Samsung and Intel developing in the smartphone and tablet space than has existed to date.
One of Intel's recent slides is worth a moment's look.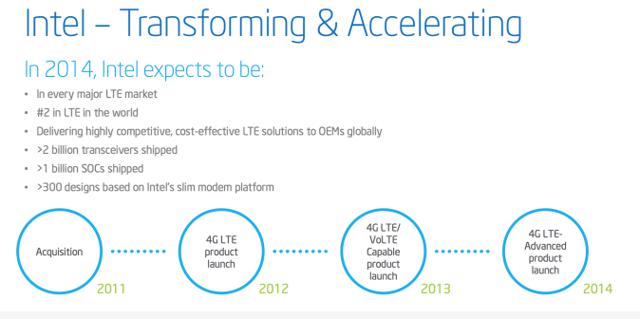 Source: Anandtech article on Intel at Mobile World Congress
Intel has been the laggard compared to Qualcomm in mobile communications technologies, a gap that has been frequently cited as the main reason Intel is unlikely to succeed in mobile. Qualcomm may well keep that lead, but Intel seems to be determined to compete. The slide sets out some pretty challenging targets for Intel for 2014 - to be number two in LTE worldwide, to ship over 2 billion transceivers and over 1 billion SOC's and to win over 300 designs based on Intel's slim modem platform.
Meeting those goals would go a long way towards making investors take Intel's efforts in mobile seriously. Finding "Intel Inside" high end Samsung smartphone LTE modems may presage a broader success for Intel in mobile generally and a more serious challenge to Qualcomm than Intel has mounted thus far.
It is early days and no doubt I am reading too much into a very few data points but as an Intel investor with a major investment I feel entitled to a little hope even if it is eventually dashed by competitive reality. I was looking forward to Mobile World Congress to hear from Intel about its plans and progress. If Intel comes close to meeting these goals I will have received more than I hoped by a wide margin.
I am long Intel.
Disclosure: I am long INTC. I wrote this article myself, and it expresses my own opinions. I am not receiving compensation for it (other than from Seeking Alpha). I have no business relationship with any company whose stock is mentioned in this article.