As many of you know, one of my favorite REIT holdings is Ventas Inc. (NYSE:VTR). I have written numerous articles on the Diversified Health Care REIT, and I became a shareholder late last year. In my most recent article (on Ventas) I decided to take advantage of the mispriced risk and add a few more shares.
Anytime that an analyst downgrades a "blue chip" like Ventas I began to "circle the wagons" in hopes that a buying opportunity comes calling. Normally I would not get as excited as I did with Ventas because it's fairly common that "blue chip" REITs get oversold due to high volume trading activity. However, in the more recent case, a BMO analyst decided to weigh-in on the pressures facing senior housing demand and the perceived risk of income volatility.
Not to quibble with the analyst, I would argue that certain sectors are more influenced by supply and demand; however, I felt like I had the better hand since Ventas had already sold off due to the overall REIT correction. Essentially, my bet was that the risk was already baked into Ventas shares, and the analysts' downgrade was nothing more than a blue light going off for this "blue chip" REIT.
I summed up my argument (in the previous article) as follows:
It's important to recognize intrinsic value because it lets the investor take advantage of temporary mispricing, and chances are that Ventas will ultimately be recognized and the market price will rise to a more indicative level of worth. Perhaps 'the most important' element for any investor is getting in at the bottom of a cycle and that means that sometimes you must simply plant your seeds and watch your portfolio grow. Intuitively, I put more (Ventas) skin in the game last week, and regardless of the BMO downgrade I'll sleep well at night.
Well, it's always good to see Mr. Market agreeing with me. Since Jan. 1st Ventas shares have climbed by over 5.8%.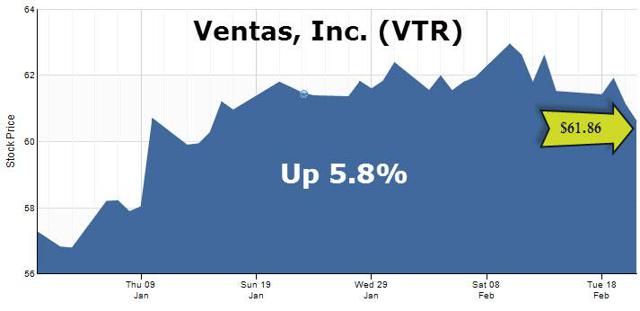 Why Do I Trust the Management Team of this "Blue Chip" REIT?
Admittedly, I am not responsible for the profits that are generated by Ventas. I am glad to see the market acknowledging that Ventas is performing well; however, I can't take any credit for the more recent performance associated with my investment (decision) in this REIT. Alternatively, I also do take credit for investing in the management team. More specifically, I would never buy any stock simply because I believe the company will turn a profit by itself. That's way too easy.
I always consider the experience of the management team. There is no question that stock price performance is directly correlated to risk management, and if you don't trust the management team you shouldn't invest in the stock.
As we all know, there are a variety of different REITs to invest in today, and many of them offer the same products. Ventas, for example, has two direct peers - HCP, Inc. (NYSE:HCP) and Health Care REIT (NYSE:HCN). All three of these Health Care REITs provide similar products and capital structures; however, each offers a unique risk management strategy.
In other words, I have a choice, and when I decided that I wanted to get exposure to a large cap Health Care REIT, I analyzed all three REITs very closely. When it came down to execution, it became clear that the differentiator was risk control. Simply put, that means that I wanted to invest in one of the REITs that was proven for forking out dividends, while also providing me with a highly defensive operating platform.
Finally, I wanted to trust the management team and "sleep well at night," knowing that my capital was safe and that my interests were aligned (with management). The key ingredient is TRUST; without it, there's no way that I'm going to pursue my investment goals and build a nest egg for retirement.
Of course, trust also means communication and transparency. Investors deserve to understand "the business behind the business". That's why I asked Debra Cafaro, the CEO of Ventas, to answer a few questions exclusively for Seeking Alpha.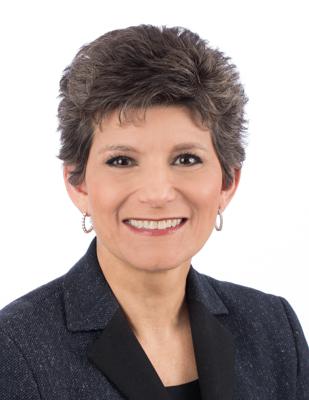 Cafaro has served as CEO since 1999 and as Chairman of the Board of Directors since 2003. Under her leadership (at Ventas), the company's market capitalization rose to $20 billion from $200 million during her first year (1999-2000). In 2013, Fortune Magazine ranked Ventas as the third most admired real estate company in the world. So my interview goes as follows:
Thomas: Debra, let's first talk about your company's diverse platform. Ventas is a $28 billion enterprise with a diversified business model and a fortress balance sheet with nearly 1,500 senior living and healthcare assets, and expected NOI of $1.8 billion. How important is it to diversify and what sub-sectors are performing the best?
Cafaro: We have built a balanced and diversified portfolio that has produced excellent results across economic cycles. Our triple net leases provide steady growth and operating segments have disproportionate upsize as the economy improves. All of our segments are performing well - the portfolio had same store cash NOI growth of 5.0% for the full year 2013 over 2012.

Thomas: I see that your company does not have a Life Science component like your peers. What are your thoughts about investing in that business model?
Cafaro: We believe that Life Science can be a productive part of a healthcare REIT portfolio and we have said that if we find the right opportunity in that sector we would invest. We do however, believe that it requires specialized knowledge so the right investment for us would have to be with the right partner or platform.
Thomas: Ventas generated over $300 million in free cash flow after dividends and capital expenditures and in 2013, the company increased its dividend by 10% while maintaining a 67% payout ratio. That tells me that Ventas is a remarkably safe stock that rewards its investors very well. What's your secret sauce?
Cafaro: Our focus remains on providing consistent returns for investors including appreciation in stock price and increasing the dividend. We do that by investing wisely, raising capital efficiently and managing our assets well to ensure that same store growth. Being excellent across our three "pillars" we produce strong internal and external growth while keeping our balance sheet strong. As we grow our cash flow we can continue to increase our dividends and keep our payout ratio one of the strongest in our sector.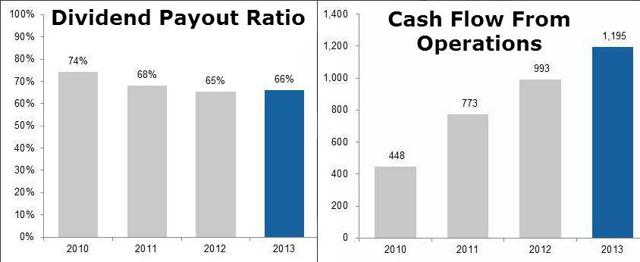 Thomas: In 2013 Ventas continued to excel at its opportunistic and effective capital strategies by raising $5 billion in debt and equity. However, the pace of growing such a large company has to slow down sometime. Or does it?
Cafaro: One of the fantastic elements of our sector is the overall size of the healthcare real estate market - it is over $1 trillion and still extremely fragmented. On top of that we have great fundamentals with the growth in the over 85 population and the baby boomers as well as health care policy producing good tailwinds. All of those factors should allow us to continue to grow and produce strong results.
Thomas: As you know, I'm a big fan of Triple Net REITs as I consider the asset class to be the most defensive as proven by the success of Realty Income (NYSE:O), W.P. Carey (NYSE:WPC), and National Retail Properties (NYSE:NNN). How important are your company's triple-net leases within the portfolio?
Cafaro: Our triple leased portfolio provides approximately 50% of our NOI and approximately $935 million of annualized NOI. Our triple lease portfolio is balanced between seniors housing, skilled nursing and long-term acute care hospitals and helps to produce steady growth. Our diversified balanced business model produces our consistent growth in cash flow.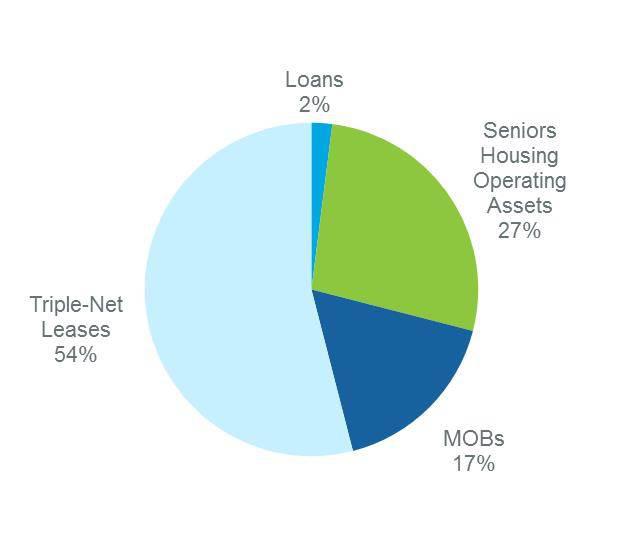 Thomas: Your MOB portfolio consists of 309 properties that generated around 17% of annualized NOI. Are you seeing increased competition in this sub-sector and what about the supply and demand fundamentals?
Cafaro: We have the best MOB platform in the country with 96% on-campus or affiliated quality buildings. The fundamentals of the business are very strong - health care policy is continuing to push things out of the hospital and into outpatient settings such as MOBs. In addition, you have the baby boomers turning 65 - the age at which people generally start going to doctors more frequently.
The Affordable Care Act should have a positive effect on demand as well as all of the newly insured people coming into the healthcare sector in a "normal" way by going to the doctor instead of the emergency room. There is very little new supply being built so the combination of the demand and supply is very strong for our MOBs.

Thomas: In December, S&P upgraded Ventas to BBB+ from BBB, bringing all three agencies to a similar rating. Your company's revolver balance at year-end was $376 million with around $1.8 billion in company-wide liquidity. How does the increased credit rating impact your cost of capital? Are you satisfied with BBB+ or does that motivate you to get to A- status?
Cafaro: The good news is that we have always traded better than our ratings as investors understand our strong balance sheet and business model. So while we would expect some modest improvement in our cost of capital it is not significant. We maintain strength in our balance sheet and strong credit metrics because we believe that is best for investors - time has proven that you can deliver great returns to investors without increasing leverage or risk.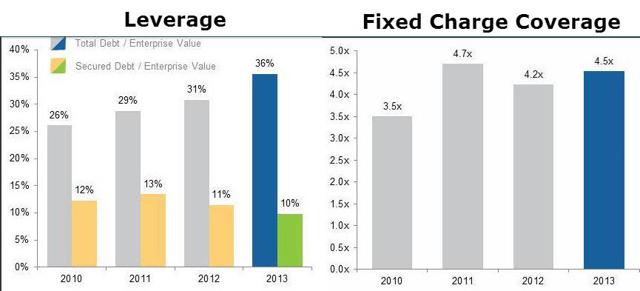 Thomas: I believe that you recently added more disclosure on the senior housing portfolio. What was the reason for that?
Cafaro: We are always seeking to increase transparency for investors and analysts and that includes increased disclosure. As the conversation about potential new supply in the sector has increased, we felt that showing the strength of our markets both in terms of socioeconomic data and the lack of construction in our trade areas was very important.

Thomas: Does your management team consider global expansion opportunities outside of the US and Canada?
Cafaro: Yes, we continually evaluate international investment opportunities and if we felt that we had a good risk adjusted return opportunity we would act on the investment.
Thomas: As you know, there's been a lot of M&A talk and several recent deals closed. How important is it to be the biggest and what are the risk/return opportunities in terms of lowering a company's cost of capital?
Cafaro: Any M&A opportunity must be evaluated on the merits of that investment - ultimately it is the price, strategy and business proposition that is paramount. The rating agencies do believe that size and scale are important factors and as such being bigger does have the potential to lower your cost of capital. However, that must be balanced by the opportunities to grow and the potential increased difficulties in growing as a larger enterprise.
Final Thoughts
As noted above, I own shares in Ventas, and I have included the "blue chip" REIT in my SWAN (sleep well at night) portfolio (in my iREIT Investor newsletter). My most recent BUY target was $55.00, and I was fortunate to accumulate a few shares under $60.00. Ventas is currently trading at $61.71, and although the price has advanced since my initial purchases, I am inclined to increase my concentration on market-based weakness (the current dividend yield is 4.7%).
Given the continued consolidation in the health care sector, I believe that Ventas will be able to make accretive acquisitions of at least $2 billion annually, and that should drive FFO growth by around 3-4%. By utilizing the company's fortress balance sheet, Ventas should be able to grow by issuing minimum equity (around $300 million).
Ventas could hit $80 within the next 12 months based upon the now muted interest rate risk and strong senior housing trends. Translated to valuation: I believe that Ventas could be trading at an 18x AFFO multiple (in 12 months), and I'm continuing to nibble on the shares at or around $60.00. However, if interest rates concerns come back into play, it's possible to see shares slide back the other way (closer to my $55 BUY target). That being said, I cannot trust Mr. Market but I can trust Ventas… and I'm in it for the "long haul." I'm sleeping well thanks to Debra Cafaro and her company's skillful "best in class" risk management practices.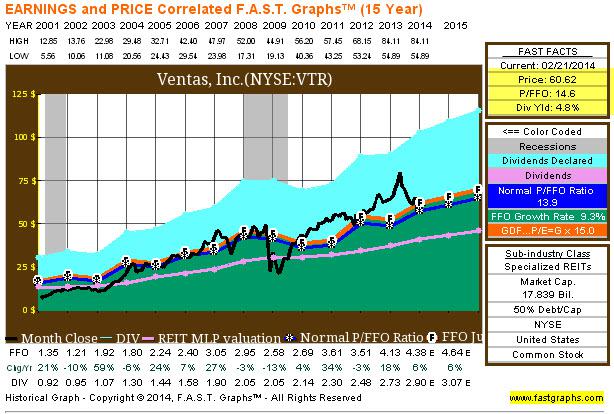 More REIT News and People Behind the Property: This week I plan to publish exclusive CEO interviews on Seeking Alpha for Omega Healthcare Investors (NYSE:OHI), and Medical Properties Trust (NYSE:MPW).
Disclaimer: This article is intended to provide information to interested parties. As I have no knowledge of individual investor circumstances, goals, and/or portfolio concentration or diversification, readers are expected to complete their own due diligence before purchasing any stocks mentioned or recommended.
Disclosure: I am long O, DLR, VTR, HTA, STAG, UMH, CSG, GPT, ARCP, ROIC, MPW, HCN, OHI, LXP, KIM. I wrote this article myself, and it expresses my own opinions. I am not receiving compensation for it (other than from Seeking Alpha). I have no business relationship with any company whose stock is mentioned in this article.