Force Protection (NASDAQ:FRPT): Undervalued Defense Play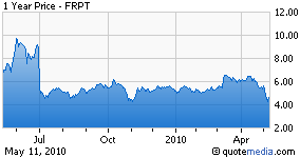 Force Protection, which provides survivability solutions to the support the US armed forces and its allies, trades at just 13x earnings despite an analyst projected 25% growth rate in 2011 and projected 43% growth over the next five years. At the same time, the firm appears to be trading for less than its enterprise value.
While the defense company posted a weak first quarter, many analysts agree that the rest of the year remains on track. A discounted cash flow analysis assuming a modest 13% growth rate yields a valuation of over $10.00 per share. Meanwhile, the firm's net reproduction cost appears to stand at approximately $5.50 per share, suggesting that it is undervalued.
SkyPeople (NASDAQ:SPU): A Cheap China Play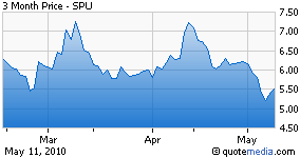 SkyPeople Fruit Juice, which produces and sells fruit juice concentrates in China, is trading at just 6.5x its trailing 12-month earnings despite posting strong historic growth rates with analysts projecting 30% annual growth over the next five years. Of particular note are the firm's strong free cash flows that hit $2.80 per share TTM.
In the fourth quarter of 2009, the fruit juice company posted revenue growth rates of 86% and net income growth of 77%. With analysts expecting the firm to grow at a 30% clip over the next five years, the firm's price-earnings to growth ratio stands at a low 0.21. A fair value PEG ratio of 1.0 would yield a share price closer to $25 per share, making this stock undervalued.
Disclosure: No positions