What a good time to be a BlackBerry (NASDAQ:BBRY) shareholder: First, Daniel Loeb disclosed a 2% stake in the smartphone company on February 14, 2014. Secondly, BlackBerry Messenger competitor WhatsApp got bought by Facebook (NASDAQ:FB) for an out-of-this-world price of $19 billion. Thirdly, BlackBerry announced that it is going to offer BBM for Microsoft (NASDAQ:MSFT) Windows phones and Nokia (NYSE:NOK) X platforms. Fourthly, Ford (NYSE:F) is said to ditch Windows and embrace BlackBerry to power its Sync technology. Sync is Ford's voice-activated in-car technology that allows drivers to make calls, navigate and listen to music hands-free.
Not surprisingly, shares of BlackBerry rocketed upwards in yesterday's trading session as the latest news about a BlackBerry/Ford collaboration added fantasy to the stock. Shares of BlackBerry marked an intra-day High of $10.10 but fell back to $9.83 at the end of the trading session.
(Source: Yahoo Finance)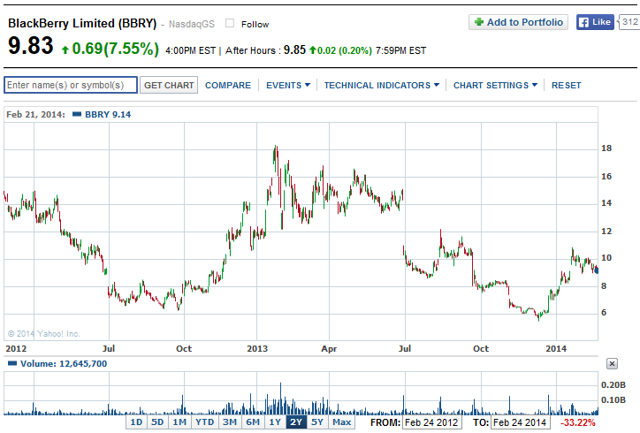 Short-term upside potential to $14
BlackBerry's share chart reveals a large gap which opened up at the end of June 2013 indicating that BlackBerry has short-term upside potential to $14 -- if positive news flow delivers further impulses in the near term. Though I welcome higher share prices in the short term, BlackBerry makes a much better long-term value proposition and investors should not pay too much attention to daily price swings.
Positive news flow
Recent news are good for a variety of reasons: First, it puts BlackBerry's name in the headlines highlighting that the company is on the forefront of its industry and on top of its technology. Secondly, positive news discredit the popular Bear thesis that BlackBerry has lost its edge. Ford's inclusion of BlackBerry's QNX technology, for instance, gives BlackBerry's products first-class shelf space at a globally-operating, highly-successful car manufacturer. Bloomberg commented on the BlackBerry/Ford collaboration:
Bloomberg said using QNX would be cheaper than licensing Microsoft technology and would improve the flexibility and speed of the next Sync system. The report cited sources briefed on the matter who requested anonymity because the decision was not public.

Reaching a deal with Ford would be a coup for BlackBerry, which is trying to reinvent itself as more of a software and services company after its smartphones have lost market share to Apple Inc's iPhone and a slew of devices powered by Google Inc's (NASDAQ:GOOG) market-dominating Android platform.
I judge the surprise factor of this announcement to be extremely high. Few investors could have envisioned just a few month ago the force with which BlackBerry pursues strategic options other than its handset business. While BlackBerry's QNX gains exposure in one of the world's most competitive car fleets, positive news also work towards changing investor perceptions which is key in setting a solid foundation for further price appreciation. I have long bothered investors with this topic but it is worth repeating: The majority of investors believe things only when they see tangible results, but, unfortunately, lack the courage to be visionary and usually don't believe in change.
High BBM user growth expected
In addition, BlackBerry announced on February 24, 2014 that it is going to make BBM available for Windows Phones and Nokia X platforms:
Mobile World Congress 2014, Barcelona - BlackBerry Limited (NASDAQ: BBRY; TSX: BB), a global leader in mobile communications, today announced that BBM™ will be made available to Windows Phone and Nokia X customers in the coming months.

BBM is a premier mobile messaging platform that offers best-in-class collaboration tools such as BBM Groups, BBM Voice and BBM Channels. BBM users rely on the privacy, immediacy and control that are at the core of BBM.

"BBM continues to grow in popularity as millions of people use our mobile platform for chatting and connecting with friends or colleagues, and we are very excited that we will soon welcome Windows Phone and Nokia X users to the BBM community," said John Sims, President, Global Enterprise Solutions at BlackBerry.

"Today marks an exciting moment for Nokia," said Bryan Biniak, Vice President and GM of Developer Relations, Nokia Corporation. "By bringing BBM to the Windows Phone and Nokia X communities, our customers will be able to experience this popular global messaging app."
BlackBerry booked a huge success last year as the company made the messaging application BBM available for Android and iOS users. 10 million people downloaded the app in the first 24 hours while it also achieved top rankings in 75 countries simultaneously. BBM is now said to include about 80 million monthly active users. This not only speaks to the popularity of the instant-messaging application, but also suggests that further meaningful growth can be expected by opening up BBM to other platforms from Microsoft and Nokia.
Final thoughts
BlackBerry goes through a fundamental, transformational restructuring. The biggest obstacle in completing its turnaround will be to convince investors of its Enterprise business model. Not an easy job considering the negative preconceived opinions of investors and their rejection of change.
BlackBerry has delivered a series of positive news lately that underline that the company indeed is changing. My experience with turnaround/distressed securities suggests that BlackBerry's turnaround will not be as quick as the news flow suggests. I think that BlackBerry has a lot of potential to surprise to the upside (real estate transactions, Foxconn, BBM, QNX, activist investors etc.) and I still believe BlackBerry has the potential to double over the next year or two. The reported news with respect to BBM and BlackBerry's QNX operating platform also have another, intangible benefit: They ensure that investor perceptions slowly change.
It is time to harvest the BlackBerry gains only when the market fully values the newly invented BlackBerry and investors love it once again. Strong long-term BUY.
Disclosure: I am long BBRY, F. I wrote this article myself, and it expresses my own opinions. I am not receiving compensation for it (other than from Seeking Alpha). I have no business relationship with any company whose stock is mentioned in this article.