When a company chooses to either spin-off or sell a unit of its business, potential investors tend to become a bit more interested as to what may be going on with that particular company. In this article, I not only wanted to highlight the recent announcement regarding the sale or spin-off Chesapeake Energy 's (NYSE:CHK) Oilfield Services division but also note a few more reasons behind my decision to remain long on shares of this particular oil & gas play.
Chesapeake Considers Alternatives For Its Oil Services Business
On Monday, February 24, Chesapeake Energy announced that it was pursuing strategic alternatives for its oilfield services division, including a possible sale of the unit or a potential spin-off of the unit to the company's shareholders. Investors should note that the Chesapeake Oilfield Services unit includes drilling, hydraulic fracturing, oilfield rentals, rig relocation, and fluid handling and disposal service and generated revenue of $2.2B in 2013. Based on the fact its Oilfield Services unit generated $2.2 billion revenues in 2013, I could the sale fetching anywhere between $2.53B (a 15% premium to the revenues that were generated during 2013) and $3.3B (a 50% premium to the revenues that were generated during 2013).
Potential Takeover Rumors Swirl Once More
Chesapeake Energy's news of a sale or potential spin-off of its oilfield services business comes on the heels of speculation last week that 10%-owner Carl Icahn is seeking a cash bid of up to $40 a share for Chesapeake, which saw its shares close at $26.57/share on Friday.
Shareholders and potential investors should keep in mind that I had previously written about a potential takeover and still think Mr. Icahn's bid of $40/share is far too little. In an article that was published back on October 18, I noted that, "Although I strongly believe that a potential takeover could occur in the next 18-36 months, I'd personally like to a see a much higher bid than the proposed target of $40/share. For example, a bid that would fall in the range of $45.94/share to $53.59/share would subsequently value the company's market cap between $30 and $35 billion. This would clearly be much more attractive than the $26.12 billion the company is valued at when you consider Mr. Icahn's bid of $40/share".
Recent Performance & Trend Behavior
On Monday, shares of CHK, which currently possess a market cap of $17.90 billion, a forward P/E ratio of 14.13 and a dividend yield of 1.28% ($0.50), settled at a price of $27.29/share. Based on their closing price of $27.29/share, shares of CHK are trading 5.32% above their 20-day simple moving average, 3.95% above their 50-day simple moving average and 10.37% above their 200-day simple moving average. These numbers indicate a short-term and long-term uptrend for the stock, which generally translates into a moderate buying mode for both near-term traders and long-term investors.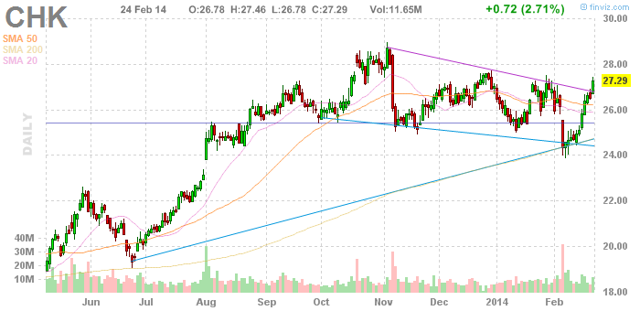 Click to enlarge
Comparative Forward PE Ratios Set Chesapeake Apart From Its Peers
Even though the above referenced numbers indicate a long-term uptrend for the stock, I actually think the company's current share price of $27.29/share offers investors a considerable point of entry; especially since shares are trading at a much better forward P/E ratio than a number of its sector-based peers.
For example, CHK's forward P/E ratio was 14.13 based on its Feb. 24 close, whereas the forward P/E ratios of Range Resources Corp. (NYSE:RRC) (forward P/E ratio of 47.49 as of 2/24) and Gulfport Energy Corp. (NASDAQ:GPOR) (forward P/E ratio of 50.78 as of 2/24) were both considerably higher, and at a level of 45+ which most investors may find fairly unattractive.
Conclusion
For those of you who may be considering a position in Chesapeake Energy, there are a number of things I'd keep a close eye on over the next several months. For example, I strongly recommend keeping a close eye on the company's decision to either spin-off or sell its Oilfield Services unit (which in my opinion could fetch a bid between $2.53B and $3.3B). I'd also look to keep a closer eye on any heightened cash bids from Carl Icahn as I strongly believe Chesapeake Energy could attract a much higher bid than the $40/share Mr. Icahn is currently seeking.
Disclosure: I am long CHK. I wrote this article myself, and it expresses my own opinions. I am not receiving compensation for it (other than from Seeking Alpha). I have no business relationship with any company whose stock is mentioned in this article.