What a world we live in: Ford Motor (NYSE:F) presented top financial results at the end of January. Full-year pre-tax profits came in at $8.6 billion with record profits in North America and Asia/Pacific. Ford Motor also reported a gross cash position of nearly $25 billion and net cash of $9.1 billion giving the company substantial firepower to develop its fleet and grow its market share. Ford released a series of positive news in February highlighting the success and the competitiveness of its car portfolio in key emerging markets such as China and India.
Ford China's sold wholesale vehicles reached 94,466 in January 2014 compared to 61,567 in January 2013 -- a y-o-y increase of 53%. Passenger car sales increased by 63% to 72,598 vehicles in January 2014 versus 44,439 vehicles sold in January 2013. Despite whopping sales growth in the most attractive car market in the world, a high cash position and record profits, Ford Motor trades at less than eight times earnings and 0.41 times sales.
Tesla (NASDAQ:TSLA), on the other hand, the much-hyped electric car company, presented results on February 19, 2014: The car manufacturer sold 6,892 Model S vehicles in the fourth quarter 2013, which equates to approximately 2,300 vehicles a month. Tesla was never clumsy in attracting investor attention: The company positioned itself in a growth market with seemingly endless growth opportunities and had a sexy product: Its flagship Tesla Model S which also achieved high customer satisfaction ratings.
Negative news being ignored
However, I still think there is way too much hype surrounding the company. For one, it was just recently reported that another Tesla caught fire in Toronto (source Reuters):
Feb 14 (Reuters) - Electric car maker Tesla Motors Inc. said it has not yet determined how a Model S sedan parked in its owner's garage in Toronto caught fire earlier this month.

The fire comes a month after Tesla revamped the software and the wall adapters used to charge the batteries in its cars, following a November garage fire involving a Model S in Irvine, California. The Model S involved in the Toronto fire was not being charged, according to a media report.

Tesla said it has "definitively determined" that the Toronto fire did not originate in the battery, the charging system, the adapter or the electrical receptacle, noting that these components were untouched by the fire.

"In this particular case, we don't yet know the precise cause," Tesla said in a statement.

The U.S. National Highway Traffic Safety Administration said it was aware of the fire in Canada.

"Since the incident occurred outside the territorial boundaries of the United States, the agency will be in contact with the manufacturer and others to gather the facts and take whatever action is warranted by the circumstances," the NHTSA said in a statement.

News of three road fires last fall in Model S sedans, including two in the United States and one in Mexico, caused Tesla's stock to drop sharply in October, although the stock's price since then has risen to just above $200. The NHTSA is investigating the two U.S. fires.
Clearly worrisome news didn't affect Tesla's share price at all: Shares of the electric car manufacturer just marked a new 52-week High at $215.21 and held up above the $200-mark. Optimism has returned over the last two months, which indicates how quickly sentiment can change with respect to 'spotlight-companies' such as Tesla.
(Source: Yahoo Finance)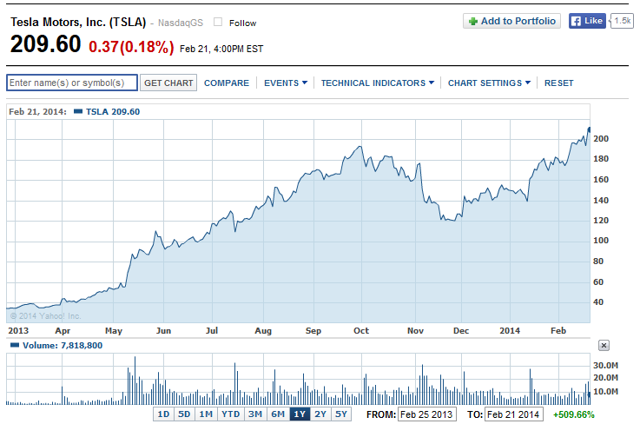 Performance results
Tesla achieved fourth quarter GAAP revenues of $615 million versus $431 million in Q3 2013 (a plus of 43%) and versus $306 million in last year's fourth quarter (an increase of 101%). Tesla's gross profit also increased to $157 million compared to $103 million in Q3 2013 and $24 million in Q4 2012. Despite strong topline growth, Tesla reported another net loss of $16 million compared to a net loss of $38 million in Q3 2013 and a net loss of $90 million in Q4 2012. Tesla's net loss per diluted share came in at $0.13 vs. $0.32 in the previous quarter and $0.79 in the year ago quarter.
Although Tesla achieved a positive free cash flow of $40 million in the fourth quarter, full-year free cash flows (defined as operating cash flows minus capital expenditures) came in at ($6.2) million.
Over-the-top valuation and downside risk
Tesla's free cash flow profitability was previously a serious concern for me and I don't think that the company's results, despite decent y-o-y improvements, justify a current forward P/E ratio of 60 and a P/S ratio of 13 -- especially with Ford's results and valuation metrics in comparison. Add to that the ongoing uncertainty about the investigation by the U.S. National Highway Traffic Safety Administration, which, in the worst case, could impose substantial costs for Tesla if recalls are required.
Conclusion
Tesla's share price reaches a new 52-week High just when negative news about Tesla's Model S resurface. Bubbles often have in common that bullish investors ignore negative events that indeed pose serious financial risks for a company. Instead, infinite optimism rules the stock price. Investigations by the U.S. National Highway Traffic Safety Administration, however, should be a clear warning sign for investors who dismiss the severity of the situation. In addition, Tesla still trades at massively inflated earnings and sales multiples, which are difficult to justify. The company still sells negligible amounts of vehicles compared to other car manufacturers, which exhibit fundamentally better financial and valuation metrics. Tesla remains hopelessly overvalued and I reiterate my Short position in the car manufacturer.
Disclosure: I am short TSLA. I wrote this article myself, and it expresses my own opinions. I am not receiving compensation for it (other than from Seeking Alpha). I have no business relationship with any company whose stock is mentioned in this article.