One problem with the markets the past three years has been their "student body left" environment where almost everything rises or falls together. Very little value can be added by picking individual equities as the market direction (or sector) includes almost everything. This might not change in the near future with our high frequency trading, ETF dominated markets... or it might never change again, I don't know. However, when we do have some shakeout as we have just experienced this is the only time we really see clear demonstrations of relative strength and can see what stocks are in the strongest hands. When almost anything with a carbon footprint is going up (or down), as has been the case 95% of the time since 2007, we cannot see that kind of detail.
The exceptions to that 95% rule (such as we have right now) give you two options. You can buy the strongest (which I like to do) or buy those that have been hit the hardest (which has been a winning strategy the past 15 months as those names have surged the most). Frankly, if in five weeks we are experiencing yet another V-shaped stock market it will be a moot point which route you go; almost every stock will be surging, and throwing a dart will be fine as it has been since March 2009. But in case we ever return to a normal market where 40% of stocks go down and 60% up (on the same day), or vice versa, I will try to rotate into names showing the best strength.
This can be demonstrated in the credit card space. I bought some Discover Financial Services (NYSE:DFS) in mid April as "strategic default" has spread like wildfire across Cramerica, which bodes well for credit card issuers. All that extra money not being wasted to pay for housing can go to shopping and paying down non-mortgage debt. Further, the Fed has issued a license to print money on the funding side, allowing banks to borrow at essentially 0% and lend it out at... look at your credit card statement.
Since this is a "baby with the bathwater" market, DFS was sold off with everything else and last Wednesday the majority of the position was sold off in a defensive measure for a 7% loss as the stock broke its 50-day moving average. Despite yesterday's surge the stock has not fully recovered so I am going to sell the remaining 0.7% exposure for a 9% loss in the $14.70s. (Click to enlarge)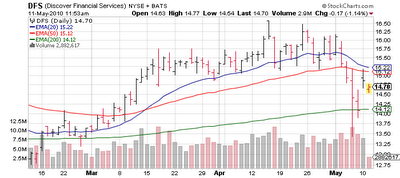 With those monies (plus a bit more) I will begin a position (1% allocation) in a peer with a stronger chart: Capital One Financial (NYSE:COF) (a stock I was shorting a year ago at this time to terrible effect). So I am getting the same sector exposure, but moving from a chart with some near term challenges (which will be erased with a V-shaped bounce) to one that held up better in the selloff and is sitting above all key moving averages.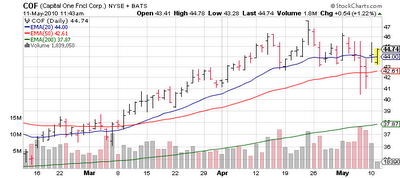 Now, there are still challenges in this chart, as we have a down slope in intraday highs since peaking in mid-April, but it's been a tough market since so I'll give it some benefit of the doubt.
I was actually quite surprised by the earning estimates when I perused COF. Estimates for 2010 jumped from $2.11 90 days ago to $3.58 as of this week. It must be good to be borrowing at 0% and lending at 17%. Not sure why DFS estimates won't show a similar surge until 2011.
Disclosure: Long Capital One Financial in fund; no personal position