I am continuously fascinated by the craziness of this big casino called the stock market. As Cramer likes to say, there is always a bull market somewhere, and my job is to find it. That being said; it is my job to find silliness and folly within the markets. I like to identify what I feel are manic and depressive moods by my old friend, Mr. Market.
This morning I came across one of the most amazing stock charts that I have ever seen. My brother recommended Jazz pharmaceuticals plc (NASDAQ:JAZZ) to me back in 2009, while we were day trading our private accounts. At the time, the stock was trading at $0.92. Fast forward 5 years later and the share price is an eye-popping $174. In my 20 years of chart watching, I have rarely seen anything like this. A mere $1,000 investment in 2009 would be worth $174k today. How I wish I would have invested $10k five years ago and developed a case of amnesia. How could it be possible for any investor to hold a stock through all of those staggering gains?
Look at this monthly chart.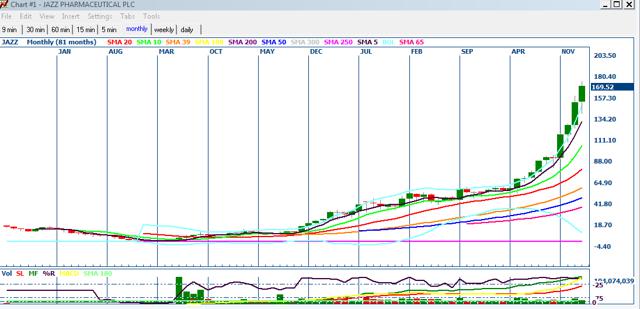 What causes a company to go from $0.75 to $174 a share in less than 5 years? Great question, the answer is not quite so simple. Mr. Market is in love with Biopharma at the moment. Investors and hedge fund managers that were short have been brutally whipped into submission. In my opinion, the whole sector is in bubble territory. The question is: when will the bubble pop? How about May 19, 2014? See how silly it seems to try and predict an exact time for a particular event? The answer of course is: no one knows for sure.
For a little more perspective let's look at a 1500 day chart.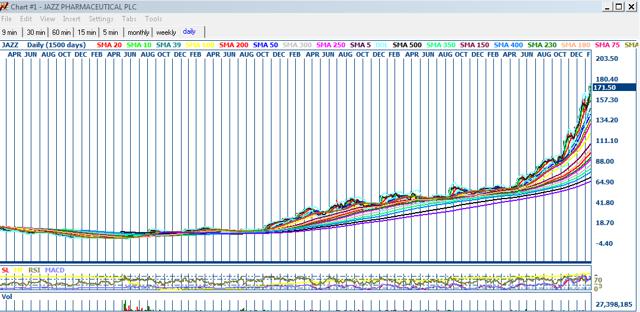 The chart above shows a long steady climb to the $60 range and then a dramatic and step rise to $157, with the recent spike going into earnings. The share price recently hit an all-time high of $175 a share. How can any investor continue to hold a stock that has made this kind of run without taking major profits? Any investor considering taking a position in this company needs to be aware of the downside risk.
A look at the company
Jazz Pharmaceuticals plc is an international specialty biopharmaceutical company dedicated to helping patients with unmet medical needs. The company's goal is to identify, develop and commercialize innovative products in focused therapeutic areas, with a strong commercial focus and expertise in narcolepsy, oncology, pain and psychiatry.
Growth and development
Through their wholly owned subsidiary Jazz Pharmaceuticals International III Limited, the company recently acquired rights to ADX-N05, a late stage investigation compound for excessive daytime sleepiness from Aerial Biopharma, a privately held biopharmaceutical company. Here are some of the financial aspects of the deal.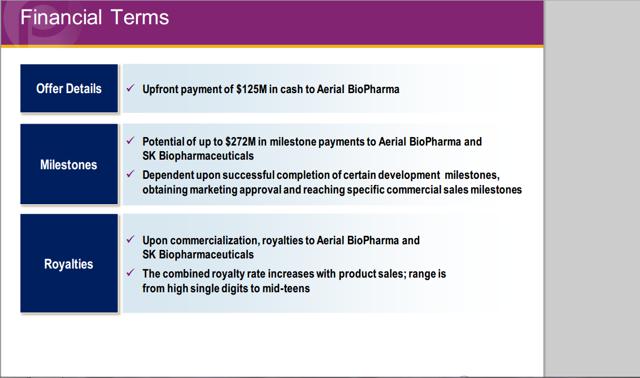 The company also assumed certain liabilities arising out of the Purchased Assets following the closing of the Asset Acquisition, including the obligations under the SK License. In addition to the Initial Payment, the company is also obligated to make certain milestone payments (in an aggregate amount of up to $272 million) based on development, regulatory and sales milestones and to pay tiered royalties from high single digits to mid-teens based on potential future sales of ADX-N05. You can view more from the company's website by clicking here.
Insider selling
Are insiders selling the stock? In the last 6 months insiders have sold 5.542M shares of stock. Institutions have also been taking profits with 3.321M net shares sold for a decline of 7.2%. Some of these sales were planned; others may just be profit taking. When a stock makes this kind of major move to the upside, one has to wonder how much of the good news is already priced into the stock. In my opinion, this stock will sell off on the conference call, unless they report a huge upside surprise.
Another company in the sector involved in insider selling is Alkermes plc (NASDAQ:ALKS). In the last 6 months, officers and directors have sold over 1 million shares in 55 separate transactions according to Yahoo Finance. The stock is trading at levels not seen since 2000. Executives are cashing out.
Look at a comparison chart versus the Nasdaq.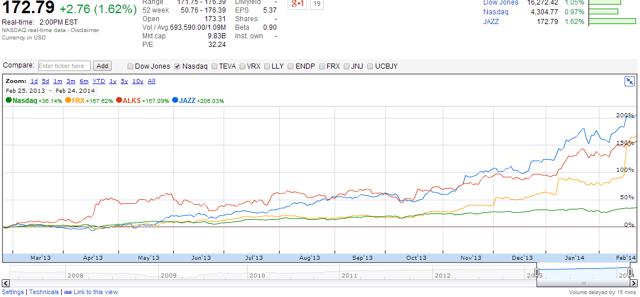 I have included Forest Laboratories Inc. (NYSE:FRX). The stock broke out last week, jumping over $20 a share to $94 on a buyout bid from Actavis plc (ACT). Acquisitions are the game of the day as most biopharmaceutical companies are trading near 52 week highs. Do investors ever learn? Whether it is the tech boom, or the shipping boom, it appears that investors and companies for that matter love to do deals at the top of the market. For me personally, it's all too risky. These can all be dangerous shorts, but I believe if you were lucky enough to have caught the wave up, it is now time to enjoy your profits. Simply put; sell the bubble in the biopharma sector and wait for a substantial pullback before reentering.
Fundamentals
Jazz Pharmaceuticals plc's 39% profit margin and 30% ROE is better than many of its peers. Alkermes plc is showing a 4.3% gross margin and a 2.3% ROE. Both have a 3-5 year growth estimate of 22.4% and 19.4% respectively. Jazz has 10.40 per share in sales while Alkermes has $4.20 a share in sales. Jazz continues to grow revenue, and they have a good story; intuition tells me the time to sell is now.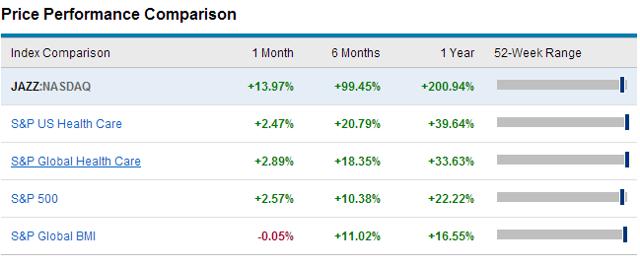 52 week highs are wonderful, and they seem to go on and on with no end in sight. Positive sentiment rules the day, until the tide changes. When the momentum turns on any stock the reaction can be very violent and quick to the downside. In my humble opinion this sector is full of land mines.
Corporate construction project
On February 10th Jazz Pharmaceuticals announced that it had commenced construction of a manufacturing and development facility to be located on a 17-acre site in Monksland County Roscommon, approximately 75 miles east of the company's Dublin headquarters. This is the first manufacturing facility to be built by Jazz Pharmaceuticals. The company estimates that the project will cost between $60M -$68M and add 50 jobs when the plant facility is fully operational. More information is available at the company's website here. This can be construed as positive or negative, depending on your viewpoint. As an investor, I get very cautious when I see companies investing in corporate headquarters or manufacturing facilities after a monster stock rally. The impulse to expand and innovate can sometimes lead to cost overruns, and irrational expectations for future earnings.
Conclusion
While Jazz Pharmaceuticals plc is earning good profits, a PE of 32X earnings is in my opinion overpriced. The whole sector is in bubble territory and should be sold. This is not rocket science, I am not a doctor, I am a stock trader, a chartist and I can tell you this: Money managers, and insiders are selling Jazz, downside risk in Alkermes plc is a reality. Excitement and consolidation is pushing this sector higher, at some point in the near future sentiment will change.
As always do your own research, make your own decisions and follow no investment guru. Remember, everyone has an angle and they are usually out for themselves.
Disclosure: I have no positions in any stocks mentioned, and no plans to initiate any positions within the next 72 hours. I wrote this article myself, and it expresses my own opinions. I am not receiving compensation for it (other than from Seeking Alpha). I have no business relationship with any company whose stock is mentioned in this article.