By Stuart Burns
The main driver for platinum is said to be automotive demand in Western Europe, where the prominence of diesel engines will drive platinum use. We began our analysis on the platinum market in Part One of this article.
Palladium has benefited from strong growth in China and the U.S., but platinum has suffered in part due to falling European automotive production; in Europe, diesel engines are much more popular. That, on the whole, seems to be turning and is supported by tightening emission standards both in Europe and also in China and India, where HSBC sees 2014 demand growth of 7.4 percent year-on-year.
Final auto production figures are not out at the time of going to "press" here, but Standard Bank is calling combined numbers for China, the U.S., EU and Japan to be at a record high for the end of 2013.
So what is the bank's price forecast?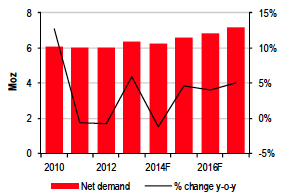 Source: HSBC
The graph above, courtesy of HSBC, shows an above-trend uptick in 2013 reflecting the launch of the South Africa Platinum ETF last year, which boosted demand by close to 1 million ounces.
This is unlikely to continue in 2014, so growth will drop to trend, which appears a fallback, but is still robust given the one-off distortion of last year's ETF. The recent weakness in platinum prices will also drive jewelry demand in China as it has for gold, a trend that is expected to carry through 2017.
On balance, therefore, several analysts are predicting a deficit prevailing for a number of years, allowing prices to rise on the basis of fundamental demand rather than speculative interest.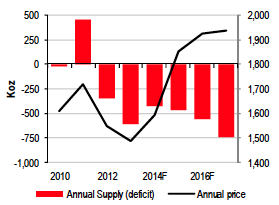 Source: HSBC
What's the 2014-15 Platinum Price Forecast?
As a result, HSBC sees an average of $1,595/ounce in 2014 (+7% year-on-year) and $1,850/ounce in 2015 (+16.0%). In the short term, Standard Bank agrees, saying that rallies at least to $1,500/ounce are probable in coming months.
Disclosure: No positions.