BlackBerry (NASDAQ:BBRY) is at an inflection point. The next week, I believe, will prove whether the stock continues to move higher - or whether it could fall back to $8 per share. And I anticipate that the more likely scenario is a push above $11 per share - or 11 percent higher from Monday's close at $9.85.
The stock moved higher Monday by more than 7.5 percent after BlackBerry reportedly struck a huge deal to replace Microsoft (NASDAQ:MSFT) as the technology backbone to Ford's (NYSE:F) Sync system. More than any revenue derived from the deal, the move is a buy-in to BlackBerry as a company - something it desperately needed - and a win for CEO John Chen, who has repeatedly cited the QNX as an important source of revenue for the struggling technology provider.
Valuing the Business
BlackBerry is still difficult to value as a business. After BBRY failed to successfully sell itself late last year, traders were perennially bearish on the company. In December, the stock hit a low of $5.44 roughly a week before the Q3 earnings report.
But that earnings report, the first under Chen's leadership, showed that the CEO was unafraid to take a widespread write-down on devices, leading to a quarterly loss of $4.4 billion - a shocking number, but not the most important of the day.
Revenues over the prior year were more than cut in half - from $2.7 billion to $1.2 billion. That's remarkable given that this year was supposed to see the launch of BlackBerry's savior, BlackBerry 10. Instead, those devices have caused significant write-downs in the Q2 and Q3 quarters, and have been a complete and utter failure in the market (even though I own a Q10). Of the 4.2 million smartphones that BlackBerry sold in Q3, 3.2 million were the older models.
Of those, however, the company only realized revenue from 1.9 million smartphones, down from revenue from 3.7 million smartphones the prior quarter.
However, the one position that remained strong was BBRY's cash. The company had $3.2 billion in cash in Q3, up from $2.6 billion in Q2. If one backs out the $1 billion investment from Fairfax Financial Holdings, which it got in exchange for convertible debt, that cash position is only down $400 million on the quarter.
In fact, shares from that headline first tumbled, but recovered in premarket trading before moving $1 higher to close at $7.25. From there, the price steadily climbed to nearly $11 per share before moving back to single digits.
Potential for Stock Price Appreciation
There is the potential that BlackBerry in 2014 is on its way to becoming the Yahoo (NASDAQ:YHOO) or Hewlett-Packard (NYSE:HPQ) of 2013. The prospects for YHOO and HPQ had become so bleak that they traded at pitiful multiples.
While Yahoo's rise could be seen as predominantly the result of Alibaba, HPQ rise is the result of competent leadership that was lacking prior. HPQ, as of Monday's close, trades at 2 times book value, while BBRY is just at 1.25 times book value - even after Monday's 7.5 percent gain. If BBRY traded at a similar book value, it would gain to $15.56, a price last seen in May 2013.
I think that is likely a stretch for the company, which is in the early innings of a turnaround and without evidence of what will happen to its mobile enterprise business. But, a 1.5 times book value gets the share price above $11.50 and to a place that I would consider well valued ahead of the March earnings report.
Technical Picture
I also think there is a technical picture that will help support this more than 11 percent gain. The chart below shows the price since July - when BlackBerry experienced a terrible earnings report that saw the price decline from $15 to below $11 per share.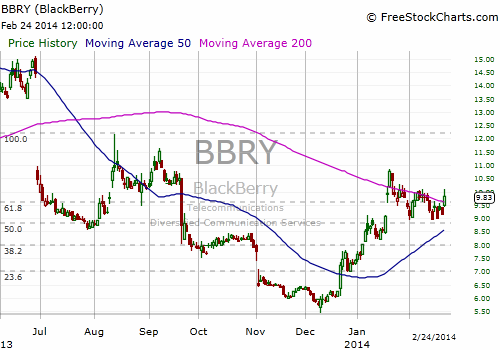 Since then, a Fibonacci retracement from the high above $12 to the low at $5.50 shows that the price has been trading recently around the 61.8 percent retracement. In addition, the price is trading above the 50-day simple moving average (at $8.55) and the 200-day simple moving average (at $9.60). So long as the price holds $9.60 in the next few trading sessions, preferably moving above $10 per share, BBRY should move higher.
If the price fails to make traction, I would look to buy any test of the 50-day moving average or near recent lows at $9 per share.
TL/DR: BBRY's worst days are behind it - at least for now. The Ford deal is confirmation that someone has faith in the company's products, which should lead the price higher moving into the Q4 earnings report at the end of March. Target of $11-11.50.
Disclosure: I am long BBRY. I wrote this article myself, and it expresses my own opinions. I am not receiving compensation for it (other than from Seeking Alpha). I have no business relationship with any company whose stock is mentioned in this article.