Best Buy (NYSE:BBY) was one of the worst performers in the S&P index and lost over 38% of its value from the start of 2014 until present day. BBY's poor performance during the holiday season was reported in January and caused the stock price to plunge (see graph below).
This article is intended to explore whether or not BBY is a poor investment that investors should presently avoid or if the low price makes BBY an attractive investment opportunity.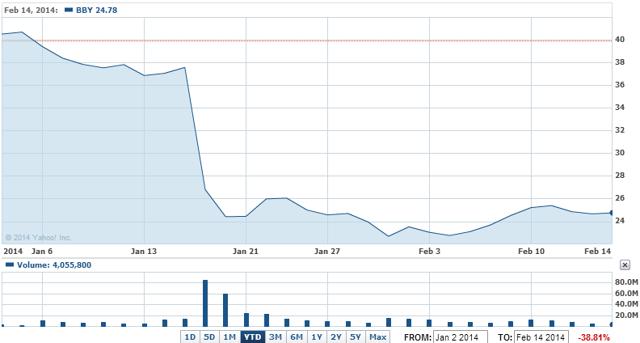 Click to enlarge
The following table shows the holiday revenues announced by BBY that infuriated investors. Comparable US store sales for the nine week holiday season ending January 4th dropped 0.9% compared to the same period last year. There is no doubt that a poor performing stock deserved to be punished but is it correct to punish the stock in such a harsh way by driving down its value by 38%?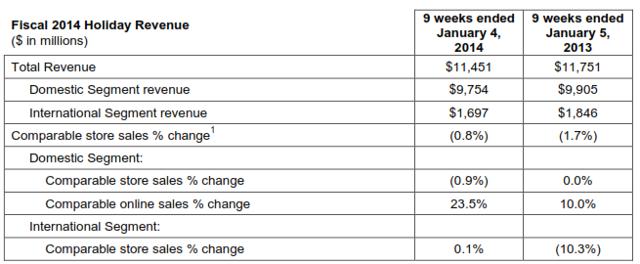 Click to enlarge
Declining Revenue per square foot
In the US the competition for BBY has increased in the past years. Best Buy's revenue per square foot of store is continuously falling. Its revenue per share was $953 in 2006 and this figure has steadily decreased since then. In 2010 this figure decreased to $888 and further decreased to $860 in 2011 and $726 in 2012.
This figure is feared to decrease further due to the headwinds that Best Buy will continue to face from strong competition. Although Circuit City, the second largest US electronic retailer that used to be the only direct competitor of Best Buy, filed for bankruptcy, Best Buy faces intense competition from retailers like Amazon (NASDAQ:AMZN), Walmart (NYSE:WMT), Target (NYSE:TGT) and Costco (NASDAQ:COST). The following graph depicts this declining trend.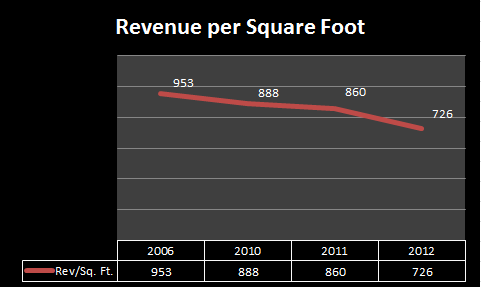 Revenue per square foot of US stores (Data from trefis.com)
Best Buy is Decreasing its Store Count
BBY is optimizing its operations by reducing the store count and this is a good step if the company wants to continue to produce good returns on investments in the long run. Revenue per square foot is decreasing as mentioned above and BBY is doing its best to remain competitive. BBY closed down 47 US stores in 2013 and analysts believe that the company will have to continue its consolidation to sustain its business in the long run. Best Buy is expected to reduce its store count from 1056 in 2012 to around 860 in the next few years.
Best Buy Challenged by M-commerce
Best Buy created value for its customers through its trained staff that educated its customers about the products to help them make better buying decisions. Mobile phone commerce that has gone viral in recent years is threatening to erode this unique value created by Best Buy. M-commerce provides consumers with a very efficient and alternative way of searching and ordering their desired product through their smart phones and tablets. Best Buy realized the emerging trend was eroding its value and in its 2013 annual general meeting announced its plan to focus on online selling.
Opportunity or a Threat?
Online sales and especially mobile phone commerce is a fast growing area and companies can't control this trend. It's not only an opportunity but also a potential threat for companies that don't choose to invest in online capabilities. Companies like BBY are forced to invest in building capabilities to exploit this opportunity and to remain competitive. Best Buy is doing the right thing by focusing on online sales. There is some uncertainty as to how this will unfold for Best Buy but in my opinion the company is doing every possible thing to bounce back. I think Best Buy is likely to make recuperate. The following strategic initiatives will further support Best Buy's positive outlook. Investing in New Growth Segments Best Buy strengthened its foothold in the $40 billion market of cloud technology by acquiring mindSHIFT at the end of 2011 and this acquisition is expected to create synergies with Best Buy Geek Squad. Best Buy further strengthened and expanded its cloud service by acquiring its Glove Technologies in mid-2012. Cloud technology demand is growing rapidly and it is expected to grow at a CAGR of 23.4% from 2013 to 2017. This growth rate is five times the growth rate of the IT industry. The acquisition was a good move that will drive top and bottom line growth. BBY has also created a third party market place and is offering products from other sellers and earning a part of their proceeds. Many third party sellers have signed up for the platform.
Valuation
BBY stock is currently trading at around 12 times expected four quarters' earnings compared to 15 times the expected earnings of the overall S&P 500 index. The average estimate by analysts of Best Buy's target price is $33.64 and that offers an upward potential of over 35%. This is still lower than the $40 plus price level at the start of this year before the holiday sales report. This price estimation supports the opinion that BBY's stock price is expected to bounce back and market's bearish reaction to holiday sales report was out of proportion.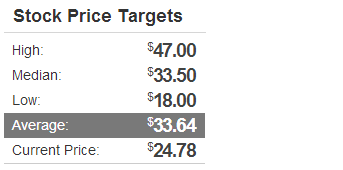 Conclusion
Best Buy is making every effort to transform its challenges into opportunities. Consolidation of its operations is a much needed optimization that is expected to keep the company competitive in the market in the long run. Best Buy is creating new segments and services to drive growth for its top and bottom line. The company is facing headwinds but is rapidly adapting itself to establish its position in the market. The market reaction to the holiday sales report was too intense and the stock price is attractive at the present low levels. Therefore investors should consider investing in Best Buy.
Disclosure: I have no positions in any stocks mentioned, and no plans to initiate any positions within the next 72 hours. I wrote this article myself, and it expresses my own opinions. I am not receiving compensation for it (other than from Seeking Alpha). I have no business relationship with any company whose stock is mentioned in this article.