Editor's Note: This article covers a stock trading with less than a $100 million market cap. Please be aware of the risks associated with these stocks.
Of all the stocks on my watch list, Gevo, Inc. (NASDAQ:GEVO) ranks near the top of potential long-term jackpot plays. And, in agreement with my assessment of Gevo's technologies, BioFuels Digest's "50 Hottest Companies in Bioenergy for 2013-14" competition ranks Gevo no. 5 for "innovation and achievement in biobased chemicals and materials development."
GEVO's has developed the proprietary technology to produce isobutanol, a second-generation compound to ethanol, and it is touted by numerous scientific sources as the most viable, next-step and clean solution to fossil fuels, today.
However, Solazyme (SZYM) (no. 1), LanzaTech (no. 2), KiOR (NASDAQ:KIOR) (no. 3) and Sapphire Energy (no. 4) topped GEVO on BioFuels Digest's list of the top five.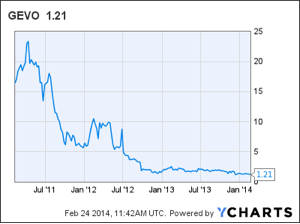 I specifically mention these four other interesting companies to illustrate why GEVO is my best pick as an investor/trader (not necessarily my pick for available technologies) among the dozens of biofuel companies in the space with similar business models to companies like SZYM, the darling of the algae production stocks, and KIOR, the hottest cellulosic fuel maker.
SZYM and KIOR have nice business models, but the capex spending involved to profitability are quite high, and both models require long ramp-up times and additional capex spending to grow revenue. And after reviewing the numerous challenges of scaling algae production (read Biological Challenges and Physical Challenges), GEVO's model seems so simple and fast-to-market in comparison.
And, as a trader looking for the highest return on capital against risk and time frame, Gevo ranks no. 1 with me in this space.
Essentially, GEVO's proprietary technology converts ethanol production to isobutinol, a light-weight alcohol which "can be blended with gasoline at any percentage rate," due to its higher energy content than ethanol's relatively low energy content.
In fact, the U.S. Department of Energy says that isobutinol can replace gasoline.
With more than 22.3 billion gallons of ethanol produced in 2011, according to Wikipedia, the infrastructure for delivering isobutinol requires no major capex spending on the part of GEVO. Retrofitting existing ethanol plants requires only minimal costs of, maybe, tens of millions of dollars per facility, not hundreds of millions, or a billion, to bring isobutinal to market. And, no infrastructure is needed to deliver the product to consumers; the established ethanol infrastructure is already in place.
"Unlike ethanol, isobutanol can be blended at any ratio with gasoline and should eliminate the need for dedicated infrastructure in tanks or vehicles," James Liao, vice chairman of Chemical and Biomolecular Engineering at UCLA told Gizmag. "Plus, it may be possible to use isobutanol directly in current engines without modification."
"Because we [Gevo] intend to collaborate with and retrofit an ethanol producer, our capital cost will be low and our timeline will be fast," Gevo CEO Pat Gruber told Forbes in a 2008 interview.
Can any other company skirt such large capex spending in a capital intensive biofules industry?
Easier Money from GEVO Licensing Than From Production
After reading countless business models and schemes in nearly every capital-intensive industry and sector, GEVO's business model makes a lot of sense for investors who desire to turnover money as fast as possible in the 'biofuels' space.
For the sake of moving the discussion along from the already-numerous articles about Gevo, those new to the stock should read GEVO's website for a long list of compelling reasons to get involved with the stock. The first paragraph in the "Our Markets" page of the company's website, reads:
Isobutanol is an important platform chemical with broad applications in many chemicals and fuels markets. It is a "drop-in" product that should allow customers to replace petroleum-derived raw materials with isobutanol-derived raw materials without modification to their equipment or production processes. Because isobutanol can drop into existing infrastructure, it should provide for easy integration into existing chemical and specialty fuel production processes. [emphasis added]
I suspect many investors view Gevo differently than I do, in that, I'm not particularly interested in the Luverne, Minnesota plant for its revenue stream, per se. I believe CEO Gruber and company have no intention of going into the biofuels business, permanently, but intend, instead, to complete the Luverne facility (and Malaysian upstart) in order to demonstrate the purpose of the more than 450 patents the company filed to bring isobutinol to market. Then, GEVO can begin licensing the technology around the globe, despite the Pentagon's kitty investment in the technology.
Love him or hate him, as former vice president of the U.S., Alan Gore, said to a green energy conference in Athens in Nov. 2010, "It is not a good policy to have these massive subsidies for (U.S.) first generation ethanol.
"First generation ethanol I think was a mistake. The energy conversion ratios are at best very small.
"It's hard once such a programme is put in place to deal with the lobbies that keep it going." Source Reuters.
On that score, Gore is correct. Not only is corn a marginally mediocre, at best, feedstock for biofuels, it takes from the food supply and raises price of many foods made from corn, though some domestic and international institutions assert that U.S. policy in the corn market does not raise food prices.
"The size, the percentage of corn particularly, which is now being (used for) first generation ethanol definitely has an impact on food prices," said Gore. "The competition with food prices is real."
And who would be the most likely customer (outside the U.S.) interested in totally removing subsidies to its biofuels industry? Brazil, because the foodstock it uses to produce ethanol is energy-rich sugarcane.
According to Wikipedia, Brazil ranks no. 2 in ethanol production, and would be a likely source of licensing revenue for GEVO, especially with sugarcane as the foodstock, as the World Bank in 2008 released a report stating that Brazil's sugarcane-based ethanol program did not contribute to higher food prices, pre-2008.
As a member of the BRICS nations, Brazil could compliment production in SE Asia, in Malaysia and Thailand, members of the ASEAN nations. And the nucleus of both the BRICS and ASEAN trading blocks is China, of course, the driver of economic growth in Asia.
"In our end markets about half the volume sits in Asia," Gevo Chief Operating Officer Christopher Ryan told XportReporter. "There is a diverse end user set predominately driven by the growth of China."
Conclusion
Granted, scary lawsuits, production delays, and doubts that GEVO's management team can pull off a successful Luverne, Minnesota facility (good article to the contrary) have frightened some investors from the stock during the past several months. But, from the looks of the quite large institutional support and insider holdings of the stock, some smart money has bet that all is most likely to be well with GEVO.
The potential market for this second-generation biofuels company dwarfs the marketplace of any promising FDA candidate drug. Yet, the stock trades at a measly $55.8 million market cap.
After reading countless articles about GEVO's technologies compared with other technologies; its production delays; how good or bad management is; will the company be profitable some time soon; pending lawsuits, and the debate whether the technology makes sense if corn prices rise faster than oil prices, et cetera, it appears many investors on the margin have recently bailed out of a good long-term bet for short-sighted reasons.
From my standpoint, GEVO is no different from the risk implied by owning a pharmaceutical stock with a FDA newly-passed phase III candidate drug awaiting final approval. And if you look at some of the market caps of these pharma stocks, GEVO is a screaming bargain in comparison.
Disclosure: I have no positions in any stocks mentioned, but may initiate a long position in GEVO over the next 72 hours. I wrote this article myself, and it expresses my own opinions. I am not receiving compensation for it (other than from Seeking Alpha). I have no business relationship with any company whose stock is mentioned in this article.