The Coca Cola Company (NYSE:KO) is the world's largest beverage company, serving consumers in more than 200 countries at a rate of 1.9 billion servings a day. The company announced its 4th quarter and full-year 2013 results this week, and they were a little disappointing. The company's outlook for 2014 is also expected to be affected by currency fluctuations and other macroeconomic variables. I am writing this article to explore whether or not investors should remain optimistic of the stock or change their perception of the company. Let us glance at the company's recent performance.
Performance Overview
The company reported an EPS of $0.38 for the 4th quarter that was below Wall Street's expectations, and the full-year EPS was $1.90. The performance of the company was badly affected by the currency headwinds, as reflected in the figure below. Global sales volume rose by 1% in the fourth quarter and 2% for the full-year 2013, showing a very meager volume growth for the beverage giant.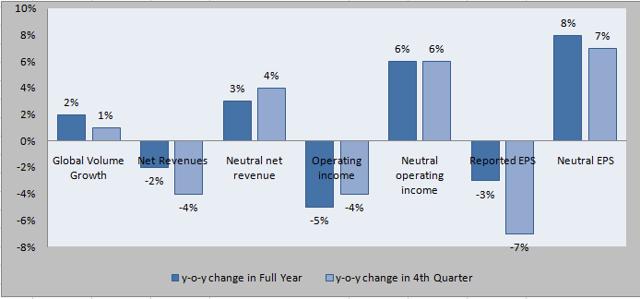 Source: Earnings Release
Coke's geographic presence allows it to experience declining volume in one region and simultaneously enjoy volume gains in other parts of the world. Volume growth was driven by the enviable growth in the region of Eurasia and Africa of 7%, which compensated for the even growth in North America and 1% growth in Europe for 2013. Examining the quarterly results leads us to the conclusion that the company's main market of North America faced a 1% decline in sales volume, and that is alarming. Region-wise, the company's performance in both yearly and quarterly is presented in the table below.

Source: Earning Release
Outlook for 2014
Coca Cola expects its 2014 results (net revenues and operating income) to carry the unfavorable impacts of bottling restructuring and currency exchange rates by 1% and 7% respectively. Currency exchange rates will experience a 10% headwind on the operating income of the first quarter of 2014. The company has announced a $1 billion budget tightening plan that is a move by the company to improve profits internally when revenues and income are pressed due to softer sales volumes and currency exchange losses. This plan will be operational by 2016 and will cut $1 billion annually. The money saved from supply and data management will be reinvested in marketing to increase demand.
Increasing Dividends Despite Challenges
The Coca Cola Company treats its investors by rewarding them generously through dividend payout, stock buyback programs, and share price appreciations. The Coca Cola Company has a remarkable history of rewarding investors via increasing dividends every year, as demonstrated in the figure below. The company has a dividend yield of 2.99, whereas the industry has set a benchmark dividend yield of 1.68. Moreover, the company's 5-year dividend growth rate is 5.3 times better than industry norms. The company's dividend grew in 2013 by around 10%, marking the 51st consecutive annual dividend increase on the part of company.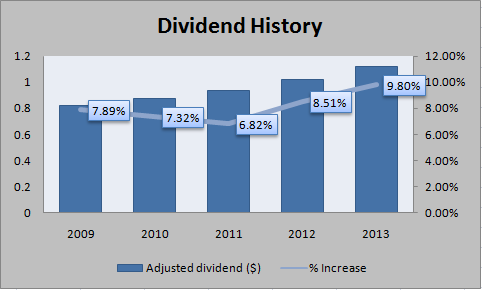 Source: The Coca Cola Company Dividend history
The company bought $3.5 billion shares for cancellation in 2013, reducing its share count by 75 million, or by 1.6%. For 2014, the company plans to buy back shares worth $2.5 billion to $3 billion. If the company manages to buy back an average of $2.75 billion shares, then based on the current market price of $37.47 the company will buy back 73 million shares, reducing its share count by 1.62%. The company's allocation to the share buyback program has been cut, but it will help enhance the per share results of the company over the coming years.
If we glance at the company's stock price performance, it seems despondent because Coca Cola's stock price soared in the year 2013 by just 0.13% in the face of the competitor PepsiCo's (NYSE:PEP) stock price appreciating by 6.11%. Such is the case with another financial metric of total shareholder return, according wherein Coca Cola underperformed compared to PepsiCo (see figure below). The stock went down almost 4% after disappointing 4th quarter results were revealed, making it the biggest one-day decline since August 2011, reflecting the discouraged sentiment of investors.

Source: YCharts
The Road Ahead is the Global Reach
The Coca Cola Company aims to double its global revenue to $200 billion in 10 years by 2020. Therefore, the company is revamping its strategy and has turned its focus towards products and markets that have demonstrated maximum growth potential in recent years. It is wrong to see Coke highly concentrated in North America, when it derives around 74% of its operating profit from international markets. Emerging markets contribute a major chunk (55%) of the total operating profit. Therefore, the company is striving to penetrate more and more into the global markets that offer potential room for the company to grow. However, the fact remains that as the company delves more and more into foreign markets, the currency exchange risk grows higher.
After The Coca Cola Company invested $4 billion in China between 2012 and 2014, it developed another investment plan to invest $4 billion in the region from 2015 to 2017. This forces us to conclude that the company has high hopes for China, since in other parts of the world the soft drink market is facing stiff competition. However, Chinese consumers will soon demand healthier alternatives to Coca Cola beverages due to their rising health-consciousness. Therefore, it is inevitable that the company will add healthier drinks to its portfolio, such as juices or plant protein drinks like almond milk to cater to the needs of Chinese consumers. Other than China, Brazil has also experienced slowed volume growth of Coke beverages in 2013, but Brazil's thirst for soft drinks will receive a boost during the FIFA World Cup in 2014. Moreover, Coca Cola is striving hard to build bottling infrastructure to serve the rising soft drink demand over 10 to 15 years driven by a serious uplift in the global middle class by 2020.
In developed countries like the USA, anti-obesity campaigns have hindered the sales growth of sugary drinks. Even the zero calorie soft drink Diet Coke is facing challenges in terms of sales volume due to rising concerns of the nutritional content of artificial sweeteners. However, Coca Cola Life can bring fresh air to the glooming arena of the company's soft drink sales. Coca Cola Life is a stevia (natural no-calorie sweetener)-based cola that was launched last year in Argentina and has shown promising results. This way, the company may gain customer attention, as this soft drink will offer a more natural and healthier version for those who have concerns regarding the demerits of sugary drinks.
GMCR Partnership
Earlier this month, Coca Cola announced a partnership deal with Green Mountain Coffee Roasters (NASDAQ:GMCR), according to which the company will buy a 10% stake in GMCR for about $1.25 billion. This plan will revolutionize the traditional consumption of carbonated soft drinks, since through this collaboration, the beverage company's global brand portfolio will be introduced for use in GMCR's upcoming Keurig ColdTM at-home beverage system. This will make GMCR the company's exclusive partner in producing and selling Coca Cola-branded single-serve, pod-based cold beverages. However, the Keurig system is expected to be launched in 2014, so this deal will not have any impact on Coca Cola's performance in 2014. Ease of access to Coca Cola brands at home via Keurig will ultimately and optimistically raise the demand for the brands. However, this deal may end up shifting sales rather than growing, and thus will be adversely affected by cannibalization (negative externality). It seems obvious that the deal will aid Coke in combating rising competition from various energy drink brands, pressed juice makers, and do-it-yourself appliances from companies like SodaStream International Ltd. (NASDAQ:SODA).
Final Note
The Coca Cola Company is secure with its strong global brands, pricing power, noticeable size and scale of its business, and a healthy financial condition. Therefore, despite the sluggish results of the company during the fourth quarter and full year of 2013, Coca Cola has the ability to improve its results and drive overall high performance over time leveraging on the above noted strengths. In order to bolster its growth opportunities, the company may continue mergers and acquisitions or joint ventures enhancing its market share and strengthening its footholds in emerging markets. A recent example of this is the company's announced deal with Green Mountain Coffee Roasters.
In this scenario, I think Coca Cola offers the best combination of quality, international growth prospects, and continued payoff to shareholders. This implies the stock is well-positioned to be part of a long-term investor's portfolio, and the recent price dip is an opportunity to buy the stock.
Disclosure: I have no positions in any stocks mentioned, and no plans to initiate any positions within the next 72 hours.
Business relationship disclosure: The article has been written by a Blackstone Equity Research research analyst. Blackstone Equity Research is not receiving compensation for it (other than from Seeking Alpha). Blackstone Equity Research has no business relationship with any company whose stock is mentioned in this article