Target Corp. (NYSE:TGT) shares have declined sharply for the past few weeks due to a well-reported data breach. This news story has captured the headlines and while it certainly may be having a short-term impact on revenues, and the share price, the long-term outlook remains intact. As many contrarian investors realize, a short-term crisis is often a great buying opportunity. Based on the long-term outlook for Target, and on a review of other companies that have experienced challenges like this, I believe this is a significant buying opportunity. Investors who look past the short-term challenges and focus on where the company might be in a couple of years, could see big gains. Take a look at the chart below to see the recent pullback in Target shares: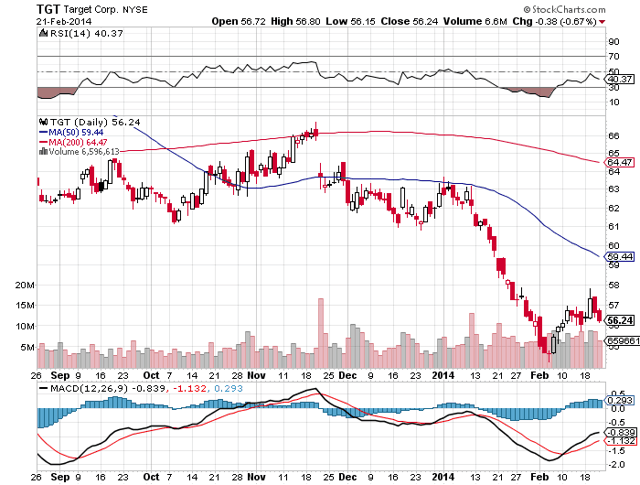 Target is a "best of breed" stock in the retailing sector. The current sell-off appears to be a rare opportunity to buy this stock cheap. The headlines from the data breach will fade over time and I believe very few customers will stop shopping at Target over this issue. This is because data breaches of personal info are simply a reality of modern life and many major corporations have had these type of problems impact their customers. The TJX Companies (NYSE:TJX) experienced a significant data breach a few years ago. While that stock also declined for awhile, it has completely recovered and then some. You sure don't hear customers talking about that now or avoiding those stores, which shows how issues like these fade in time.
The headlines and impact on financial results might linger for a few more months. While the company may see a small decline in sales in the short-term, the impact from the expenses relating to upgrading systems and other expenses related to the data breach are probably going to be the biggest issue. It's hard to quantify these costs now, so it makes sense to average into Target shares over the next couple of months or so. By doing this, investors will be able to take advantage of any weakness and volatility in the stock that could occur when Target reports earnings, or when negative headlines hit.
In spite of the short-term issues, there is no reason to believe that the data breach will diminish the long-term potential for this company. Target has set goals to earn $8 per share by 2017 and pay a dividend of $3 per share. These goals were made before the recent data breach issue and perhaps they are too lofty based on the current economy. But, even if you reduce the goal of $8 per share in profits by a significant amount, to let's say $6.50 per share, this stock appears to have major upside. If it can earn $6.50 per share in 2017 and it sports a market average price to earnings multiple of about 15-16 times earnings, you could have a $100 stock price in 2017. That level of earnings ($6.50 per share) would also support a $3 per share dividend which would give the $100 shares a 3% dividend yield. This upside potential makes the stock very attractive to consider now. If you think $100 per share seems crazy, let's not forget this stock was trading for over $73 not too long ago and some analyst price targets have been set at $80. If those values were reasonable not that long ago, earnings growth and other factors could easily make $100 per share a realistic price by 2017. Target might even be able to earn less than $6.50 per share and still trade for $100, or so. Just look at Costco Wholesale (NASDAQ:COST) which trades at about $113 and it is expected to earn just $4.85 per share in 2014. This comparison makes Target shares look very undervalued right now.
Target already pays a dividend of $1.72 per share which yields 3.1%. Investors who wait for the data breach headlines to fade and for earnings growth into 2017, will be well-rewarded for their patience with this solid yield. The other positive I see is that investing in Target at these levels appears to be relatively low risk. There is no doubt that Target shares could remain volatile and weak until the headline risks fade. However, on a macro level, the stock is likely to perform relatively well if the market goes into a correction, or if the global economy becomes destabilized by issues in emerging markets. If the economy softens, companies like Target can continue to prosper as consumers will continue to seek value. In fact, with a cheap valuation and a solid yield over 3%, Target shares could even be a bit of a safe haven at these levels. But to be sure, investors should average in and buy on dips, then hold this stock for what might be a very rewarding time by 2017. For another contrarian stock pick that looks undervalued, read this article I wrote on a $4 oil sector stock.
Here are some key points for Target:
Current share price: $56.24
The 52 week range is $54.66 to $73.50
Earnings estimates for 2014: $3.18
Earnings estimates for 2015: $4.19
Annual dividend: $1.72 per share which yields about 3.1%
Data is sourced from Yahoo Finance. No guarantees or representations
are made. Hawkinvest is not a registered investment advisor and does
not provide specific investment advice. The information is for
informational purposes only. You should always consult a financial
advisor.
Disclosure: I am long TGT. I wrote this article myself, and it expresses my own opinions. I am not receiving compensation for it (other than from Seeking Alpha). I have no business relationship with any company whose stock is mentioned in this article.