The Company
Sirona Dental Systems, Inc. (NASDAQ:SIRO) is the world technology leader in the development, production and marketing of dentistry equipment. It markets a complete line of products including restoration systems, 3D imaging systems, dental treatment centers, hand pieces, and hygiene systems. I became acutely aware of recent advances in dentistry technology when I recently had a root canal performed. After noticing that the new space-age equipment was manufactured by SIRO, I began investigating the company and liked what I found.
SIRO's origins date back to 1877 when Erwin Moritz Riniger, an engineer, began manufacturing electromedical and physical apparatus in Nuremberg, Germany. After several years, Riniger took on some partners, and the company started marketing the first electric drill in 1887. Since then the company has gone through numerous business restructurings, while continuing to be at the forefront of major innovations in the field of dentistry. It currently has approximately 860 patents.
In more recent history, the company was a division of Siemens AG (SI) until it was purchased by a consortium of institutional investors in 1997, who established it as Sirona Dental Systems GmbH. The company continued to evolve until 2006 when it merged with Schick Technologies, Inc., and was listed on the NASDAQ National Exchange under its current name.
According to SIRO's 2013 Annual Report (fiscal year ends on September 30th), SIRO currently has 3216 employees with sales in 135 countries. Its headquarters are in New York and it has numerous offices worldwide, including manufacturing and assembly facilities in Germany, Denmark, China and Italy. Since going public, the company has seen rapid growth and has been paying down debt and buying back shares with its excess cash. In 2013 it initiated a new $100 million buyback program that ends in June of 2016. The program is entirely discretionary with the board of directors.
With its good cash flow, and a current debt to equity ratio of 6%, it seems logical that company will soon start paying dividends. Intuitively one would think that the company can continue its growth. Aging baby boomers in the U.S., and a growing middle class in China and other emerging market countries should bode will for dentistry's new technology.
Performance
SIRO has been profitable in every year since it went public in 2006. F.A.S.T. Graphs calculated its normalized basic earnings rate at 38.8%. Its 2013 earnings growth was 11%. Analysts at S&P's IQ group, as calculated by F.A.S.T. Graphs, gives the company an estimated future earnings growth rate of 12%. The following is a list of additional relevant metrics I have calculated:
| | |
| --- | --- |
| Current Market Capitalization | $3.855 Billion |
| 2013 Gross Revenue is | $1.101 Billion |
| 2013 Net Profit Margin After Taxes | 14% |
| Average PE (5-year) | 26.75 |
| Average ROA (5-year) | 6.08% |
| Average ROE (5-year) | 11.7% |
| Average ROIC (5-year) | 12.7% |
| 2013 Debt to Equity Ratio | 6% |
Since 2009, SIRO has reduced its long-term debt to $75 million from $440 million, and in the last two years it has purchased $81 million of its shares. The company also held $242 million of cash and short-term investments at the end of its 2013 fiscal year (up substantially from the $151 million held at the end of 2012).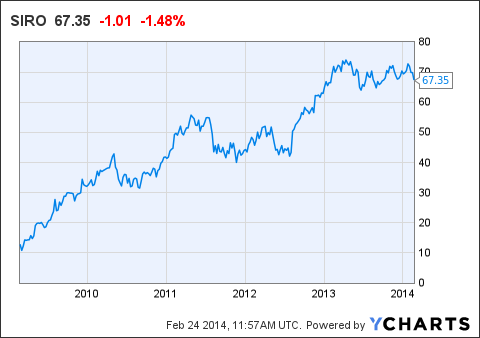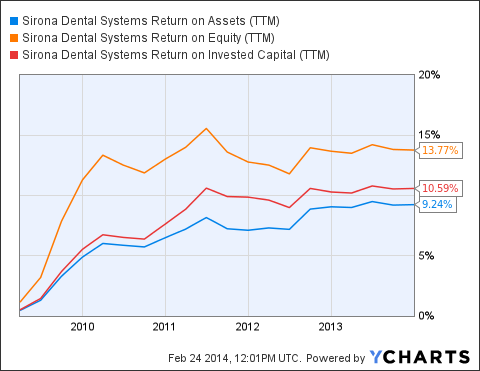 SIRO Return on Assets (TTM) data by YCharts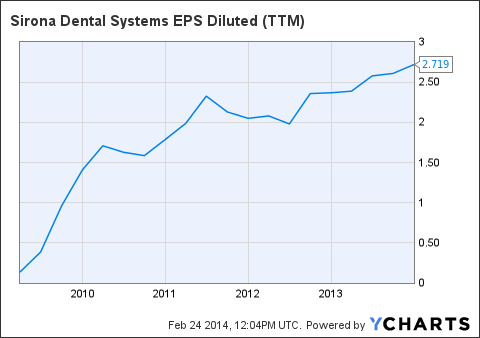 SIRO EPS Diluted (TTM) data by YCharts
Valuation
In determining the intrinsic value of SIRO, I first used a present value model of total owners' earnings (earnings plus depreciation minus capital expenditures) over a ten-year period. Even though its four-year average growth on earnings is 47%, I used the 12% growth rate estimate used by F.A.S.T. Graph (based on S&P's IQ analysts). In the 2012 and 2013 fiscal years, SIRO's growth was only 11% per annum.
The total ten-year earnings (using the 12% growth rate and 2013 owners earnings of $2.78 per share), came to $54.68. I then added the current share price of $67.35 to get a total of $122.03. The share price is added to the total earnings for the reason that without it there would be an assumption that the company goes out-of-business, and has no value at the end of ten years. I believe such an assumption is unreasonable. I look at the share price as I would the principal of a loan that will be paid back when the term of the loan ends. I then computed the present value using a 7% discount rate. The results of the calculation was an intrinsic value price of $62.03, which is a 8% less than the price it is selling for today. Using a 5% discount rate the intrinsic value is $74.91.
I next used a simplified intrinsic value formula suggested by Benjamin Graham in his book The Intelligent Investor (fourth revised addition - chapter 11). According to Graham this is a foreshortened evaluation method that can be used for growth stocks. The following is the formula and my calculations for SIRO using a 12% growth of earnings rate:
Value = Earnings X (8.5 +(2 X future growth))
Value = 2.36 X (8.5 + (2 X 12))
Value = 77.86
In this formula, if one assumes zero growth the intrinsic value of the stock would be 29.24.
Value = 2.36 X (8.5 + (2 X 0))
Value = 2.36 X 8.5
Value = 20.06
One can also determine the growth rate the market presently gives to the stock at its current price of $46.79 by changing the unknown in the formula as follows:
Value = Earnings X (8.5 +(2 X future growth))
((Value / Earnings) - 8.5) / 2 = future growth
((67.35/ 2.36) -8.5) / 2 = future growth
21.2 / 2 = future growth
10.01 = future growth
Based upon these two calculation methods it is my opinion that SIRO is at this time selling close its intrinsic value.
Conclusion
Since going public in 2006, SIRO's management has done a good job of growing its earnings, and paying down its debt. At this time it should consider paying a dividend. In 2013 the company had operational cash flow of $232 million. Subtracting its capital expenses of $72 million, left it with $160 million. With $160 million the company could pay off its entire long-term debt of $75 million, and still have $85 million from which it could pay a dividend, without touching its cash and short-term investments of $242 million. A $1.00 annual dividend (1.48 % yield), would use up only $55 million and would be a good start. A $1.00 dividend would also be a payout ratio of only 38% on its 2013 earnings of $2.61.
Although I think SIRO is presently trading at or near its fair value, at its current share price of $67.35, announcing a dividend would probably cause its price to go up a few dollars. In any event, I think the stock is a long-time hold and I will be adding to my position if the share price drops below $65.00. Even if SIRO does not issue a dividend this year, I think it is a good bet that it will do so in the near future. In SIRO's 2013 Annual Report the company stated that it might consider paying dividends in the future, but had no present plans to pay dividends.
Disclosure: I am long SIRO. I wrote this article myself, and it expresses my own opinions. I am not receiving compensation for it (other than from Seeking Alpha). I have no business relationship with any company whose stock is mentioned in this article.