Lately I have read numerous articles about (NYSE: CMG) and how it is "expensive" or "overvalued". Most of these articles only focus on a price-to-earnings valuation where they compare Chipotle's current P.E. ratio to other firms in the industry. Although this can be a useful tool, I believe it is worthless for valuing Chipotle due to its remarkable potential for earnings growth. In this article I will explain why Chipotle Mexican Grill will make an outstanding long-term investment based on my valuation of its potential for earnings growth, its operating efficiency and the supreme value proposition of its products.
Tremendous Potential for Growth
Currently Chipotle has 1,579 locations in the United States and 9 restaurants in Europe. McDonald's has 14,157 locations in the United States and 7,368 in Europe. Assuming Chipotle can enter most of the regions in which McDonald's operates, there is tremendous room for Chipotle to expand.
By the end of 2005, Chipotle operated 481 restaurants; by the end of 2013, Chipotle operated 1,579. That is a constant annual growth rate of 16%. In its annual report filed February 4, 2014, the company forecasts that it will add between 180 & 195 restaurants in 2014. Assuming Chipotle can continue to find good locations to open new restaurants, this level of growth should continue well into the future.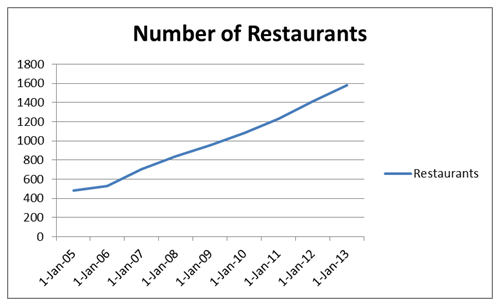 Since 2005, Chipotle's earnings have grown at a constant annual growth rate of 28.25%. Assuming its operations are relatively stable in the next ten years, I see no reason not to believe its earnings growth will continue to be robust over the next ten years or so.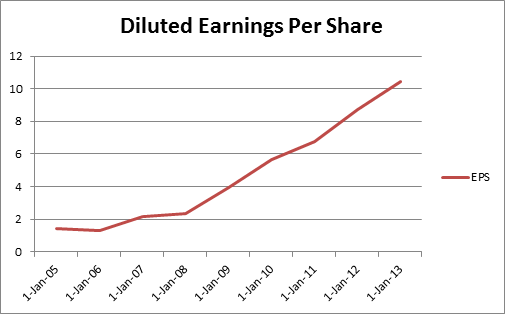 Chipotle has its eye on other concepts other than Mexican dining. Recently the company has taken a stake in a Pizzeria and began operating a chain of restaurants serving Asian cuisine.

Below is a photograph of Shophouse Southeast Asian Kitchen Restaurant Located in Washington D.C.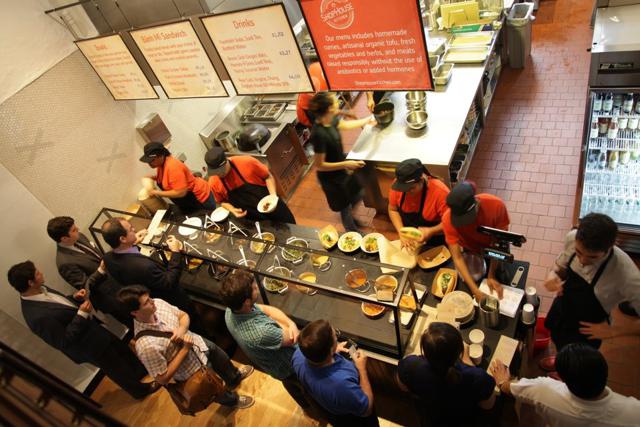 The new concept restaurants share Chipotle's vision of changing the way people think about fast food by offering restaurants with high-quality raw ingredients, classic cooking methods and a distinctive interior design. These new concept restaurants could become a growth component for the CMG and open new outlets for expansion around the world.
Operating Efficiency & Sustainability
Chipotle has creatively designed its restaurants using a distinctive, cost-effective design that is both cheap and aesthetically pleasing.
With a cash balance of $323,000,000 or roughly 16% of its total assets, CMG appears to be ready for continued growth. Based on figures from 2013, it costs Chipotle an average of roughly $91,000 to open a new restaurant. If Chipotle decided to pay off all of its current liabilities today with cash and simply broke even on all of its operations throughout the year, it could open nearly 850 restaurants before running out of cash. Unless operating and market conditions completely deteriorate, it appears Chipotle will be safe to expand for the foreseeable future.
Value Proposition
The value proposition offered by Chipotle is second to no other fast-food chain. The ingredients are pure and delicious, the portions are tremendous, and the value is unbeatable. I had never been to a restaurant that filled me up for less than $10 (without making me feel sick) until I went to Chipotle. The combination of fresh, pure ingredients, friendly service, portions that could satisfy a sumo wrestler, a pleasant and contemporary yet cost-effective interior design, and affordable prices makes Chipotle the best value in the United States.
Valuation
Valuing a company with such large growth potential can be tricky, so I focus on making all of the inputs based on what I believe would be the worst-case scenario.
DCF Analysis

The DCF model above, gives us a fair value for CMG of 911.72 which is roughly 65% higher than the current market price for Chipotle.
Potential Risks
If the company is unable to supply "responsibly raised meats" to its restaurants, this may have a negative impact on the company's future sales.
New markets will create new challenges for Chipotle such as gaining brand recognition, adapting to different discretionary spending patterns, and different competitive environments that Chipotle may struggle within the next few years.
Since food, beverage and packaging costs amount to a value equal to roughly 33.4% of its revenue, inflation on these inputs could cause negative effects on Chipotle's ability to generate profit.
Conclusion
I believe the potential rewards for investing in Chipotle Mexican Grill far outweigh the potential risks. Although it is difficult to accurately forecast the success of a company more than five years out, I believe the current position of this company gives great insight into its future profitability. Chipotle is on pace to be one of the most successful fast- food restaurants in history and its operations appear to be safe from any significant and foreseeable challenges.
Disclosure: I have no positions in any stocks mentioned, and no plans to initiate any positions within the next 72 hours. I wrote this article myself, and it expresses my own opinions. I am not receiving compensation for it (other than from Seeking Alpha). I have no business relationship with any company whose stock is mentioned in this article.