Introduction
AT&T (NYSE:T) beat estimates on top and bottom lines when it announced in January. However, the market was not enthusiastic about some of the results, and shares traded down from over $33 to $32. Just a year or two ago, high yielding telecom companies like AT&T and Verizon (NYSE:VZ) were enjoying status as relatively safe companies that offer high dividends to comfort investors during uncertain times. That changed somewhat.
Currently, there are questions involving dated technologies and formidable future competition. We all know how fast and dynamic markets are: remember when Dell was publicly traded? Specific technologies are waning away, or "Dying," as a recent story puts it. Some of them are vital lines of business for AT&T; as disclosed in its current Form 10-K, which has recently been filed with the SEC. AT&T does not appear to need to reinvent itself at this time. However, it should not be caught flat footed either.
Operational Matters
A first issue is cable television. Its passing might be signified by the ascent of Netflix (NASDAQ:NFLX), with its growing subscriber base, and its stock's amazing recent appreciation. The number of households paying for cable service is down 3.3% from 2012; and 17.6% over one decade. AT&T is continuing to expand its U-verse offering that packages high-speed Internet and tv service. Netflix's recent direct connection agreement with Comcast (NASDAQ:CMCSA) might be positive.
A second issue is landline service; although this is nothing new for telecom companies. Roughly 38% of adults now use wireless telephones only, up from 21% in 2009, and only 3% in 2003. Landline service falls under "Wireline," one of three specific groups the mega-cap corporation places its operating subsidiaries within. Wireline is specified to be responsible for 27% of 2013 segment income. Voice is responsible for 16% of consolidated total operating revenues, down from 18% last year, and 20% in 2011.
Total Switched Access Lines are down 15.8% YoY after declining 14% the previous year. Local phone service is not an operational strength.
To address the problems above, AT&T offers bundles. U-verse high speed broadband and video products allow customers to unite wireless and wireline services. There is competition in most markets, however.
Also, some people may be moving away from two year cell phone contracts, labeled "Postpaid" by AT&T. Such subscribers are recently reported to comprise nearly 73 million out of 110 million, after growing 3% YoY. The company is specifically rolling out a lower no contract plan to compete with the likes of Metro PCS (NASDAQ:TMUS), and others. Its pending acquisition of Leap Wireless also should help to address any future postpaid declines by attracting and retaining prepaid customers.
Meanwhile, wireless is also one of three specific groups of its operating subsidiaries and AT&T Mobility is recorded as providing 76% of total segment income in 2013. Voice, text and other service brings in 31% of consolidated total operating revenues, a 1% decrease from last year, after accounting for 33% in 2011.
The company is currently observing higher wireless data and equipment revenues, reflecting higher smartphone usage. U-Verse residential usage is attributed to higher wireline data revenues: high speed Internet users are offsetting a decline in the tally of DSL and other broadband users. It might not hold up in the future.
Google Fiber
AT&T expects
…market saturation to continue to cause the wireless industry's customer growth rate to moderate in comparison with historical growth rates, leading to increased competition for customers. We also expect that our customers' growing demand for data services will place constraints on our network capacity. This competition and our capacity issues will continue to put pressure on pricing and margins... (Source: 10-K).
Google Fiber (NASDAQ:GOOG) is being rolled out in select markets. It advertises speeds of 1,000Mbps, 100x broadband rates are currently available to consumers. It is an internet and television service. Clearly, Google has the means to compete here and could even render U-Verse a struggling stopgap measure. Its pricing in Provo, UT is the similar.
Comparison of Google Fiber & AT&T U-Verse in Provo, UT

Services

Monthly Price

Google Fiber

Internet + 200 Channels

$120

5 Mbps Internet

$0

AT&T U-Verse

Internet + 290 Channels

$69

6 Mbps + 130 Channels

$49
A Netflix subscription currently costs $7.99 monthly. Folks are going to have to like the other 130 channels and +1Mbps speed enough to spend $49 on it with AT&T. It seems to me that Google can already take away high-spending customers, as its speeds are so much faster, and offer a compelling proposition to those on budgets.
Dividends
AT&T expects consolidated operating revenues to grow in 2014. Consequently, the dividend should be safe. However, giving difficulties that some might describe as secular, and top-notch competition, I see little other reason to hurry into the stock.
The company does appears to be healthy overall; however, it is trying stave off problems. Management might look to acquisitions. Otherwise, while some might like the stock now, a higher dividend yield would provide better downside support and payment.
With common shares priced at $32.47, there are two ways for their dividend yield to rise to 6%. The company's annual dividend is $1.84, pursuant to increasing it a penny to $0.46 in Q1. So, a price of $30.66 would be sufficient; or an increase of the payment to $1.97, or $0.48705 quarterly. A lower price would be preferable because a subsequent dividend increase, nearly a year from now, would result in an even higher yield. As shown in the graphic from YCharts, 6% would not be unusual: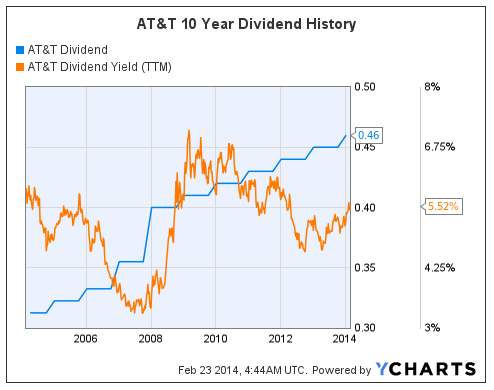 Conclusion
At least a 6% dividend yield is appropriate for AT&T equity. Consumers are trending away from its products at the same time that a competitive threat appears viable. Though telecommunications stocks have been viewed as defensive, times appear to be changing faster than their products.
Disclosure: I have no positions in any stocks mentioned, and no plans to initiate any positions within the next 72 hours. I wrote this article myself, and it expresses my own opinions. I am not receiving compensation for it (other than from Seeking Alpha). I have no business relationship with any company whose stock is mentioned in this article.