Editor's Note: This article covers a stock trading at less than $1 per share and/or with less than a $100 million market cap. Please be aware of the risks associated with these stocks.
Executive summary:
This rapidly growing small-cap stock has sustainable high growth potential.
China's growth has increased the demand for educated workers in key fields which is driving the revenue growth for the company.
Overvaluation in the stock creates a risk, but positive momentum is likely to continue due to the high growth in revenue, gross margin, and earnings.
_________________________________
As China continues its healthy rate of economic growth, many workers have an ongoing need for continued education. China Distance Education Holdings (NYSE:DL) is the leading provider of online training in China. The company is benefitting from increasing enrollments which is driving a number of its key metrics including: revenue, gross margin, and earnings. The company is currently trading as a premium-valued momentum stock. This momentum is likely to continue as revenue growth continues to increase at a high rate.
Business Overview
China Distance Education Holdings had 2.7 million course enrollments and 231 course offerings among 4,500 classes for FY2013. The company derives 56.4% of revenue from accounting courses, 12.9% from healthcare, 6.5% from construction engineering, 6.3% from other courses, with 17.9% coming from non-course revenue (books, reference materials, etc.). DL offers a comprehensive set of courses to prepare China's accounting professionals for a variety of exams with focuses on standard accounting (all levels), CPA, Registered Tax Agents, Certified Asset Appraisers, and continuing education. Tax laws and regulations can be complex and can change frequently. Therefore, DL provides the courses that prepare accounting professionals for their respective disciplines and the ongoing education associated with continuing ed.
In FY2013, 124,000 people took DL's healthcare exam to prepare for the following: the National Practicing Medical Doctor Qualification exam, the Healthcare Professional Technical Qualification exam, and the National Pharmacist Qualification exam. These are key exams that are required of healthcare professionals in China. There is plenty of room for growth as the total market size for healthcare courses is 2.5 million.
DL also provides courses to prepare construction engineering professionals for various exams that cover constructors, safety engineers, consulting engineers, and real estate appraisers. Continuing educational courses are also offered for architects, cost estimators, equipment supervisors, real estate agents, and related professionals. The courses allow the professionals to meet government requirements and to maintain necessary qualifications.
The company also provides courses for English proficiency, the national judicial exam, computer application skills, and other certifications and skills. DL also provides an open learning platform, where users can share their educational content in professional development areas. The open learning platform allows scholars and experts to record their own lectures and post them to one of the company's websites. These contributors benefit from a revenue-sharing program with DL.
Valuation
Valuation can be tricky for China Distance Education. The stock looks overvalued on most, but not all metrics.
| | |
| --- | --- |
| Trailing PE | 54 |
| Forward PE | 33 |
| PEG | 1.26 |
| Price to Sales | 10.4 |
| Price to Book | 11.6 |
| EV/EBITDA | 35.5 |
However, the PEG shows a fair valuation, which is due to the company's high 5-year estimated annual earnings growth of 33%. The other metrics show that the stock is overvalued based on earnings, sales, and the balance sheet. Since DL is a high-growth company, investors are giving the stock a premium price. This is typical for momentum stocks. The company is experiencing strong top line and bottom line growth. I think that the valuation is likely to remain high if the company continues to report steady gains and hit its estimates for revenue and earnings. However, significant misses on revenue or earnings could trigger a sizable correction for the stock.
Other momentum stocks such as Amazon (NASDAQ:AMZN) and Tesla (NASDAQ:TSLA) can trade at overvalued levels for years, but they can also experience large corrections on negative news. I think that DL will probably follow a similar path. If revenue and earnings continue to grow at an above average pace for DL, I think that the stock will continue to rise despite the rich valuation. Typically, I like to see most valuation metrics under or fairly valued, but momentum stocks can thrive with an overvaluation for long periods of time. For this reason, the stock will mostly likely continue higher over the long-term with some sharp corrections along the way.
Growth Catalysts for the Stock
The courses that DL offers: accounting, healthcare, etc., tend to be life-long in nature. Accounting and health professionals require continuing education on a regular basis. Therefore, DL customers become repeat customers as they keep up with the ongoing requirements for their field of expertise. This creates a recurring revenue stream for the company. This strong growth continues as new students are enrolled and become repeat customers.
The right acquisition can also be a future catalyst for DL. ATA, Inc. (NASDAQ:ATAI) is one of DL's competitors, which could conceivably be a strategic acquisition. The company is trading at an attractive valuation (PEG of 0.50 and EV/EBITDA of 5.19) and has strong expected annual earnings growth of 25% for the next five years. DL could pick up ATA at a discount to further grow and diversify its business. ATA provides test preparation and training programs for the securities and banking industries and test preparation software for the teaching industry. ATA also offers courses for IT and vocational certification tests. ATA's HR Select, is an online system that helps employers in the recruitment process. ATA's offerings would all complement DL's current business and provide over $60 million in additional annual revenue for the company.
The growing economy in China creates a growing demand for DL's services. As China continues to advance, more accountants are needed to navigate the country's tax code and provide key services for individuals and businesses. More healthcare workers are needed because the cancer rate in China is expected to grow by 78% by 2030. More construction engineers are required to handle the increase in development projects. All of this increases the need for DL's educational services for these fields.
China Distance Education has done an outstanding job of increasing its gross margin. Over the past 5 years, DL's gross margin has grown from about 35% to over 50%. This was a result of the company's ability to increase revenue at a faster pace than the cost of sales. For example, for the company's first quarter 2014, DL increased revenue by 43.7% to $18.7 million. At the same time, the cost of sales increased by 37.9% to $8.4 million. The strong revenue growth was mostly a result of increased sales for DL's accounting, healthcare, and construction engineering course offerings. DL is gaining scalability as the company grows and the gross margin is benefitting. This will lead to higher earnings over the long term, thus stimulating the stock price.
The Risks
Competition is a risk for the company. The online educational field has a low barrier to entry. Therefore, it is not that cost-prohibitive for new companies to start-up similar businesses. DL has the advantage of being a leading provider of online education. As such, the company's reputation has grown as a go-to provider of online course offerings. This makes it likely for current customers to continue to use DL for their ongoing continuing education credits. It should also raise awareness and a level of trust for new customers to come on board.
Since most of the company's valuation metrics are considered overvalued, the stock has a tendency to experience corrections of 20% in a short period of time. When news about China's GDP growth comes in less than expected, the stock tends to experience one of these large sell-offs. Therefore, the stock is at risk of losing value when China's economic news is negative or below expectations or if the company reports negative news.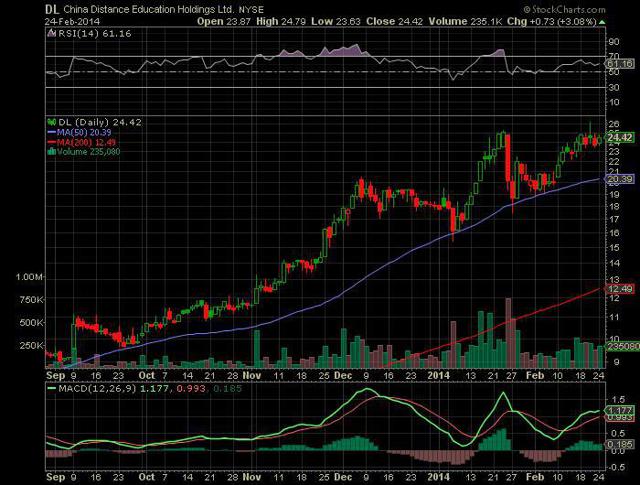 Conclusion
Although China Distance Education looks overvalued by most metrics, investors have been comfortable giving this momentum stock a premium price for the company's strong growth in revenue, gross margin, and earnings. The company's five year expected annual earnings growth of 33% is three times higher than the expected growth for the S&P 500. DL's earnings growth should come from a 20% to 30% annual increase in revenue plus further increases in gross margin. This should allow the stock to increase at an above average pace over the next few years.
With the China economy continuing to advance, DL's course offerings should experience increased demand for initial certifications and continuing education in the accounting, healthcare, and construction engineering fields. Any strategic acquisitions would be icing on the cake for the company. The likely stock appreciation and dividend of over 2% should be icing on the cake for investors. Just be aware that there might be some significant corrections along the way. The next dip in the stock price is a likely buying opportunity.
Disclosure: I have no positions in any stocks mentioned, and no plans to initiate any positions within the next 72 hours. I wrote this article myself, and it expresses my own opinions. I am not receiving compensation for it (other than from Seeking Alpha). I have no business relationship with any company whose stock is mentioned in this article.