1 - Introduction.
I am going to present the case for Transocean Ltd. (NYSE:RIG) company based in Vernier, Switzerland and Seadrill Ltd. (NYSE:SDRL) based in Hamilton, Bermuda. My goal is to show here that the two companies are very similar from different perspectives and can be compared as two thoroughbreds trying to cross first, a virtual finish line called $50. Which company will cross the $50 line first? That is the question.
2 - Business model comparison.
Transocean Ltd. business summary:(Home)
Transocean Ltd. provides offshore contract drilling services for energy companies worldwide. It offers deepwater and harsh environment drilling, oil and gas drilling management, and drilling engineering and drilling project management services, as well as logistics services. As of February 22, 2014, the company owned, had partial ownership interests in and operated 79 mobile offshore drilling units:
High Specification Floaters: Ultra-Deepwater (27)
High Specification Floaters: Deepwater (12)
High Specification Floaters: Harsh-Environment (7)
Midwater Floaters (22)
High-Specification Jack-ups (11)
The company also has 7 ultra-deepwater drillships and 5 high-specification jack-ups under construction or under contract to be constructed. Transocean Ltd. was founded in 1953 and is based in Vernier, Switzerland.
Seadrill Ltd. business summary:(Home)
In 2005, the billionaire John Fredriksen founded Seadrill Ltd. Seadrill Limited provides offshore drilling services for energy companies worldwide. The company operates in three segments: Floaters, Jack-up Rigs, and Tender Rigs:
The Floaters segment offers services, such as drilling, completion, and maintenance of offshore exploration and production wells under contracts relating to semi-submersible rigs and drillships for harsh and benign environments in mid, deep, and ultra-deep waters.
The Jack-up Rigs segment provides services, which include drilling, completion, and maintenance of offshore exploration and production wells under contracts relating to jack-up rigs for operations in harsh and benign environments.
The Tender Rigs segment operates self-erecting tender barges and semi-submersible tender rigs, which are used for production drilling and well maintenance.
The company owns and operates a fleet of 69 offshore drilling units As of Q3 2013 (20 under construction), which consist of:
Drillships.(15)
Semi-submersibles.(13)
Jack-ups.(32)
Tender rigs.(2)
Semi-tender rigs.(1)
Harsh-environment units.(11)
Ultra-deepwater units.(15)
It serves oil and gas exploration and production companies, including integrated oil companies, independent oil and gas producers, and government-owned oil and gas companies. The company has a strategic partnership with North Atlantic Drilling Limited (NYSE:NAD). Seadrill Limited is headquartered in Hamilton, Bermuda. Seadrill has 7,900 employees.
3 - Business size comparison.
These 2 companies are very similar in size and offer the same service to the oil industry particularly the offshore oil sector. They own specialized rigs and rent them at a day rate as high as $653k per day (SDRL West Polaris Exxon Mobil Angola).
In fact, to notice some differences between the two, we would have to check in painful detail, the fleet owned, then compare its average age, day rate, and the world primary locations targeted by the two companies, etc.
This article does not pretend to check these companies at this "deep analysis" level to decide what is unique and choose one versus the other. On the contrary, this article is aiming at finding their obvious similarities and will prove that both companies rank at the same level from an actual investor perspective. Often, all these technical papers are too esoteric for the real investor who wants to add in his/her long portfolio some solid companies that offer a tremendous potential for the next 10 years, despite an obvious fluctuating effect on the price per share of both companies.
To tell the truth, I found many comments on this very subject particularly difficult to digest and totally abstruse. In part because the authors used an exhaustive primary approach that prevented me from deciding whether I should buy or not. What do these people think? On the other hand, this confusing exercise cannot lead to the notion of the "street value" in my opinion, which is the name of the game. This eluding "street value" is the result of many limits and forces which are almost impossible to grasp.
I do not deny that the fundamentals are very important and certainly should not be overlooked, but come on, it is obvious that the stock prices behave independently from what is the logical real value, if this concept can exist somehow. Often, the price per share does not mirror the fundamentals and fluctuates on the momentum "du jour" between one willing to buy and one willing to sell, period. A special financial "à la carte".
Because the market fluctuates, it leads automatically to manipulation; the most obvious is the psychological effect that pushes a stock up and down. We can see it coming from miles and miles.
Remember gold's never-ending rally ($1,900 in August 2011) and the sudden "correction"? Remember the oil boom and prediction of $150 $250 a barrel in 2004-2006? Remember Henry Blodget and his $400 stock price for Amazon.com in 1998?
For the offshore oil sector, the last manipulation came suddenly. A small weakness in earnings from a "bellwether" was enough to call it a catastrophe. The rest is history:
A Barclays analyst decided to spread some negative opinion about rates and booking rigs after Noble Corp.(NYSE:NE) reported earnings in January 23, 2013. Noble Corp. fell nearly 10% that day and on top of about 10% since its highs in mid December. (Look at the NE chart from stockcharts below.)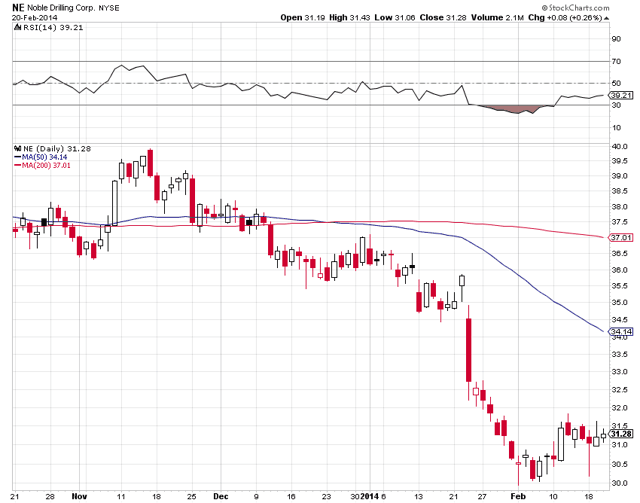 Click to enlarge
Then the negative emotional grinding machine started to question the quality of the dividend level in a possible reduced revenue environment, how dreadful. The decline spread and Diamond offshore drilling (NYSE:DO) dropped immediately and never recovered, and despite declaring positive earnings on February 6, 2013, Transocean Ltd. felt it too, and just declared a dividend increase. Seadrill Ltd., which reported, few days ago, a $1.8 billion contract with Pemex, is now barely above $36. [Noble Corp. is one of the majors in the offshore oil sector and often plays the bellwether for its direct competitors RIG, SDRL Ensco (NYSE:ESV) and DO].
Yes, an entire sector is "pressured" by rumors and is declaring increased dividends, good earnings, billion dollars in new contracts, and a clear and healthy backlog for many years ahead.
Then Raymond James reduced its 2015 EPS outlook by 18% claiming some lower rig use (not 15% not 20% but exactly 18%, which looks more professional and sounds calculated). As we know, Barclays said earlier that the offshore sector may correct about 35%.
The rest of the story was the burgeoning of a dozen negative articles which advised to sell SDRL or RIG, as soon as possible, and just wait for a elusive much lower price. A lower price that could be suitable for the high dividends paid between 7% to 11% roughly. In the chart below, RIG has increased dividend to 0.75 for 2014 but is not indicated.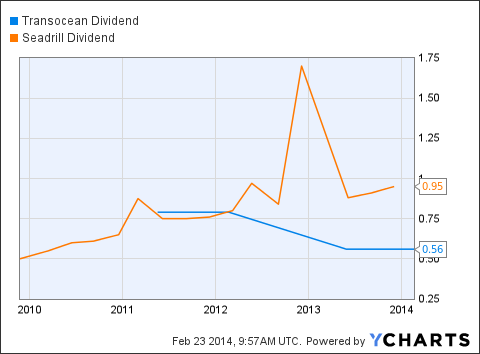 RIG Dividend data by YCharts
Yes, a booming impressive offshore oil sector is in a slight pause mode perhaps, not even proven in fact, and now is painted in total disarray. SDRL has long-term contracts averaging 3.9 years from December 2013 with an order backlog of $4.8 billion. (Read the December presentation). This is what I called an orchestrated negative psychological momentum.
We can read few articles here on Seeking Alpha from investors who advised to sell (?) the two companies even after a 25% correction from the highs in November 2013. They supported their basic argumentation on a "potential" future cut in dividend which is unsuitably high now.
In the meantime Transocean Ltd. just announced few days ago that the dividends will increase from $2.24 to $3 a share pressured by Carl Icahn, and Seadrill Ltd. announced a deal with Pemex, Mexico for 5 rigs with a total price tag of $1.8 billion few days ago. In addition, Seadrill Ltd has no intention to change its dividend policy. It keeps on raising it instead for the past several years at a 15% yearly average for the past 5 years.
One author on Seeking Alpha "advised" to sell SDRL at $35 then wait for $28 to $30 level. His argument was that he estimated that the company could cut the dividends in about 2 to 3 years. We may have found the antithesis of the "irrational exuberance" here.
Recently, the tide seems to turn on favor of the offshore oil sector with a Morgan Stanley analyst who said:
Although SDRL has sold off as investors hone in on its high leverage and ability to bridge a large funding gap amid near-term industry headwinds, the firm says it is confident in SDRL's ability to bridge the funding gap through asset backed financing while contract backlog continues to provide near-term cash flow visibility.
The Morgan Stanley analysts see an attractive buying point with SDRL trading at a compelling ~11% yield.
4 - Valuation comparison.
Transocean Ltd. versus Seadrill Ltd. Enterprise value:


RIG Enterprise Value data by YCharts
2. Transocean Ltd. versus Seadrill Ltd. Earnings yield.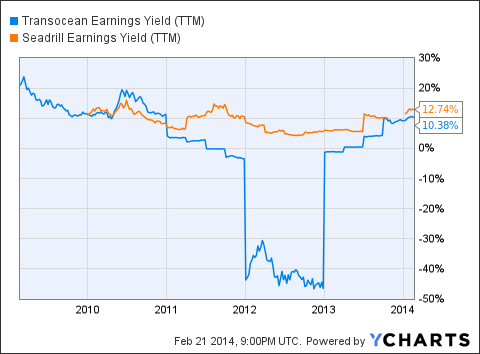 RIG Earnings Yield (TTM) data by YCharts
I took two basic comparisons among dozen. RIG and SDRL diverge in valuation because of the level of debt and the nature and age of the fleet. SDRL has more debt because it has a younger fleet adapted to deep water drilling, and RIG has less debt because its fleet is a little older. Earnings yield are very similar. In 2012/2013, Transocean Ltd. had the Deepwater Horizon catastrophe. to deal with, and in January, 2013 RIG agreed to pay US$1.4 billion for violation of the US Clean Water Act.
Now, let's compare few indicators:
| Company | Seadrill | Transocean |
| --- | --- | --- |
| Enterprise value in $B | 27.54 | 22.65 |
| Book value $ | 15.22 | 45.13 |
| EBITDA $B | 2.56 | 2.82 |
| Dividend per share in $ | 3.80 | 3.00 |
| Debt/equity (yahoo) | 179.41 | 65.98 |
| Total debt in $B (yahoo) | 13.93 | 10.73 |
| RSI(14) | 46.98 | 44.75 |
| Recent stock price | 36.83 | 43.13 |
| P/E ratio | 7.3 | 9.3 |
| Target 2015 $ | 54 | 54 |
| Stock rating in my opinion | undervalued | undervalued |
This simple comparison table is showing that Seadrill and Transocean are now undervalued in my opinion, and should appreciate at a yearly rate of 20% a year for SDRL and 12% a year for RIG. The dividends do not seem to be a problem and should stay at the same level it is now. Transocean Ltd. interrupted the dividends payment during the Gulf of Mexico crisis, but is now resuming the payment.
A big boost for Transocean was the involvement of the famous billionaire activist Carl Icahn in late 2013. Icahn Capital management owns 21,477,900 shares of Transocean Ltd. and has a rating BUY.
For Seadrill Ltd., we have plenty of positive for the next 2 years. The company will release earnings next week.
5 - Conclusion.
The offshore oil sector has high-yield dividends, corrected for the last almost 4 months and presents a good opportunity to buy for the long term. It is not without risks of course, but the nature of the business model and quality of the backlog for both compensate for some clear weaknesses (debt level, for example.)
The oil sector is strong and will be strong for decades to come in my opinion. One area that will expand in the future is the deep water drilling. It is there that large oil companies will find the reserves they need.
Look at the dividends for the 4 majors here. (Correct RIG to 0.75 for 2014.). Who can "recommend" a sell in this condition?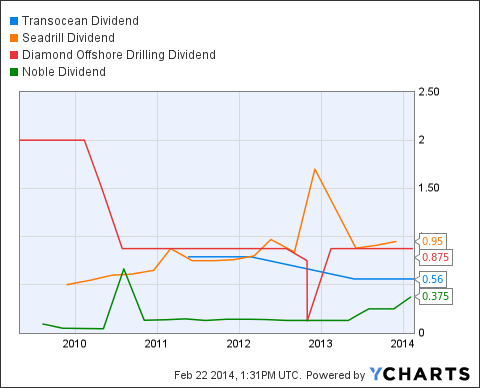 RIG Dividend data by YCharts
I believe that the recent retracement suffered by the sector was mostly due to a psychological manipulation, and had little consistency. This weakness put Seadrill Ltd and Transocean Ltd in an attractive valuation for value investors.
Although Seadrill presents more room to appreciate than Transocean the next 2 years, it is probable that RIG may cross the $50 line first, just slightly ahead of SDRL, and only because Seadrill's stock price is now $6 under RIG stock price. (Look at the chart below.)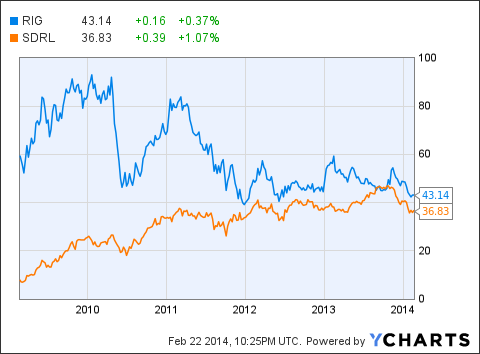 I have to declare that the race may end up in a tie, and both companies will be winners.
Disclosure: I am long SDRL, RIG. I wrote this article myself, and it expresses my own opinions. I am not receiving compensation for it (other than from Seeking Alpha). I have no business relationship with any company whose stock is mentioned in this article.