Cabot Oil & Gas (NYSE:COG) is a mostly natural gas E & P company. It reported Q4 and full year 2013 results on February 20, 2014. COG met or beat estimates. Yet the stock price fell. COG is a buy on the fall. COG had FY2013 record production of 413.6 Bcfe -- an increase of 55% over FY2012. It had record cash flow of $1.025B -- and increase of 57% over FY2012. COG had net income of $279.8 million (or $0.67 per share) -- an increase of 112% over FY2012 net income. Excluding selective items, net income was $298.1 million (or $0.71 per share) -- and increase of 115% over FY2012. Revenues were $1,746.3 million. This was up from $1,204.6 million in 2012. COG reduced total unit costs to $3.03/Mcfe in 2013 (including financing) -- an 18% decrease in cost over 2012. All these statistics sound great.
In addition COG has great guidance. It guided for 519 Bcfe to 598 Bcfe of production for FY2014. The midpoint of this is about 559 Bcfe for the year. This is substantially more than the 413.6 Bcfe produced in 2013; and there is no saying that production won't exceed 600 Bcfe for 2014. The 559 Bcfe is about 1.53 Bcfe/d; and that may be an underestimate, since COG has a history of beating estimates. In 2013 95.7% of this was natural gas production. I will use that figure to ballpark my 2014 calculations. The midpoint 1.53 Bcfe/d would then translate into 1.46 Bcf of natural gas production (plus oil production). As of February 20, 2014 COG had hedges for 1.2 Bcf of natural gas production for 2014. Only 0.29 Bcf/d of these were swaps at an average price of $4.05/Mcf. The rest were collars with an average floor of $4.11/Mcf and an average ceiling of $4.51/Mcf.
COG has also grown proved reserves to 5,454 Bcfe at 2013E from 3,842 Bcfe at 2012E -- about 42.0%. Increased natural gas prices helped a lot here. In the US, proved reserves are calculated based on significantly on the 12 month rolling average price of a commodity (and on production costs).
With all the above good news, why did COG fall on the earnings announcement. Part of the reason was that it lowered its production growth guidance to 25% - 45% for FY2014. This was down from 30% - 50%. However, the cut in guidance was not an absolute cut. Rather it reflects the fact that COG grew production faster than expected in 2H 2013. Hence the percentages are lower, but the absolute amount of production growth has remained approximately the same. This tends to make one believe that COG will beat estimates again in 2014; and the production growth may end up to be the desired 30% to 50% figure instead. In other words this is not really bad news.
Another problem was the Q1 2013 outlook. Through the first two months of Q1 2014, COG's Marcellus natural gas realizations before hedges were $0.60 to $0.65 below Nymex settlement prices. Still COG should have benefited greatly from the higher natural gas prices in Q1 2014. COG should have hit the high side of its collars for about 0.92 Bcf/d of its production. Plus it should have generally far exceeded those approximate $4.5/Mcf ceilings for its unhedged natural gas production. Further Marcellus Q4 2013 cash unit costs were $0.76/Mcf. This was down 10% compared to Q4 2012. Again the relatively poor realizations without hedging are upsetting, but they are not a big reason to bid the stock down. The realization of Nymex price percentages should increase as more pipelines are built, etc.
Natural gas prices are clearly on the rise; and COG will rise with them. Yet analysts' estimated EPS for FY2014 have changed very little so far, even though US natural gas prices have gone up dramatically in Q1 2014. Also the amount of natural gas in storage has gone down dramatically (see chart below).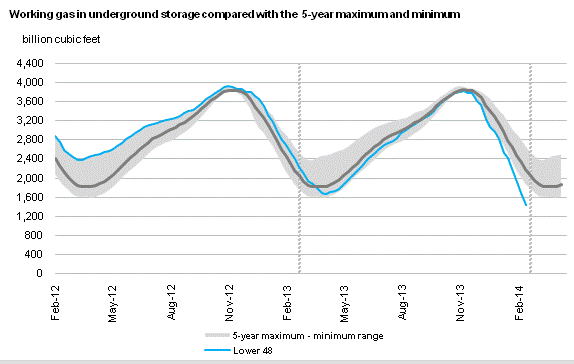 The draw down in the week ending February 14, 2014 was another -250 Bcf. This left 1,443 Bcf in US storage. This is -40.3% below the amount in storage one year ago. It is -33.9% below the 5-year average level in storage. There will probably be another roughly -200 Bcf draw down for the week of February 15-21, 2014. If the draw downs continue at that pace for very long after that, the amount of natural gas in storage could rapidly approach zero. As it does that US natural gas prices are likely to skyrocket. One expert energy trader, Rob Raymond (founder and principal of RCH Energy), is now suggesting that natural gas prices could reach $7-$8/mmbtu by the end of this winter. That is more than double the November 15, 2013 price of $3.379/mmbtu; and it should bring much bigger profits to primarily natural gas producers such as Cabot Oil & Gas . COG's production was 95.7% natural gas in Q4 2013.
More cold weather is being predicted for the next few weeks. The Great Lakes are mostly iced over. This is preventing warmer water from the lakes from evaporating to effectively warm the surrounding air temperatures. Experts believe this is will lead to lower temperatures in that area for the rest of the winter. An extended winter and/or a hotter than normal summer would further exacerbate the natural gas supply problems. We will have to wait to see on those; but it does look like supplies will probably be lower than normal heading into next winter. So far some are predicting a weak el Nino year for the summer of 2014. This could mean another colder than normal winter, which might well result in an even greater supply problem than in this winter of 2013-2014.
There are many more factors that may lead to significantly increased demand for US natural gas in the next few years. Any or all of these could help to make the current natural gas prices spike higher; and they could make natural gas prices sticky at much higher levels over the next several years. The article, "The Cold Winter Weather Is Making Natural Gas The Hottest Commodity In The Market", covers a lot of these current and coming demand factors for US natural gas.
In addition to likely price increases for natural gas from current estimates, COG should also benefit from increased Pad Drilling (lower cost drilling and lower cost fracking). COG plans to increase the percentage of Marcellus wells drilled on Pads with 5 or more wells from 23% at 2013E to 60% at 2014E.
COG has had peer leading production and reserve growth; and it expects to continue to lead. Production growth from 2010-2014E is expected to have a CAGR of 44%. Reserve growth from 2009-2012 had a CAGR of 23%. COG expects peer-leading cash flow per share growth from 2013E-2015E of about 45% (CAGR). COG had 15 of the top 20 producing wells drilled in the Marcellus from January to June 2013; and it has been a leader in this area for years. More pipelines are being built. I could go on, but the real point is that COG should do well as one of the lowest cost and most prolific natural gas producers. Some costs have gone up (such as transportation costs), but COG is acting to cut many others. COG is a buy.
The two year chart of COG provides some technical direction for this trade.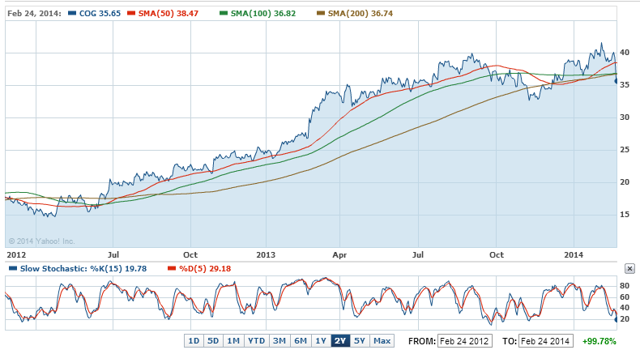 The slow stochastic sub chart shows that COG is near oversold levels. The main chart shows that COG is in a weak uptrend. Recent results should not cause the end of this uptrend. In fact the higher prices that COG will glean this year might amount to an extra $0.50/Mcf in FY2014. This would translate into approximately 0.95 * 559 Bcf * $0.50 * 1,000,000 Mcf/Bcf = $265.5 million. With 418.77 million shares outstanding, this could mean another +$0.63 in revenues for FY2014. If you figure 40% taxes, you get another +$0.38 in EPS per common share. This would be a near 30% bump in the current EPS estimate; and that should make the stock want to go up.
When you see that COG has an EPS growth estimate of 41.10% for FY2014 without this bump up, COG could really have great growth with such a bump. Plus COG has an average analysts' next 5 years EPS growth estimate per annum of 52.34%. This should make COG a great stock to own over the longer term, especially with US natural gas prices expected to rise. If prices are significantly higher this year, that will mean still higher hedges for 2015. It will mean still higher profits.
COG is a long term buy. It has a CAPS rating of three stars (a hold); but the recent spike in US natural gas, which is likely to be stickier than many realize, should easily bump that rating to four stars. The average analysts' recommendation is 1.9 (a buy). I don't think investors can go very far wrong on COG for a long term play for the next several years.
NOTE: Some of the above fundamental financial information is from Yahoo Finance.
Good Luck Trading.
Disclosure: I have no positions in any stocks mentioned, but may initiate a long position in COG over the next 72 hours. I wrote this article myself, and it expresses my own opinions. I am not receiving compensation for it (other than from Seeking Alpha). I have no business relationship with any company whose stock is mentioned in this article.