The U.S. coal industry has been going through difficult times in recent years. Lower natural gas prices in the recent past, regulations and sluggish economic activity are among the leading factors for the downturn in the coal industry. As the industry is passing through difficult times, coal companies in the U.S. are aggressively cutting their costs to support their bottom line results. Walter Energy (NYSE:WLT), among the leading met coal companies in the U.S., recently posted better-than-expected earnings for 4Q2013, mainly due to cost cuts. I believe WLT will benefit in the long term due to better coal demand and an improvement in market fundamentals. However, in the near term, met coal markets are expected to be slightly weak due to excess supply in the market.
Financial Performance
The company reported slightly better results than expected. The company registered an operating loss of $0.55 per share, better than a loss of $0.82 per share in the corresponding period last year, narrower than the consensus estimates of a loss per share of $0.79. Revenues for the recent fourth quarter came out to be $472 million, down 1.4% year-on-year, missing consensus estimates by 2.5%. Weak met coal prices were the main reason for the drop in revenues.
The company's bottom line results benefited from cost control efforts undertaken by the company to improve its cost structure. WLT was successful in reducing its met coal cash costs per ton by 14% year-on-year in 4Q2013. Also, it lowered selling, general and administration (SG&A) expenses by 25% in 4Q2013. For the full year, 2013, the company was able to reduce SG&A expenses by $80 million and lowered cash per ton by 17% year-on-year. The company stays committed to further improving upon its costs structure in the ongoing difficult industry conditions. The ongoing cost saving efforts for WLT and coal industry are important in the near term to support bottom line results; however, the bottom line strengthening of the coal industry is dependent on a rebound in coal markets.
Production
I believe oversupplied met coal markets are an important hurdle in the recovery of met coal prices. The coal industry needs to respond in an effective way to the problem of excess supply, by curtailing their production. In the recent fourth quarter, WLT's met coal production increased by 28% to 3.2 million. Also, WLT expects its met coal production to be in a range of 11-12 million tons for 2014, as compared to 11.6 million tons in 2013. Recently, Alpha Natural Resources (ANR) announced to cut its met coal's 2014 production guidance by 2 million tons to 16-18 million tons. I believe more production cuts need to be undertaken by the industry to address oversupplied markets. Also, as more production cuts are observed, it will rationalize the market and result in a met coal price recovery. However, in the near-term as markets remain oversupplied, it will keep a lid on a price recovery and keep met coal markets soft. The chart below shows the drop in the met coal benchmark price in recent quarters.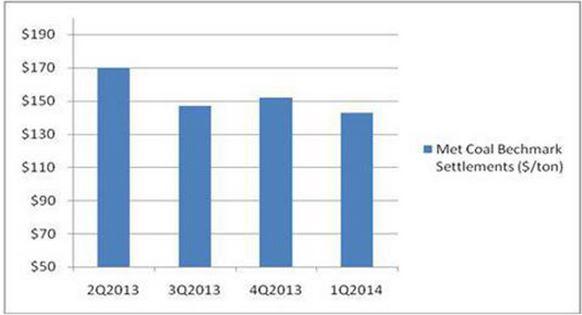 Liquidity
To survive the difficult market conditions, the company has been doing well to improve its liquidity, extend debt maturities and strengthen its credit outlook. WLT has been opting for different options to strengthen its liquidity, including the sale of assets and reducing capital expenditures. WLT is targeting an assets sale of $250 million to improve its liquidity position, which the company expects to be completed by 2H2014; earlier the company anticipated $250 million worth of assets sale to be completed by April 2014. The company has also been scaling down its capital expenditure to preserve cash; in 2013 capital expenditure totaled $153 million, representing a sharp drop from $391 million in 2012. WLT expects capital expenditure to drop below $150 million in 2014. I believe these efforts by WLT will portend well for the stock price and help the company survive through the market downturn. As of the end of 2013, available total liquidity for WLT stood at $587 million, including $260 million of cash and cash equivalents. As the business conditions remain difficult, the coal industry is expected to burn cash in 2014 in a range of 0%-12% of available total liquidity.
Conclusion
I believe met coal markets will improve in the long term, as demand from emerging markets like China, Russia and India is expected to increase. Also, the 2020 Olympics in Japan and upcoming events in Brazil will lead to higher steel demand, which will portend well for the met coal prices and coal industry. Also, the company is taking corrective measures by lowering costs and preserving cash to survive the coal market downturn. However, in the short term, I believe met coal markets will remain uncertain and weak, due to excess supply in the market. Therefore, I have a 'hold' rating on the stock.
Disclosure: I have no positions in any stocks mentioned, and no plans to initiate any positions within the next 72 hours. I wrote this article myself, and it expresses my own opinions. I am not receiving compensation for it (other than from Seeking Alpha). I have no business relationship with any company whose stock is mentioned in this article.