Introduction
In this article I'll have a closer look at Allied Nevada Gold (NYSEMKT:ANV) which operates the Hycroft gold mine in Nevada, USA. I'll provide my view on the financial results and the status of the balance sheet. Thereafter I will discuss the outlook for 2014 which will result in my conclusion at the end of this article.
All images in this article were sourced from the company's press release.
My view on the financial results
Allied Nevada sold just shy of 182,000 ounces of gold and 860,000 ounces of silver in 2013 which resulted in a total revenue of $268M which is a healthy increase compared to the 2012 revenue as the production increase was sufficient to compensate for the lower gold price. Unfortunately the production costs really escalated (which is also partially caused by the higher production rate) to $209M from $109.5M in 2012. This resulted in an operational income of $16.5M and a net income for the year of $0.01/share.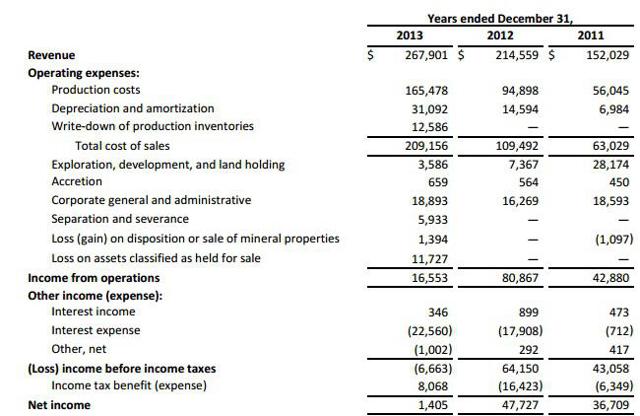 Most of my readers know I also always like to have a look at the cash flow statements of companies in order to have a better understanding about the quality of the underlying operation. So when I look at the cash flow statements, Allied Nevada had an operational cash flow of approximately $47M before changes in working capital. This was obviously not sufficient to fund the almost $330M in capital expenditures, so ANV was clearly free cash flow negative. The company raised approximately $151M by issuing new shares, so there was a total net cash outflow of approximately $265M in 2013 which might put some constraints on the balance sheet. On the positive side, the capex is expected to drop significantly in 2014 (see the later subtitle on the outlook for 2014).

My view on the balance sheet
Moving over to the balance sheet, Allied Nevada had a working capital position of $248M as of at the end of 2013. This doesn't sound bad at first, but keep in mind that approximately $156M of that was booked as "ore on leachpads" and was subject to a change in the gold price. As the gold price has increased during January and February of this year, I think the $156M might have been understated, which is obviously good news. The current ratio as of at the end of last year was 2.59, so I don't expect Allied Nevada to run into short-term financing issues, as a ratio higher than one indicates the company has sufficient current assets to cover its current liabilities.
The book value increased from $6.91/share in 2012 to $7.47 as of at the end of 2013. This was mainly caused by the (in hindsight, smart) decision by the management team to raise $150.5M in a bought deal at $10.75/share in May 2013.
Outlook for 2014
Looking forward to 2014, Allied Nevada expects a production of 230-250,000 ounces of gold and 1.7-2 million ounces of silver. At the current commodity prices this should result in a revenue of approximately $350M, which would be a 30% increase compared to 2013. But what's more important is that Allied Nevada expects its capital expenditures to drop significantly as no leach pad expansion will be needed this year. Because of the production increase and the lower capital expenditures, it's not impossible to see Allied Nevada reach the free cash flow positive stadium this year.
Conclusion
Allied Nevada Gold had a tough 2013 but should be able to rebuild its cash pile in 2014 as I expect the company to be slightly free cash flow positive. That being said, I'm still not too keen on a position in Allied Nevada. Even though the project is located in a safe jurisdiction and already producing a substantial amount of gold, I would have preferred ANV to have a higher free cash flow profile in 2014. However, as the Hycroft mine contains several million ounces of gold and as Allied's production will be close to 250,000 ounces this year the company might be an interesting takeover target for a more senior producer who thinks it can increase the efficiency at Hycroft and thus increasing the free cash flow. As M&A activity in the sector seems to be picking up with Goldcorp's (NYSE:GG) recent bid to acquire Osisko Mining (OSKFF), a potential buyout isn't out of the question.
I currently have no position in Allied Nevada and no intention to initiate a position.
Disclosure: I have no positions in any stocks mentioned, and no plans to initiate any positions within the next 72 hours. I wrote this article myself, and it expresses my own opinions. I am not receiving compensation for it (other than from Seeking Alpha). I have no business relationship with any company whose stock is mentioned in this article.