Stratasys (NASDAQ:SSYS) is a 3D printing company that operates in the computer peripherals industry. We recently initiated coverage of the company and this is an update regarding new developments in the 3D printing industry and Stratasys' business.
The industry's stock took a hit in late November and declined sharply. Since then, valuations have been following a downward trend and the investors are still cautious about the whole industry. Nevertheless, Stratasys has posted impressive third quarter results thanks to the acquisitions of Objet and MakerBot. The company raised its revenue guidance for the year to around $470-$490 million and reaffirmed the EPS guidance of $1.75-1.90 (non-GAAP). This translates to revenue growth at a CAGR of 33% (2011-2013). According to Reuters, the company expects revenues of $660 million-$680 million in 2014, exceeding analyst estimates of around $656 million. The company forecasts earnings of $2.15-$2.25 per share, not meeting the analyst expectations of $2.33 per share, according to Thomson Reuters. However, the EPS is still expected to grow by 22% when compared to the fiscal year 2013.
Color Multi-Material Printer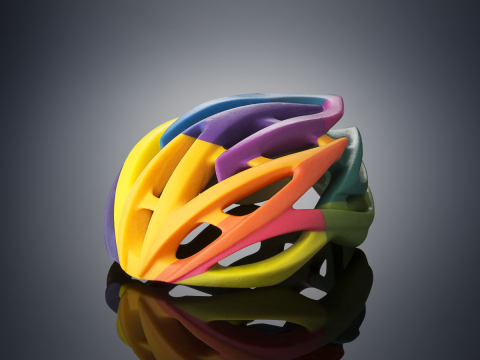 Stratasys recently announced the launch of its new Objet500 Connex3 Color Multi-material 3D Printer. The company claims that it is the only printer in the industry that combines color with multiple materials. This printer is intended for prosumers like designers, engineers and manufacturers for prototyping and functional testing.
"I believe our new Objet500 Connex3 Color Multi-material 3D Printer will transform the way our customers design, engineer and manufacture new products. In general and with the Connex technology in particular, we will continue to push the envelope of what's possible in a 3D world." said Stratasys CEO, David Reis.
On comparison of this model with the previous one we can see similar specifications with the exception of increased material support and, most importantly, the color option. The layer thickness is the same as the previous model, i.e. 16 microns, because both printers use the same PolyJet printing technology. In our view, this addition is not expected to make any difference because color support is not a significant factor to be considered for prototyping. However, we do see some benefit of color for functional testing as engineers would be able to print objects that are close to the finished product. Colors are basically beneficial for mass consumers and desktop printers and as this printer is too expensive for consumer use, we do not see much impact in the prototyping industry; especially if it is being sold at a premium when compared to the older model. Nonetheless, the ability to print colorful objects enables Stratasys to print finished products with a layer thickness of 16 microns, leading to a smooth finish. This printer is a step forward from prototyping towards printing the finished product, which may be a big positive for Stratasys in the long term.
Stratasys South Korea
Stratasys Asia Pacific announced the signing of a contract with its channel partner, Sysopt Engineering, for the purchase of certain assets including customer service contracts and inventory in order to expand its presence in South Korea. With the completion of the transaction, the assets will be assigned to the newly formed subsidiary, Stratasys Korea."We view Korea as a strategic market with many leading and innovative enterprises. We've been witnessing rapid growth in 3D printing applications in many verticals. Our localized and expanded team plans to lay a strong foundation to support the demand and customers, enhancing responsiveness and operational efficiency," said Jonathan Jaglom, General Manager of Stratasys, APJ. This development expands the reach of Stratasys and enables it to capitalize on the Korean market.
MakerBot's Activity
MakerBot is the consumer oriented business segment of Stratasys. It offers printers for consumers starting at around $2200. MakerBot has an organized Ecosystem which includes 3D printers, replicators, Thingiverse (a design sharing website), Digitizer (a 3D scanner), MakerWare software and MakerBot retail and digital store; essentially, everything a good ecosystem must have. Consumer 3D printing is anticipating growth in the coming years and Stratasys can capitalize on this growth via Makerbot. 3D Sytems offers strong competition with its Cubify 3D printer, along with its own ecosystem package. Therefore, consumer 3D printing is expected to witness intense competition and given the favorable growth prospects, there is room for both these companies to expand. Stratasys has been very active in consumer printing lately through MakerBot. Significant developments relating to MakerBot are analysed below:
Enhancing the Ecosystem
MakerBot announced an Android app and iOS update that allow users to browse 3D models uploaded by the Thingiverse community. The app classifies the models using different criteria including organizing models on their popularity. The design files can be downloaded, printed and shared. This app, in our view, further strengthens Makerbot's 3D ecosystem. There are now a large number of designs available to be printed and the only thing that is limiting consumer printing is the cost of the systems and their related materials. These costs are expected to come down as the technology matures and MakerBot will substantially benefit from the growth that follows after the cost decline.
At the start of the year, MakerBot announced a strategic partnership with SoftKinetic, a provider of 3D vision and gesture recognition solutions. Both companies will focus on the development of improved 3D cameras to be used in MakerBot scanners. The improvement is expected to create a friendlier user experience which is a plus as far as consumer printing is concerned.
MakerBot has also entered into a distribution and sales agreement with Micro Center Stores, a technology retailer. Under the agreement Makerbot will sell its desktop printers, scanners and filaments in 25 Micro Center Stores in the US. This is an important development because streamlined distribution is the key to future success. By making its printers readily available in the market, MakerBot is effectively raising the awareness of its products because from a customer's perspective, analyzing a product physically in a shop (rather than online) is a much better experience and may spur the rate of customer growth.
MakerBot recently introduced six new PLA filament colors. This expands the total color portfolio to 23 PLA filament options. MakerBot PLA Filament is a bioplastic derived from corn and contains no heavy metals, phthalates or BPA. Every filament color undergoes comprehensive quality testing at 100-micron and 200-micron layer resolutions on the MakerBot Replicator 2 Desktop 3D Printer to verify that the filament will perform every feature that the MakerWare software offers and also reliably slice and print. MakerBot believes that its MakerBot PLA Filament is the best, safest, and most consistent filament for MakerBot Desktop 3D Printers. A 1 kg spool of the new MakerBot PLA Filament will retail for $48 to $65, depending on the color. The color additions make the consumer 3D printer offerings more attractive, comparative to the competition. However, price and ease of use should be the company's priorities if it wants to make a material impact on the market because relatively cheaper printers and materials are favored by the consumers even if there are some color disadvantages. Ease of use and availability of online designs will also be key success factors in the consumer industry. Makerbot's new color offering do give it a competitive advantage but it is not the deciding advantage and the consumer industry remains open for control.
MakerBot launched 3D print services in its retail stores located in New York, Boston and Greenwich. Consumers can bring in their own files (.STL, .OBJ or on USB) and MakerBot will print the design. At present, this offering has the potential for future growth because it allows consumers to get the experience of 3D printing without having to purchase the complete system. In this way the high cost barrier to 3D printing is removed and, we believe, this development will benefit Stratasys. The company only has three stores for now but as the number of stores grows so will the demand for 3D prints and it can be a viable revenue generating activity for Stratasys.
Adoption Of Orthodesk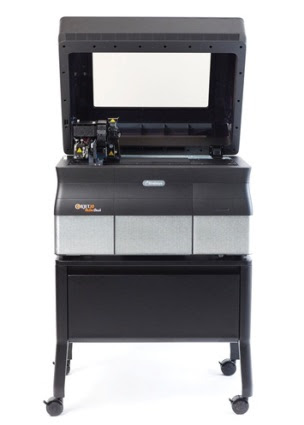 The acquisition of Objet seems to be paying off for Stratasys. The company has observed an accelerated adoption of its Objet30 OrthoDesk 3D printer. According Stratasys, the Objet30 OrthoDesk is an affordable, simple to use desktop system which serves as a cost-effective entry point to digital dentistry. Dental labs of any size can now efficiently produce stone models, orthodontic appliances, delivery and positioning trays, retainers and surgical guides."The Objet30 OrthoDesk 3D Printer is contributing to shortening lab service delivery times for our customers in Brazil; I definitely see it as a game-changer," explained Dr.Bruno Gribel, CEO of Compass3D Brazil. "The Objet30 OrthoDesk enables labs to create accurate, smooth, orthodontic models more easily than ever before." said Michael Wright, Laboratory Manager at Orthodent Laboratory Inc. The decrease in delivery time, accuracy and easy modeling are the features that differentiate this printer from the conventional methods of modeling in dentistry. We believe that the dental industry holds promising growth potential for 3D printing companies and by focusing on ortho-modeling equipment, Stratasys is on the right track. Stratasys' Objet-line of Dental 3D printers has received various awards in recent years, including the Dental Advisor 2013 Top Innovative Equipment Award, and the Dental Labs Products 2011 Readers Choice Award.
Conclusion
The fundamentals of Stratasys are healthy and it has the potential to grow. 3D Systems remains the major player in the industrial segment and Stratasys is positioned to expand in the consumer and prosumer markets. MakerBot's recent activity, including the launch of on-demand consumer printing, will help the company in enhancing its position in the consumer market. As far as the prosumer market is concerned, the company has expanded its presence via the Objet30 OrthoDesk and the Objet Connex3 holds promise in the on-demand finished product segment. Stratasys's increased focus on the prosumer industry will be a big growth factor in the coming quarter and this gives it an edge over the companies focusing solely on consumer printing. The company's continuously enhancing Ecosystem may prove to be a dominating factor once the barriers of cost are removed from the industry. 3D printing is an industry with high growth prospects and Stratasys is in a strong position to benefit from this growth.
Disclosure: I have no positions in any stocks mentioned, and no plans to initiate any positions within the next 72 hours. I wrote this article myself, and it expresses my own opinions. I am not receiving compensation for it (other than from Seeking Alpha). I have no business relationship with any company whose stock is mentioned in this article.
Additional disclosure: Equity Flux is a team of analysts. This article was written by our Technology analyst. We did not receive compensation for this article (other than from Seeking Alpha), and we have no business relationship with any company whose stock is mentioned in this article.