"If you wait to do everything until you're sure it's right, you'll probably never do much of anything." - Win Borden
Two Harbors (NYSE:TWO) like most mortgage and real estate investment trusts has turned in a strong performance so far in the New Year. High yield sectors were under considerable pressure and were substantial underperformers in the market in the last half of 2013 as interest rates rose significantly.
However, contrary to most pundits' predictions for 2014; interest rates have declined over the first two months of the year. Two Harbors after bottoming near ~$9 a share has steadily gained strength and has crossed its 50, 100, and 200-day moving average since the first of the year (See Chart).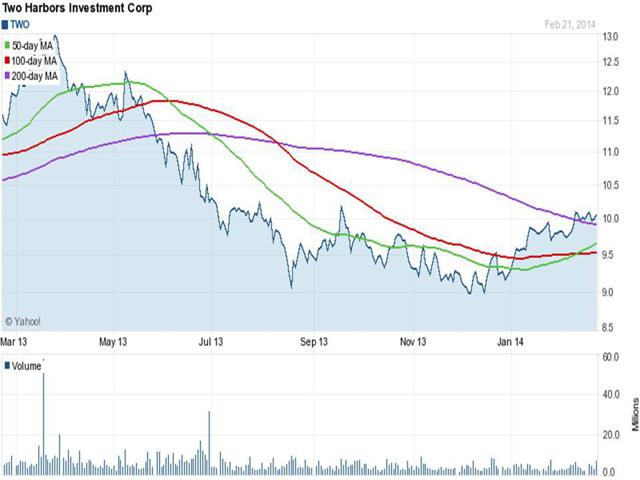 Click to enlarge
Insiders never lost faith in the company's longer-term prospects judging by their behavior throughout 2013 even as the stock declined. Insiders have been frequent buyers of the shares during the last two years. I am unable to find a single sale over that time period.
Given I believe the market is going to return a much more tepid overall return from the market in 2014 than 2013, picking up something with a 10% yield with some capital appreciation return potential seems like a logical strategy. Let's take a look at the investment case for Two Harbors.
Company Overview:
Two Harbors is a mortgage real estate investment trust. The company invests in Agency RMBS, Non-Agency RMBS, prime nonconforming residential mortgage loans, credits sensitive mortgage loans, and mortgage servicing rights. Other financial assets comprise about 5%-10% of its portfolio.
Analyst Commentary:
Wunderlich went from "Hold" to "Buy" today on Two Harbors. Wunderlich's analyst cited Two Harbors' "will create value for shareholders as the residential mortgage market continues to evolve" and moved the analyst firm's price target from $10 to $11 a share as well. The company does not receive much analyst coverage. The last two moves from analysts on Two Harbors were an upgrade to "Buy" from "Neutral" in August from Ladenburg Thalman, which followed the same rating change from Compass Point in May.
Valuation:
TWO yields more than ten percent on an annualized basis based on the stock's current price level. The stock sells for just under book value and shares should do fine as well as interest rates do not rise precipitously. Given the mixed economic and poor jobs reports recently, this seems unlikely.
In addition, there is also a lot of profit potential in the company's Non-Agency MBS (Mortgage Backed Securities) as long as the real estate market continues to improve. Two Harbors seems like a good bet to deliver at least a 10% overall return with low volatility in 2014. Given my outlook for the overall market this equates to a good solid 'single'.
Disclosure: I have no positions in any stocks mentioned, but may initiate a long position in TWO over the next 72 hours. I wrote this article myself, and it expresses my own opinions. I am not receiving compensation for it (other than from Seeking Alpha). I have no business relationship with any company whose stock is mentioned in this article.