Last week, several chapters of the 2008 financial crisis came to a close. First, Fannie Mae (OTCQB:FNMA) reported a record profit for 2013 and will be required to send funds to the U.S. Treasury that surpass the amount of funds received through their borrowing. Second, the Federal Reserve released details of key meetings that happened in 2008 through transcripts released online.
Given the circumstances of the 2008 seizure of Fannie Mae and Freddie Mac (OTCQB:FMCC), it is important to know what types of discussions were happening behind closed doors.
In the August 5th, 2008 transcript we find this piece of text.
MR. KROSZNER: I very much agree with Governor Warsh with respect to Freddie Mac and Fannie Mae that, although [bailout] legislation has been passed, the devil will be in the implementation details. Simply because the Treasury has the capacity to do something, it is not quite clear what it will do or be able to do or how the markets will respond to that. Obviously, Freddie and Fannie have been really the only game in town for mortgage securitization. The jumbo markets have not been working. The subprime market is not there right now. So until and unless we can be assured that they will operate properly, they still have a lot of potential for more flames coming out.
It is clear that in August 2008, key members of the Federal Reserve were concerned about the overall functioning of the financial markets in 2008 and the Treasury's method of implementing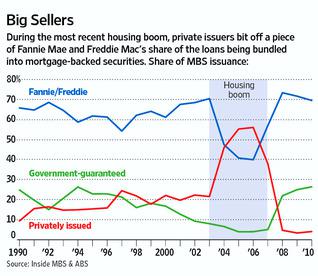 legislation that was meant to support the housing market and prevent complete collapse. The leadership is very aware of the fact that private non-GSE mortgage securitization has exited the market. Almost prophetically, they appear to acknowledge that Fannie and Freddie must remain as a cornerstone of the remaining market to keep the system from completely burning up.
In fact, not only did Fannie Mae and Freddie Mac support the market by providing credit to millions of families during the financial crisis, they also implemented social programs such as the Obama Administrations Home Affordable Refinance Program [HARP] and Home Affordable Modification Program [HAMP]. In some cases, these programs added additional risk by allowing underwater homeowners to refinance mortgages at prevailing market rates, at little cost and with no subsidy paid to the institutions by the government.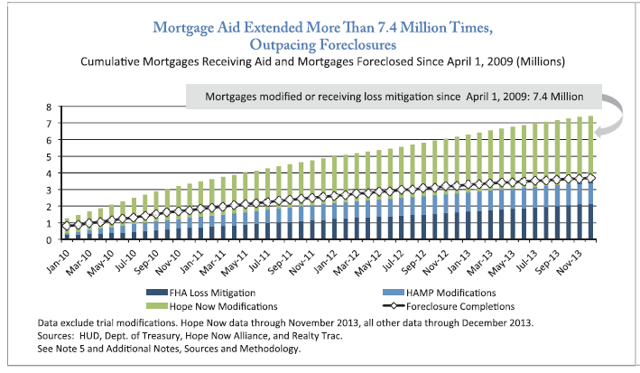 By remaining in operation during the crisis and performing millions of mortgage modifications, the GSEs have done exactly what members of the Federal Reserve speculated they would do in the crisis. Since 2008, there have been 3 million HARP refinances. There have also been 2.2 million trial HAMP modifications and 1.3 million permanent HAMP modifications.

These numbers don't count proprietary modifications, but they do show that Fannie and Freddie have been utilized to benefit taxpayers for the past five years as policy arms of the U.S. government. In tough times, they continued to be a market making-mechanism for mortgage credit, even when it wasn't profitable. Now, they are reaping the rewards.
Key members of the Federal Reserve were keenly aware in 2008 that shareholders were taken by surprise in many institutions. This includes Fannie Mae and Freddie Mac, who Hank Paulson infamously decapitated, according to his book On the Brink. It's very important to remember that key officials, including Ben Bernanke, were on public record stating that Fannie Mae and Freddie Mac were adequately capitalized in the Summer of 2008.
A snippet from the October 28-29, 2008 meeting reads,
I was shocked when I was looking at the Bluebook at how short a time has passed since the meltdown of all these major financial institutions-Fannie, Freddie, Lehman, AIG (NYSE:AIG), WaMu, and Wachovia. There is a sense among those who were affected, who lost from it, that they just really didn't see it coming, at least not at this speed, and that all of them had adequate regulatory capital, and the bankers at least were used to watching a sort of gradual burndown of that capital October 28-29, before institutions failed. They had a sense of being unable to predict who was going to be saved, who was going to get whacked, and who would be the winners and the losers.
After my last Seeking Alpha post, I was contacted by a couple of shareholders who bought into Freddie Mac Preferred stock just one month before the Treasury seized the companies in 2008.
Frank M. Puthoff, 68, is a retired lawyer and his wife Alice Anderson, 66, is a retired sales and marketing executive. In August 2008, they purchased 984 shares of Freddie Mac Preferred Z (OTC: FMCKJ) $26.40 each, or $25,982.60 on the advice of a financial advisor at Citigroup. The preferred shares were purchased with the proceeds from a Certificate of Deposit and their advisor told them that the preferred stock was a safe alternative to CDs. In their words, they believed in him (the financial advisor) and in the "pristine reputations of Freddie and Fannie." They also said that they had no idea how perilous things had become at the time. After the government seized hold of the GSEs, the couple fired their old financial advisor and moved most of their money to a different firm.
In their own words, here is what happened next.
We did not sell after Fall 2008 on the advice of our tax accountant, who said we had enough losses and to hold on to the Freddie [preferred]'s and see what happens. When the first Freddie Preferred class action lawsuit was filed on 8/23/2008 (Robert Mark vs Goldman Sacks, et. al) I got a copy of the complaint and contacted the law firms representing the class. Someone from the law firm called me and I was told to contact the shareholder's foundation, which I did. I got an email back from [the firm] who indicated that the amount of shares we own was not enough to get "actively" involved in the class action, but that we would be included in the class action as a "passive" investor. I got a call some 6 months ago from someone who said a lawyer on behalf of the plaintiffs would be calling me, but I have heard nothing.

We have not sold any of our Freddie shares, as we believe in the end that the several lawsuits that are pending are bona fide and that at the very least those who bought the preferreds in good faith and in reliance on the advice of the Citi/Smith Barney prior to September 2008. We are going to hold on and hopefully piggyback on the heavy hitters who have come into Freddie after us.
For those of you who say that the GSE shareholders have pretty much already been wiped out and moved on, we clearly see that at least a few of the pre-Conservatorship shareholders had enough faith in the Treasury to rely on their statements from September 2008 to preserve and conserve the firms' assets. Time will tell whether the Treasury's public promise will be fulfilled.
Disclosure: I am long FNMA, FMCC. I wrote this article myself, and it expresses my own opinions. I am not receiving compensation for it (other than from Seeking Alpha). I have no business relationship with any company whose stock is mentioned in this article.
Additional disclosure: Fannie and Freddie Preferred Stocks.