The European aid package announced over the weekend has helped boost global equity markets across the board, and it has also caused sovereign debt default risk to decline significantly over the past two days. Below we highlight 5-year credit default swap prices ($, bps) for a number of countries around the world. For each country, we highlight where default risk stands now, where it was last Friday before the bailout, and where it was at the start of 2010 and the start of 2008.
Heading into the weekend, Portugal, Italy, Greece, and Spain (PIGS) had seen huge spikes in default risk in 2010, but they have all seen declines of 30% or more over just the last two days. Default risk for Portugal and Greece has basically been cut in half. CDS for other EU countries like Germany and France had also spiked significantly prior to the weekend, but they have since returned to much more normal levels.
Venezuela and Argentina currently have the highest default risks in the world, while Germany, Australia, and the US have the lowest default risk. The US hasn't seen a big decline in default risk this week, but that is because it barely moved higher even in the face of volatile markets last week (why the US even has CDS is a different topic).
click to enlarge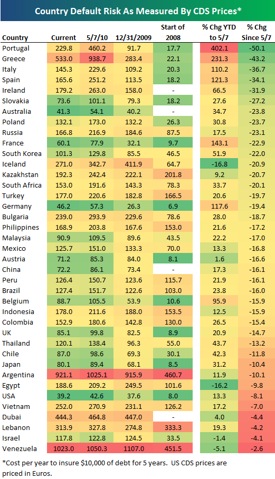 Click to enlarge