For the income investors, the telecommunications sector is a popular choice, given that it is usually considered defensive and provides a safe income stream over the long-term. However, over the past few years, this sector hasn't performed as expected in Europe, with many investors being attracted by high-dividend yields but ultimately suffering from dividend cuts.
One under-followed telecom company that has a very good dividend history and can be an alternative to larger telecom operators, such as Orange (NYSE:ORAN) or Telefonica (NYSE:TEF), is Swisscom (OTCPK:SCMWY). The company is the leading telecom operator in Switzerland and currently offers a dividend yield of 4.3%, which is in-line with the European sector's average. Swisscom has a market capitalization of about $30 billion and is traded in the U.S. in the over-the-counter market.
Company Overview
Swisscom is Switzerland's leading telecom provider. Its headquarters are located near the capital city Bern. The company's roots date back to 1852, but it was only named Swisscom in 1997 and has been listed since 1998. It has currently about 20,000 employees. Swisscom's major shareholder is the Swiss Confederation, which owns 51.2% of its shares and by law must hold a majority of the capital and voting rights.
About 81% of Swisscom's revenues are generated in its domestic market while the remaining come from Italy. In Switzerland, the company's market share by subscribers is close to 60%, ahead of Sunrise (24% market share) and Orange (16%), its competitors. The mobile penetration rate in the country is 122%, so revenue growth must come mainly from market share gains, which usually leads to strong competition among the established operators.
Moreover, both Sunrise and Orange are owned by private equity firms, which are typically aggressive owners and employ fierce competition in the market. Therefore, it is not surprising that prices for mobile services are being squeezed by competition, driving down average monthly revenue per customer accordingly. Nevertheless, Swisscom has been able to report stable revenues in its domestic market over the past three years, but its profitability has decreased a little. Its EBITDA margin has declined from 43.3% in 2011 to 42% in 2013, showing the effect of challenging competitors.
This profitability level is above the European sector's average, and is also higher than for other European incumbent telecom operators. Swisscom's leading position, together with its focus on network quality and broad services offering, should help it to maintain relatively high margins in the coming years. Furthermore, the absence of a disruptive competitor, like Iliad in France which led to a price war following its entry in the mobile market, is also a positive factor for Swisscom to maintain high profitability levels.
Abroad, the company operates in Italy through Fastweb, an Italian telecommunications operator that Swisscom fully owns. Swisscom bought 82% of Fastweb in 2007 for more than $4 billion, and subsequently bought out the minority shareholders after making a voluntary tender offer in September 2010. Fastweb provides products and services for voice, data, Internet and TV, as well a full complement of VPN and mobile communication services. It has more than 1.9 million customers, and its major competitors are Telecom Italia (NYSE:TI), Vodafone (NASDAQ:VOD), and Wind Telecom that is owned by Vimpelcom (NYSE:VIP). There is some speculation that Vodafone may bid for Fastweb, but so far, Vodafone's strategy in Italy has been to pursue organic growth.
Fastweb is responsible for about 19% of the group's revenues, but its weight on profits is lower, taking into account that its business margins are lower (EBITDA margin of 30%) than in Swisscom's domestic business. Fastweb's financial figures have been negatively affected by Italy's weak macroeconomic conditions over the past couple of years, but the company is pursuing growth through huge investment in its fiber network which is leading to better customer growth over the past few quarters. However, its market share is still relatively low and Fastweb should have difficulties to significantly increase its position in the next few years, as competition from the other operators is intense.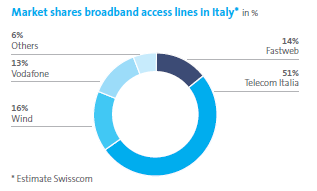 Financial Performance & Dividends
Regarding its overall financial performance, Swisscom's revenue amounted to $12.8 billion in 2013, an increase of 0.4% from the previous year. The group EBITDA margin is very high at 37.6%, which is above the European telecom sector's average, resulting in a valuation premium to its peers. Its net income was $1.9 billion, 6% lower than in the previous year due to higher depreciation charges. Going forward, Swisscom expects moderate growth in revenue and EBITDA in 2014, targeting revenue growth of 0.6% and EBITDA margin at 37.8%.
Swisscom's dividend history is quite good, given that it has increased consistently its dividend since flotation in 1998. However, for the past three years, its dividend has been unchanged at CHF 22 ($24.7) per share: reflecting the company's more challenging operating environment experienced recently. At its current share price, Swisscom offers a dividend yield of 4.3%. Its 2013 dividend will be proposed at the company's annual general meeting in April, and should be paid on April 14, 2014. On the negative side, as many European companies, Swisscom only pays one annual dividend, and the Swiss dividend withholding tax is high at 35%, which reduces the dividend appeal.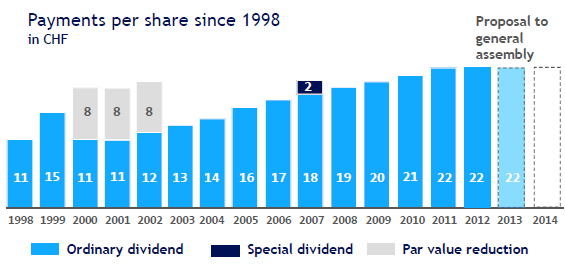 Swisscom's dividend payout ratio is still at an acceptable level, even though it has increased over the past few years. In 2013, the dividend payout ratio stood at 68%, an increase from the 63% of earnings distributed to shareholders in the previous year. Swisscom's dividend is also supported by its conservative financial profile. Its balance sheet leverage is acceptable, given that its net debt amount is up to $8.7 billion or a net debt-to-EBITDA of 1.82x. This leverage is within the company's goal (below 2.1x) and in-line with the European telecoms sector average.
The dividend policy adopted in 2007 envisages that Swisscom pays out up to half of the operational free cash flow to its shareholders, with however, the previous year's dividend as a minimum amount. Swisscom is investing heavily on its network infrastructure expansion having annual capital expenditures of $2.7 billion, but this should decline after 2015 leading to higher free cash flow available to distribute to shareholders. Therefore, Swisscom's dividend seems sustainable and should not be cut over the next few years, making it attractive for income investors looking for long-term safe yield plays, if, indeed, the company meets its financial goals; its management has already given guidance for an unchanged CHF 22 dividend per share for the next couple of years.
Disclosure: I have no positions in any stocks mentioned, and no plans to initiate any positions within the next 72 hours. I wrote this article myself, and it expresses my own opinions. I am not receiving compensation for it (other than from Seeking Alpha). I have no business relationship with any company whose stock is mentioned in this article.