Utilities and infrastructure companies are capital intensive with long lived assets. The market has been concerned that rising interest rates would hurt these groups. However, the underlying investments are in real assets that generate strong cash flows that should benefit from an improving economy. The utility sector has been the best performing sector year to date, as interest rates have stabilized and investors are looking for opportunities in the sector due to its high dividends, low volatility, and last year's underperformance.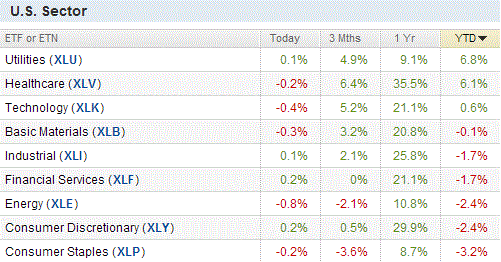 Source: seekingalpha.com
My commentaries on utility and infrastructure closed-end funds have received a number of comments debating the best funds in the space. I thought it would be interesting to do a broad review of available funds to see if there were other interesting funds that warranted further review.
Many of the closed-end funds that invest in this area use leverage. Also, many of the funds allocate capital to other investment areas including master limited partnerships, preferred stocks, and fixed income products. Some of the funds also use options to generate extra income and reduce risk.
The graphic below lists several metrics that can help quickly evaluate closed-end funds including distribution, leverage, premium/discount, 1 Year Z-Statistic (from Morningstar), historic returns, and fund expense ratios. 2008 NAV returns are also included, where available, to show performance during the market selloff that year to judge the volatility and risk management ability of the managers, and show the potential effect of leverage on results.

Source: Morningstar.com
The Utilities Select Sector SPDR (NYSEARCA:XLU) and the iShares Global Infrastructure ETF (NYSEARCA:IGF) are included as benchmarks to help evaluate the CEFs. The only CEF that hasn't outperformed the benchmarks over a 5 year time period is Gabelli Global Utility & Income (NYSEMKT:GLU). All of the other funds with long enough track records have outperformed over this time period. This is likely in part due to the leverage employed within the fund during the period of relatively low volatility and strong stock returns.
Three funds have been launched recently and do not have 3 year track records. These are BlackRock Utility & Infrastructure Trust (NYSE:BUI), Duff & Phelps Global Utility (NYSE:DPG), and Brookfield Global Listed Infrastructure (NYSE:INF). All three of these funds are trading at double digit discounts with attractive yields. However, the short track records make it difficult to evaluate fund management. BUI has been profiled here.
Two of the funds currently trade at a premium to NAV. These are DNP Select Income (NYSE:DNP) and Gabelli Utility Trust (NYSE:GUT). Both funds have strong performance and displayed good risk management in 2008 where performance was in line with benchmarks even though the funds employ leverage. While the funds are trading at premiums, the premiums are less than their one year average. DNP, trading with a -1.63 z-statistic, could be worth further evaluation as funds often trade back to their long term average premium/discount over time. However, it is difficult to recommend a CEF trading above its net asset value.
Wells Fargo Adv Utility & High Income (NYSEMKT:ERH) is only 55% invested in equities with the remainder of the fund invested in high yield bonds and preferred stock. The fund appears to have attractive returns for a balanced fund. The high distribution level shows the income focus of the fund. The expense ratio also appears reasonable at 1.25%. While the current discount is not particularly wide, it is a deeper discount than its 1 year average.
Gabelli Global Utility & Income has a relatively poor track record and uses a high amount of leverage. Based on these factors, GLU does not look like an attractive investment. This is a bit surprising as the other fund managed by Gabelli, GLU, has shown strong performance and is trading at a premium.
Macquarie/First Trust Global Infrastructure/Utilities Dividend & Income Fund (NYSE:MFD) has the longest name to go along with the highest distribution. Past performance is in the middle of the pack, and the discount is small at only 2.31%. It looks like there are better opportunities elsewhere.
Macquarie Global Infrastructure Fund (NYSE:MGU) could offer an opportunity. MGU has a double digit discount to NAV and has offered relatively strong performance. The discount may be due in part to the lower than average distribution rate from the fund. MGU looks like it warrants a deeper dive.
Cohen & Steers Infrastructure (NYSE:UTF) also looks attractive. It is the second most discounted fund in the group. The returns have been strong with the highest returns in the group for YTD and 1 year. Three and Five year returns are the second best in its peer group. This fund has an in depth profile here.
Reaves Utility Income (NYSEMKT:UTG) is anther fund that could warrant more work. Strong returns and a discount to NAV make this fund interesting. UTG is focused on domestic utilities and has less infrastructure, MLP, and international exposure than most of the other funds. It is worth a deeper dive for investors looking for a fund focused on domestic utility stocks.
Conclusion:
The utility sector has displayed strong performance so far this year. Strong performance could continue if interest rates don't rise too quickly. Some of the CEFs in the space currently offer attractive discounts to invest in this theme. Recently launched funds are unproven but have some of the highest discounts in the space. Other funds that look interesting include MGU, UTF, and UTG.
Disclosure: I am long UTF, INF. I wrote this article myself, and it expresses my own opinions. I am not receiving compensation for it (other than from Seeking Alpha). I have no business relationship with any company whose stock is mentioned in this article.