Introduction
In this article I'll have a closer look at the Bank of Montreal (NYSE:BMO) which has reported its first quarter results. I will provide my view on the financial results and the status of its balance sheet. Thereafter I will discuss the outlook for 2014 which will result in my conclusion at the end of this article.
All images in this article were sourced from the press release and corporate presentation. The used exchange rate for USD/CAD conversion was 1.10.
My view on the financial results
In the first quarter of 2014, the Bank of Montreal reported a revenue of $3.7B which resulted in a net profit of $945M or approximately $1.42/share. The net interest income decreased by 10% compared to the first quarter of 2013, but this was compensated by an increase in securities commissions and fees (+18%), trading revenues (+23%) and mutual fund revenues (+17%). Even though the provision for credit losses decreased by almost 45%, the total expenses increased by 4.4% mainly due to a 7% increase in employee compensation. This resulted in the net profit of $945M.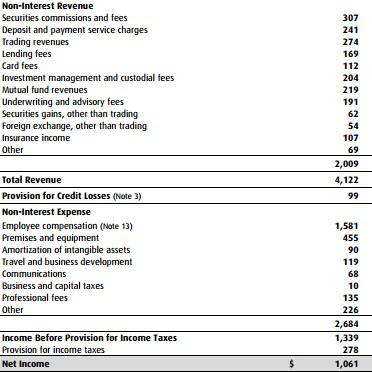 The return on equity was very decent with an ROE of 14.2% and the ROA was relatively stable at 0.72%. It's important to note that the company's net interest spread decreased substantially from 1.87% in Q1 last year to 1.62% this year so BMO's earnings are definitely affected by a lower interest spread. This was compensated by a strong deposit growth of 13% and loan growth of 11% so the final impact on the result was relatively limited.
My view on the balance sheet
As of at the end of the first quarter, the common tier 1 equity ratio decreased by 0.1 point from 9.4 to 9.3% (as per the Basel III regulations), which is very strong and the tier 1 capital ratio decreased to 10.6% from 11.1%.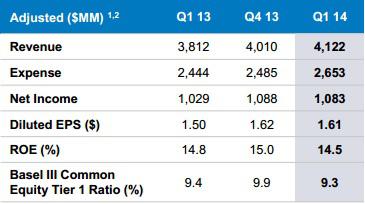 The book value per share was approximately $41/share which means the Bank of Montreal is currently trading at approximately 1.6 times its book value. This isn't very cheap as I would prefer to buy banks and other stocks in the financial sector at a price close to the underlying book value. The total equity vs. total assets is 5.5% which is actually pretty good compared to other banks. As such, I don't expect the Bank of Montreal to run into any difficulties should the regulatory framework tighten even further in the future. Should the leverage ratio increase to 5%, Bank of Montreal won't have the slightest problem meeting this requirement as its leverage ratio is already comfortably higher at 5.5%.
Outlook for 2014
No official guidance update has been given for 2014, but I expect once again a revenue growth and a profit growth to $5.7/share. As 'only' $2.7/share is being distributed as a dividend (for a current dividend yield of 4.17%, Bank of Montreal will continue to increase its book value which would reduce the price/book ratio by approximately 0.1/year. This means that within three years, the Bank of Montreal should be trading at a price/book value ratio of 1.3 which is already more acceptable.
Conclusion
The Bank of Montreal reported once again an excellent quarter with a net profit of $945M and a Basel III common equity ratio of 9.3%. The company's balance sheet also looks quite healthy as its equity/total assets ratio is 5.5% which is relatively high compared to competitors.
I currently have no direct position in BMO, but I own shares of the BMO S&P TSX Banks tracker which holds shares of the six major banks on the Toronto Stock Exchange. This tracker is trading on the TSX with ZEB as ticker symbol. For investors who'd like to have a direct exposure to the Bank of Montreal, it could be a good idea to write a put option such as a P60 expiring in September 2014 for an option premium of $1.60 for an annualized yield of 4.57%.
Disclosure: I have no positions in any stocks mentioned, and no plans to initiate any positions within the next 72 hours. I wrote this article myself, and it expresses my own opinions. I am not receiving compensation for it (other than from Seeking Alpha). I have no business relationship with any company whose stock is mentioned in this article.