Tesla Motors (NASDAQ:TSLA) reported its fourth quarter and full year 2013 results after the bell rang on Wednesday February 19th. The California-based company earned $46 million or 33 cents per share, excluding one off items, beating average analysts' estimates on Reuters of 21 cents per share. Inclusive of other items net loss for the quarter shrank from $90 million to $16 million reflecting an 82% reduction in losses. For the full year 2013 Tesla managed to shrink its losses from $396 million to $74 million reflecting an 81% reduction. The company's enormous results were driven by its compelling Model S sales even at the premium price of $71,000. This is because it earned top scores in consumer reports due to its 85KWh battery and its ability to travel 180-225 miles per charge. The segment wise performance of the company is illustrated in the table below.

Source: Q4 Shareholder Letter
The gross margin for the whole year increased by 15.7% whereas the fourth quarter margin increased by 17.2%. Margin expansion was primarily driven by prompt revenue growth, otherwise the company experienced a 62% uptake in cost of sales during the 4th quarter and 306% in full year 2013.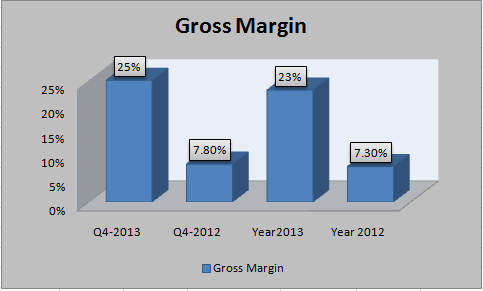 Source: Q4-Shareholder letter
Tesla Motors is the youngest publicly traded automaker and transferred heavy returns to investors' wallets since it outperformed many players in the auto industry and gained a price appreciation of around 393% in just one year. The following graph plots the price appreciation secured by Tesla Motors in comparison to General Motors (NYSE:GM), Ford Motors (NYSE:F), Toyota Motors (NYSE:TM) and Volkswagen (OTCPK:VLKPY).

Source: Y-Charts
2014 Outlook
Model S vehicles that drove tremendous results for the company in 2013 will gain a 55% y-o-y increase in 2014 as their deliveries will reach 35000. Production will be faster at 1000 cars/ week from the current production rate of 600 cars/ week. First quarter production will be 7400 vehicles but deliveries will be 6400 keeping in mind logistical barriers. The company aims to cut its costs out of economies of scale that will contribute towards enhanced margins for its automotive segment to about 28% in 2014 from the current margin of 23%. Capital expenditures will increase significantly in 2014 because it is important for the long term growth of Tesla. Free cash flows for the 4th quarter of 2013 experienced a Y/Y increase of 139.70% and a Q/Q increase of 56% which implies that the company's cash flow generation is bolstering with the passage of time. However the company will take time to overcome its bottlenecks, factory capacity, and other problems and thus positive results will become visible by the end of 2014.
The Road Ahead
Apple-Tesla Merger or Collaboration
Tesla's shares received an uplift of 11.8% to a record price of $216.41 in the afterhours trading after the company announced its 4th quarter results. The company experienced a price appreciation of 2.8% previously shooting to an all-time high closing price of $203.70 driven by the market sentiment regarding the Apple Inc. (NASDAQ:AAPL) acquisition speculation. This was the result of a report by the San Francisco Chronicle claiming that Elon Musk met Apple Inc's head of mergers and acquisitions back in 2013. However Tesla Motors CEO declared the company is not for sale and in the short term any such deal is very unlikely. Rather Apple and Tesla can collaborate to provide entertainment options in Tesla's upcoming cars such as the Model X and Tesla SUV. Embedding iOS software in the infotainment systems will enhance the usability and customer experience.
China
According to Tesla CEO Elon Musk, Tesla Motors expects huge demand in China and expects sales levels of the electric model S in China to match US levels as soon as 2015. Such hefty expectations by Tesla are due to two reasons. One being the rich population of the region and second the China Green car incentives. China's billionaire population rose by 7% and this upper class already owns BMWs and Rolls Royce vehicles so they will definitely be looking forward to something unique and innovative in terms of shape, features, and performance. This is where Tesla will see demand for its models sold at $121,280 to premium customers in big cities.
Apart from that the Chinese population will greatly welcome an electric car that does not add to the increasing pollution year over year adversely affecting the population of China. Though Tesla Motors eyes China's green car incentives offered by the government it will not be able to get any subsidy since Tesla cars are imported to China not locally manufactured. Tesla Motors is trying to get the Chinese government to let them be a part of those who will be eligible for the incentives since it has plans to start manufacturing in China. Tesla Motors can achieve this because of the traction its vehicles have gained in recent years and the demand in China. This is reflected by the fact that Tesla's Beijing store has become the company's largest and most active retail location in the world. Massive demand in China for the company's Model X makes it likely to experience unmet demand in the region because of Tesla's existing production capacity. Over the years when the company revamps its production capacity it will be able to fully enjoy the rising demand and bolster its earnings.
Giga Factory
The Giga Factory will take a period of three or more years to complete. This factory can be financed via retained earnings but in order to complete the buildup in three years raising external capital will be considered and we may see Panasonic (OTCPK:PCRFY) as a partner in this factory build up. This factory keeps consumers on a waiting list because they are currently unable to get enough of those batteries. This factory will supply the batteries needed by Tesla for its third generation vehicles like its electric sedan reducing the cost for its battery packs. Further details will be disclosed by the company in a call next week.
Model X
Previously Tesla had announced its plans to market its third generation Model X vehicles by the end of 2014 but it had been delayed till late 2015. The reason behind the delay is the fact that Tesla is striving to attain a perfect shape along with excellent functionality for its sports car. If the enhanced features added in by the company itself are combined with the abovementioned infotainment features they will really boost the company's top line and its margins since it will be able to sell at a relatively premium price. This way Tesla's revenue stream will no longer be dependent on its Model S alone therefore providing it with the benefits of product diversification. Conservatively if we assume that the Model X carries the price tag of $49,000 and a sales volume (35,000) similar to that of the Model S post $7500 tax credit it will add approximately $1.7 billion revenues to the company's top line annually.
Autonomous Cars
After gaining huge success in terms of BEV drive trains Tesla has mentioned it is aiming to be the first ever company with autonomous car technology in the market. Tesla's CEO claimed that the company has a top notch autonomous car engineering team that will get success in breaking into the driverless car market. Mass adoption of this technology will take around 10 years but Tesla expects its idea will come to fruition in just a few years despite the fact that Goggle (NASDAQ:GOOG) is very much ahead into this idea. The company will definitely be rewarded for its innovation once it is able to market cars with autopilot function allowing the car to operate in autonomous mode for a time period but will still require a driver to control it.
Competition
As far as the competition is concerned Tesla has first mover advantage and it is expected to maintain its lead in electric vehicle technology for a long time. However, the company has not patented its technology and therefore the market is open for new entrants and existing ICE automakers. Still it will take a lot of time to reach the cost levels and efficiencies currently attained by Tesla Motors. Another barrier will be the Tesla supercharger network that will also have to be built by new comers or they will have to pay Tesla to get their cars charged at Tesla stations. This way Tesla has enormous room for growth at a faster pace ahead of ICE platforms and hybrid drive trains.
Tesla: The Microsoft of the Auto Industry
In short Tesla is currently in the early phase of its growth and the growth story has a long way to go. Long term investments in the company are expanding its production facility, bringing new exciting models and establishing its supercharger network. These developments will enable the company to create more compelling and affordable electric cars so that Tesla's cars will no longer be "the rich man's toy".
There is a heated debate over whether Tesla's lofty valuation is justified but to investors the long term growth prospects of the company seem bright. Short term price fluctuations should be ignored in favour of the enviable long term returns. At such lofty price levels even I believe that Tesla is a stock worth buying because with the passage of time the stock will gain sky high prices as the company continues to achieve its goals and successes.
Disclosure: I have no positions in any stocks mentioned, and no plans to initiate any positions within the next 72 hours.
Business relationship disclosure: The article has been written by a Blackstone Equity Research research analyst. Blackstone Equity Research is not receiving compensation for it (other than from Seeking Alpha). Blackstone Equity Research has no business relationship with any company whose stock is mentioned in this article