Family Dollar Stores, Inc. (NYSE:FDO) is one of three competing dollar stores that offer inexpensive products to customers nationally. Per an investor presentation in January, it has 8,000 locations in 46 states. The company offers consumables and discretionary items, most priced at $10 or less, which should aid margins in comparison to the likes of Dollar Tree (NASDAQ:DLTR) where nothing costs more than $1. However, Family Dollar is working on improving its food perception and has displays of products priced at $1 which should help with its marketing and image.
Similar business models can be labeled counter-cyclical or anti-cyclical. Each term has a different meaning. The gist of it is that the corporation can do well when the economy falters because its results are either not affected or actually strengthen. Family Dollar customers tend to be on budgets and the majority use coupons. A company-supplied graphic provides illustration: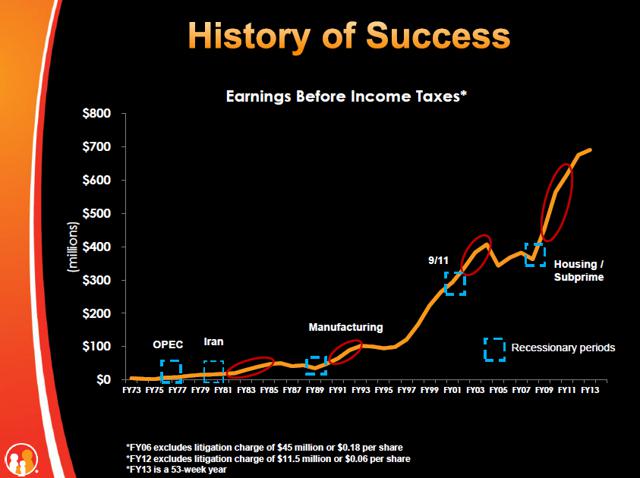 If something causes the economy or stock market to brusquely shift downward - such as if there is a third consecutive disappointment when the Bureau of Labor and Statistics releases its non-farm payroll report on March 7th - it might worthwhile.
There are ongoing operational efforts. One is to reduce inventory shrinkage. Another is to leverage supply chain efficiencies: four new distribution centers should be opened this year and there is a new pallet delivery program. Stores are also being renovated and the proportion of traditional locations is scheduled to decline through 2016. New stores are also being added with 525 to be opened in 2014, and a potential count of 19,000. CapEx for 2014 is projected to be $450 to $500 million.
Per the 10-K, which is nearly one year old, the company employs 58,000 persons. Recent headline news involves a proposal to increase the federal minimum wage to $10.10 hourly. Higher employee pay could affect operating margins.
As it is, Family Dollar almost certainly is a valued client of multiple law firms with employment and labor relations practices. Claims against it have been numerous. It has defended itself well against some. However, a class action has recently been certified against Family Dollar Stores of Colorado. Claims against Pennsylvania and Massachusetts divisions sound as if they may have teeth. And a tentative $2.5 million agreement has been reached by Family Dollar Stores of New Jersey. There is also a 48-plaintiff gender pay case in which Family Dollar has obtained a partial victory via the Fourth Circuit Court of Appeals on October 16th, 2013; though insurance coverage should be applicable in the future.
However, Wall Street is not quite lukewarm on the stock and its growth prospects. The consensus analyst estimates for 2014 is $3.40 per share. The equity currently trades at over 19x that. Earnings growth is only projected at 5.7% across the next five years. The median price target among 19 analysts is $60.
Other things can be said on its behalf, though. YCharts shows FDO to trade at a substantially lower forward EV / EBITDA multiple than its peers.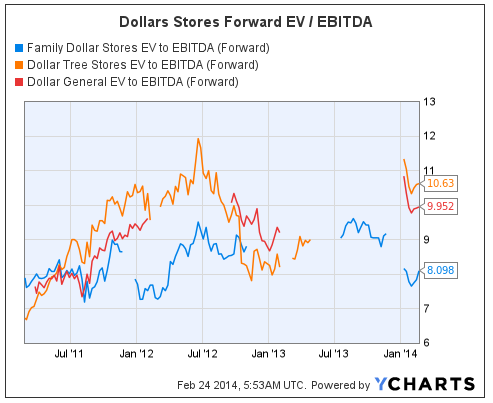 Share repurchases play a part in the company's capital allocation policies and $250 million, or roughly 3.33%, is scheduled to be bought back in 2014, in addition to the dividend. The corporation pays investors $1.04 per share each year to yield 1.6% at current prices. For a mature retailer, the combined effect is notable, but not remarkably so.
Some big shot investors have bought in. Current data shows an activist, Nelson Peltz, retaining a stake in the company pursuant to bidding $7.6 billion for its ownership in February of 2011, and selling some shares last year. According to Jim Cramer, Peltz is the one activist who actually has a coat tail effect for those who follow him. However, a study cited in a current article in The Economist, which is now showing a positive attitude toward Carl Icahn, says that "operating performance of companies gets stronger towards the end of the five-year period," following activist intervention.
After nearly four years, this particular stock has not been a remarkable one for Peltz though. Family Dollar, in contrast to its competition, has underperformed the market since his advent in July 2010 as shown by YCharts: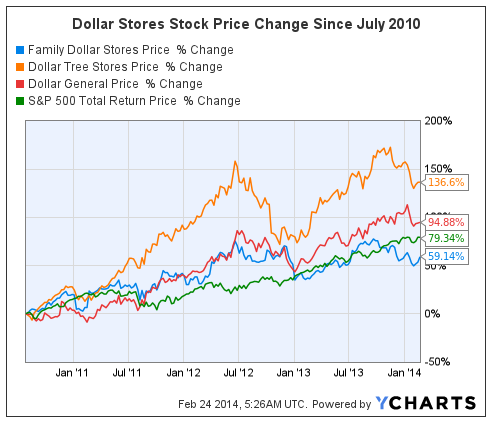 Though the stock has underperformed, biographies of company leaders are somewhat impressive overall. Howard R. Levine is the Chairman and CEO of the company his father founded. Executive Vice President and Chief Financial Officer, Mary A. Winston, has been at her post since 2012.
There is speculation that Wal-Mart Stores, Inc. (NYSE:WMT) may seek to buy Family Dollar. Credit Suisse has offered the opinion that the mega cap big box retailer needs a small store strategy, and that geographical presence would ease regulatory approval. Peltz's past offer was at a 25% premium. Any reason why the company would now accept an offer of $82 per share, or 24.78% above the current price, is not obvious. A Wal-Mart acquisition cannot be ruled out. However, I see no indication that it is something to bank upon.
Meanwhile, John Paulson has recently decreased his position in Family Dollar by about 13%.
The corporation is buying back some shares and offers a small dividend. It might hold up if the economy falters. However, an activist investor has not been able to light a fire under it and the winning stories might be the plaintiffs'.
Disclosure: I have no positions in any stocks mentioned, and no plans to initiate any positions within the next 72 hours. I wrote this article myself, and it expresses my own opinions. I am not receiving compensation for it (other than from Seeking Alpha). I have no business relationship with any company whose stock is mentioned in this article.