According to Chinese statistics, in 2009 China's exports to Europe reached $236.28B USDs, accounting for 19.7% of China's total exports. This made Europe China's biggest export market. With the European credit crisis, the Euro has gone down in value relative to the USD. In lock step, it has gone down in value relative to the Yuan, which is pegged to the USD. This will tend to make all Chinese goods more expensive for Europeans. It will hurt Chinese margins. It will hurt Chinese sales.
The 1 year Euro-USD chart is below: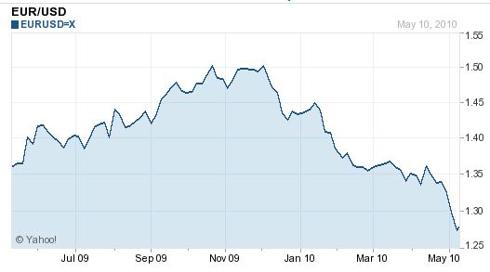 The Euro-USD chart shows a clear down trend for the last 6 months, which has yet to be broken. The Euro has depreciated approximately 16% during that time. Many think the Euro will go to parity with the USD within the next year. A lower Euro makes Chinese goods noticeably more expensive to Europeans.
On top of this, the European austerity measures (many of which have yet to be effected) almost certainly mean that Europe will be spending less -- importing fewer Chinese goods. China has been tightening to try to slow down run away growth. China wants to curb real estate and other inflation. It knows it likely will not be able to use rampant growth if its exports are troubled.
China is said to be considering a second stimulus package to start in August 2010. I am not sure of the exact state of this at this time. Chanos has said that Chinese real estate is a disaster waiting to happen. He has predicted 50% vacancy rates in commercial real estate in major cities. The National People's Congress itself pointed out many troubled municipal loans. Some pundits are estimating that China may have coming write downs / write offs in the area of $4T.
We have recently seen the effects that amount of write off had on the US and the Western European economies. The current European situation will only make the Chinese banking problems show up sooner. The chart of the Hang Seng Index shows what seems to be the start of a down trend. The European credit crisis may turn this into a Bear Market soon. See the chart below:
Hang Seng Index 1 year chart:
Click to enlarge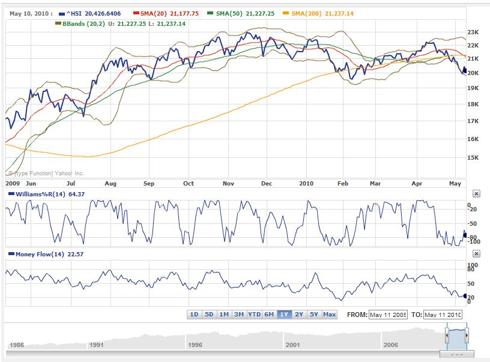 The 1 year chart may be showing a double top formation, which is bearish. The Money Flow Index clearly shows that money has been flowing out of Chinese stocks in the last month. The Money Flow Index seems to show a general down trend in the last year. 
Hang Seng Index 5 year chart:
Click to enlarge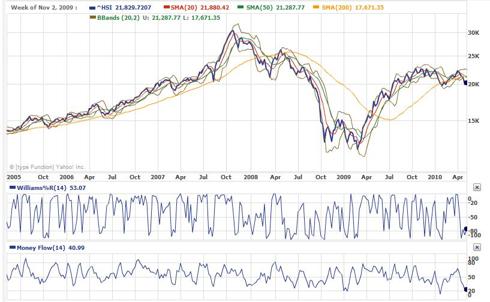 The Hang Seng Index 5 year chart may be showing a longer term double top (or even a triple top). This is bearish. The European credit situation would lead one to think that the current down trend is likely to extend further in the near term. A double dip is quickly becoming a near certainty for the EU.

Chinese exports to the US have picked up recently, but they are still far from their peak levels. The European situation is likely to negatively impact the US economy. A double dip is still a possibility for the US. Whatever the US's economic course, China's exports to the US will likely recover more slowly than many had been predicting.

What should you do? Watch your investments carefully. Consider selling Chinese real estate related stocks, over extended Chinese businesses and Chinese businesses which are heavily dependent on exports to Europe. Europe did account for nearly 20% of Chinese exports in 2009. Consider going short the FXI.

Disclosure: No positions at this time