MFA Financial Inc. (NYSE:MFA) is a mortgage REIT. It invests in Agency and non-Agency MBS. It is internally managed. It pays a great 10.38% dividend, and that is without considering any special dividends. MFA declared a special dividend of $0.50 per common share in March 2013 (payable April 10, 2013). It declared another special dividend in Q3 2013 of $0.28 per common share. If you consider this as part of the annual dividend for MFA for 2013, then the annual dividend for FY2013 would be $1.64 per common share (or 21.3%) for 2013. Of course, the above is a bit misleading. MFA's book value was $8.99 as of December 31, 2012. The book value is $8.06 per common share as of December 31, 2013. The special dividends amount to $0.78 in total. This, in turn, accounts for almost all of the book value loss in FY2013. With the special dividend monies still in the company, the book value would be $0.78 higher, or $8.84 per common share. The special dividends were done because MFA wanted to pay out all of its taxable monies from 2012 and years earlier before the September 15, 2013 tax deadline.
MFA grew book value in Q4 2013 by $0.21, from $7.85 to $8.06. However, it overall lost book value of -$0.15 per share for FY2013 (-1.67%), even if you consider the special dividends as a payout of book value ($0.78 per common share). Still, this small loss represents fantastic outperformance of the overall mortgage REIT sector. Plus, it leaves MFA with a total economic return (book value and dividends) of 7.9%+ for FY2013, which is nothing to sneeze at, especially in a tough year for MBS investing.
By comparison, American Capital Agency Corp. (NASDAQ:AGNC), a company many look at as a blue chip mortgage REIT, saw its book value fall from $31.64 per common share on December 31, 2012 to $23.93 on December 31, 2013 (-$7.71 per share or -24.4%). This is considerably worse than MFA's book value loss of -1.67% (accounting MFA's special dividend payouts as payouts of book value). AGNC reported a -12.5% total economic return for FY2013. Again, this compares poorly to MFA's 7.9%+ total economic return for FY2013.
AGNC invests in primarily fixed rate Agency RMBS. This factor largely accounts for the difference in the performances of the two companies. MFA had a net change in Agency MBS of -$0.09 per common share in Q4 2013. MFA's saving grace was that it had a net change in book value of its non-Agency MBS of +$0.19 per common share. It also had a net change in the value of its derivatives of +$0.10. Plus, MFA had net income of +$0.20 per common share. This led to a gain of book value in Q4 2013 of $0.21 per common share for MFA (or +2.7%). When you add the dividend payout of $0.20 to this, the total economic return for Q4 2013 alone was +5.2%. By comparison, AGNC lost -$1.34 in book value (or -5.3%) in Q4 2013.
MFA also effectively banked profits for the future. For FY2013, the total transfer from credit reserve to accretable discount was $207.9 million. This increase in accretable discount is expected to increase the interest income realized over the remaining life of MFA's non-Agency MBS. MFA says the transfers from 2012 and 2013 combined amount to approximately 70 bps more in increased non-Agency MBS yields over the life of the securities. That is nothing to sneeze at; and it is just another way in which MFA has outperformed AGNC.
MFA has also seen improvements in its LTV (loan-to-value) metrics for its non-Agency holdings in both 2012 and 2013. The charts below are self-explanatory.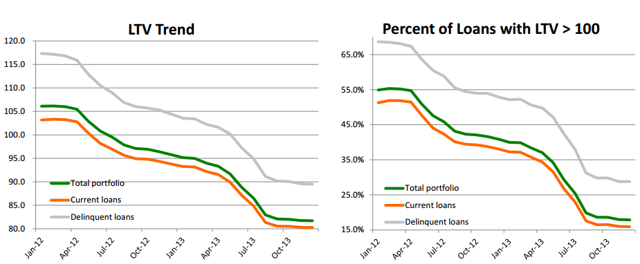 The loan-to-value ratio has been trending steadily downward over the last two years. The percent of LTVs over 100% has been decreasing. This means there are fewer underwater loans in the portfolio. It lessens the likelihood that loans will default; and if they do default, the severity of the losses incurred will be lower or non-existent. In fact, as long as the residential real estate market in the US stays relatively strong, the loans will slowly pay off. Over time, their metrics will get stronger just by doing this. Since they were bought at an approximate 26% discount to par, there is a lot of book value that MFA can pick up in this way.
More specifically, 46% of MFA's non-Agency portfolio loans are in California. California's real estate markets have been doing exceptionally well. The home prices in MFA's top 5 investment areas in California have risen in price from 19.4% to 25.6% in the five areas. In Florida, home prices in MFA's top 5 areas in that state have risen from 10.7% to 15.1%. These are very healthy numbers. MFA has been managing the type of assets (non-Agency and Agency) well; and it has also been managing the specific areas that the MBS are from well.
Naturally, the Fed's support of the housing market has helped. The taper by the Fed will not be a positive in that sense. However, the expectation is that the Fed will not allow a collapse at any time in the near future. Therefore, the recent trends in the non-Agency MBS seem likely to continue, if at a perhaps less rapid pace. The chart below of MFA's Non-Agency portfolio Current to 60 Days Delinquency Transition Rate (as of December 31, 2013) gives a good idea of how strong this trend is.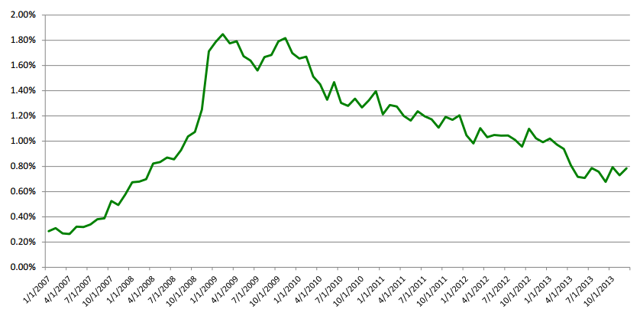 All told, MFA is a buy. The 10-year US Treasury Note Yield has fallen from 3.03% as of December 31, 2013 to 2.72% as of this writing on February 23, 2014. This means MFA's Agency portfolio is about 30 bps ahead of the game in terms of book value for Q1 2014 (at least so far). This should virtually ensure that MFA will have a good Q1 2014. It is hard to extrapolate too far beyond that.
MFA's mean duration is 0.90, which is low. That means there is not huge interest rate risk. However, big spikes might still occur. In that case, investors will be happy MFA has its non-Agency portfolio in addition to its Agency portfolio. MFA will also be happy it has a lot of ARM MBS. The portfolio table below gives a more exact picture of these holdings as of December 31, 2014.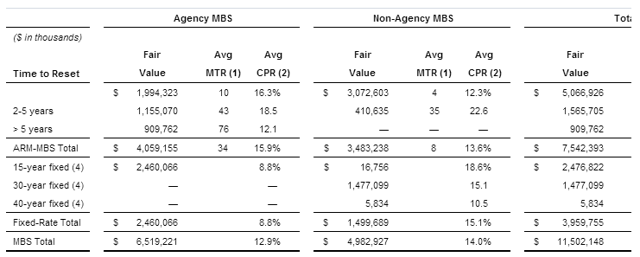 MFA seems to have adequately protected itself in almost every way. Its $4.045B notional amount of hedges complete the picture above. Plus, readers will notice that there are no 30-year or 40-year fixed rate Agency MBS in the portfolio. Such MBS would lose value much faster in an interest rate-spike situation. Not having such MBS in its portfolio makes MFA's portfolio just that much safer.
In all, MFA is a buy. It has an average analysts' recommendation of 2.2 (a buy). MFA has a five-star CAPS rating (a strong buy). I don't think investors can go too far wrong with MFA. It should continue to gain book value in its non-Agency holdings. With the 10-year US Treasury Note yield down about 30 bps so far in Q1 2014, it may even gain book value in its Agency holdings. Plus, its stock price of $7.71 as of the close on February 21, 2014 is at a 4.3% discount to its book value of $8.06 per common share as of December 31, 2014. Since mortgage REIT stocks normally trade at a 1.0 to 1.2 premium to book value, MFA's stock price has room to rise based on its book value, which itself rose in Q4 2013.
The two-year chart of MFA provides some technical direction for this trade.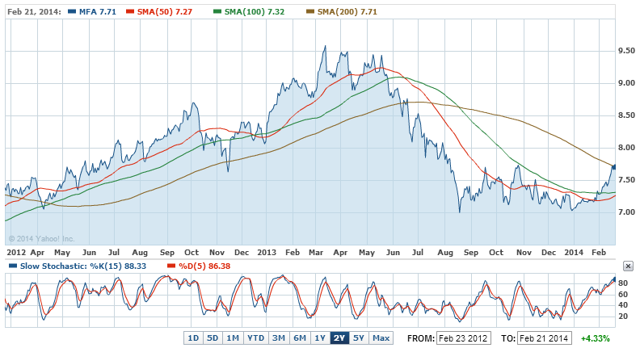 The slow stochastic sub-chart shows that MFA is overbought in the near term. The main chart shows that MFA experienced a downturn in the first half of 2013. It has since bottomed; and it has begun to rebound. It appears to be set to pass through its 200-day SMA on its way upward. Such a move would be bullish. It would officially make MFA's trend a long-term uptrend. Such a move would be a buy signal for MFA.
However, the overall market is overbought. It may reverse in the near term. If it does, it would likely take MFA down with it. At that point, MFA would be an even better buy than it is right now. A good strategy might be to average into MFA over time. The company seems solid and well-managed. It is unlikely to fail. It pays a great 10.38% dividend; and it should provide income investors with a good, safe return on their money.
NOTE: Some of the fundamental financial information above is from Yahoo Finance.
Good Luck Trading.
For Q4 2013, MFA generated net income of $74.8 million (or $0.20 per common share). It transferred $47.2 million from credit reserve to accretable discount (as loan-to-value ratios decreased due mostly to appreciation of the housing underlying the non-Agency MBS). The total transferred in FY2013 was $207.9 million. As a result of the Q4 move, the loss-adjusted yield on MFA's non-Agency portfolio increased from 7.33% in Q3 2013 to 7.77% for Q4 2013. The net interest rate spread for Q4 2013 was 2.34%. This was up from 2.24% in Q3 2013. The debt-to-equity ratio was 3.0x at Q4 2013 end.
Disclosure: I have no positions in any stocks mentioned, but may initiate a long position in MFA over the next 72 hours. I wrote this article myself, and it expresses my own opinions. I am not receiving compensation for it (other than from Seeking Alpha). I have no business relationship with any company whose stock is mentioned in this article.