Most of us are active members of the SA community because we believe that excess alpha can be generated through discerning stock picking. I'd wager that most of us believe that successful hedge funds generate excess alpha. After all, how else can they charge 2/20 (2% of Assets Managed, plus 20% of benchmark outperformance)? One way to decipher the moves of hedge funds is to pore through their quarterly 13-F filings with the view that such knowledge, even if 3 months late, can juice our portfolios with excess alpha. However, looking at their 13-F filings can be fraught with peril, as many hedge funds move in and out of stocks within a matter of days, and use complex long-short strategies that are hard to replicate on a small scale. Not to mention, that even great hedge fund managers (e.g. Jim Chanos of Enron fame) can have horrendous years. While they have the liquidity to ride those losses, you and I may not.
All is not lost however, as hedge funds operate both top-down and bottom-up. While their bottom-up strategies may vary widely, their top-down strategy is driven by macro-economic observations, and therefore a form of enlightened trend following that tends to be a longer-term play.
So let's see what top trends emerge from the most recent 13-F filings of "hedgies" with a strong past track record. I've decided here to focus on three categories of hedge fund managers - All-Stars, Contrarians and Wily Foxes. All-Stars are long-term outperformers, Wily Foxes are grizzled veterans who have been through several bull-bear cycles, and Contrarians take fairly large, concentrated and high-conviction bets. And the discovered trends are categorized into strong and developing (weak for now, but worth researching further).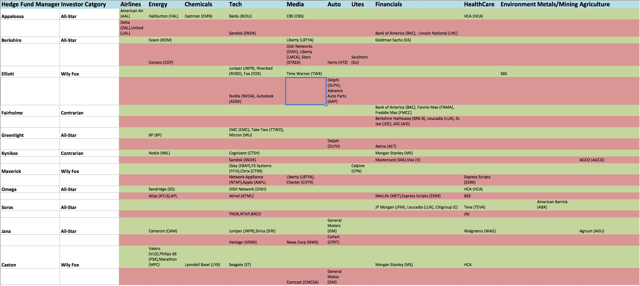 Strong Trends
Technology Value. Technology that was once the bastion of growth stocks, has now become the playground of value players. Where 'new tech' (such as Facebook and Twitter) trades at nosebleed levels, 'old tech' has been left for dead. Hedgies are betting in particular on the intersection between 'old tech' and networking, with the view that the network build-out that happened in the bubble circa-2000, needs another large round of investment. Juniper (NYSE:JNPR), Riverbed (NASDAQ:RVBD) and F5 (NASDAQ:FFIV) are part of that thesis. Similarly, the thesis that 'old tech' will be a beneficiary of the explosion of demand in storage leads to bets in EMC (EMC), Seagate (NYSE:ST) and Micron (NASDAQ:MU)
Banks as an Interest Rate Bet. Financial stocks are often misunderstood as doing poorly in inflationary environments. The truth is that financials are more dependent on an interest-rate spread (the difference between lending and borrowing rates) than on the actual interest rates. Moderate (but nor runaway) inflation is actually good for financials, as this is a period of increasing interest rate spreads. Hedge fund investments in the large financials - JP Morgan (NYSE:JPM), Bank of America (NYSE:BAC) and Citigroup (NYSE:C) is a play on interest-rate spreads.
Investment Banks as M&A Bet. With corporate coffers flush with cash, valuations still reasonable in the US (and even more reasonable in Europe), the environment is ripe for Mergers & Acquisitions. Companies that benefit most from M&A are those with a global footprint to participate in M&A's across geographies, and across companies that have large international footprints. This has led multiple hedge funds to invest in the three biggest investment banks: Goldman Sachs (NYSE:GS), Morgan Stanley (NYSE:MS) and JP Morgan.
Energy : Exploration, Not Liquids. Warren Buffett's big bet on Exxon (NYSE:XOM), brought a lot of attention to energy. This can be mis-construed as an interest in the liquids. The bet across the hedgies seems more concentrated on exploration & refining than liquids. On exploration, we see multiple large investments such as - Haliburton (NYSE:HAL), Cameron (NYSE:CAM) and Noble (NYSE:NBL). On refining there is Philips 66 (NYSE:PSX) and Valero (NYSE:VLO). The bet on liquids is on diversified players who have both oil and natural gas plays such as BP (NYSE:BP) and Exxon , as also pure shale plays such as Sandridge (NYSE:SD).
Developing Trends
Two developing trends are worth noting, one ascendant and the other waning
Chemicals & Gold : Inflationary Bets?. There are two bets on chemicals Eastman Chemical (NYSE:EMN) and Lyondell (NYSE:LYB) and one on gold with American Barrick (NYSE:ABX). These may not seem like much, until you consider that most hedgies were outright bearish on gold for the past few quarters, and inactive on chemicals. The combination of the two trends (and considering that it is George Soros betting on Gold), suggests that Gold is closer to bottom than top, and that at the very least Gold and Chemicals are worth watching.
Media. There's a phrase in the media industry - "Content is King". Over the past year, one could easily be revised to "Content Studios are King" as they have handily outperformed the S&P individually and in aggregate (below). Hedge funds sales in many of these stocks including Liberty (NASDAQ:LMCA), Starz (NASDAQ:STRZA) and News Corp (NASDAQ:NWS) suggest that caution and selectivity is warranted in the media space. With the recent Comcast, Time-Warner deal, the purchases in Time Warner (NYSE:TWX) and sales in Charter Communication (NASDAQ:CHTR) seem prescient. Here again, there is possible situational value, but no reason for sector-wide optimism.

Overall, the summary of hedge fund wisdom on the market seems to be to play the corporate cash hoard, inoculate the portfolio against possible inflation, and think of hidden value in mature technology giants. Even if you disagree with their stock picks, these trends are worth considering in your portfolio choices. As always, do your own research with this as a data point.
Disclosure: I have no positions in any stocks mentioned, and no plans to initiate any positions within the next 72 hours. I wrote this article myself, and it expresses my own opinions. I am not receiving compensation for it (other than from Seeking Alpha). I have no business relationship with any company whose stock is mentioned in this article.