On the heels of a January to remember, the market turned around with a vengeance and virtually returned to the end of 2013 as if nothing had transpired, while the weather excuse has been overdone. In addition to being classified as the disruptive economic culprit, the weather patterns will certainly supply plenty of ammunition for the global warming foes, and lend plenty of credibility to Joe Bastardi's assertion that it's all about cycles. Bad economic data and the Fed's tapering cannot tame the beast, and even the dividend story is losing steam with adopters feeling left behind. You mean 3% when I can get 300% buying the latest square hot dog technology? Who could have thought that the winter of discontent -- ice, snow and all that paralyzes us -- would become Mardi Gras which does not officially start until March 4?
The impressive rebound will only solidify the position held by market believers, and form the basis for a dismissal of any future meaningful drop as another case of temporary market indigestion. Plenty of non-believers will gradually convert, and even move to the front row cheering the invincible goose of the golden eggs that keeps on laying.
Discipline is one of the most advertised traits in investing, or trading as I prefer, and is often touted as the holy grail of success. On the flip side, a biased attitude is the most destructive and counterproductive mindset, and the most difficult obstacle to overcome. We have the habit of resisting anything that runs counter to our views, especially in the short-term. But markets lag in discounting the development of the underlying economic and business conditions by about nine months, in my view, and react to reality only when the obvious can no longer be overlooked.
Weak economics are like the apple that lies in a fruit bowl, with a small brown spot that is continuously ignored. Reason being that we're eternal optimists, especially when our money is fully deployed. We are investors, not "outvestors," conditioned and influenced by erratic media at both ends of the spectrum. Then when the apple is dissected, exposing the rotten core, markets react accordingly as if the little brown spot was a new development.
On a more concrete note and as if we needed more information, the Federal Reserve shared with us the transcripts from 2008 which I did not read. Suffice to say and according to WSJ, "central-bank officials were still struggling to grasp the magnitude of the calamity that had hit the economy" after Lehman Brothers collapsed. The point here is that the Fed had learned nothing from Bear Stearns in 2007, the first shoe to drop. How sad! That was the time to start the crisis mitigation planning, but when one doesn't have a clue… one is clueless.
There's a 30-year old book written by the late Mark McCormack, founder of International Management Group, which transformed sports and endorsements. The title is "What They Don't Teach You at Harvard Business School: Notes From A Street-Smart Executive," and should be read by all youngsters and bureaucrats. Here's a relevant excerpt for Fed members.
What I discovered was that a master's in business can sometimes block an ability to master experience. Many of the early MBAs we hired were either congenitally naïve or victims of their business training. The result was a kind of real-life learning disability -- a failure to read people properly or to size up situations and an uncanny knack for forming the wrong perceptions. In fairness to some of our employees, we do have a number of MBAs working for us who have made the adjustment to the real world quite nicely. But to assume, as I once did, that advanced degrees or high IQ scores automatically equal "business smarts" has often proved an expensive error in judgment.
Investor sentiment is extremely fluid, easily influenced and largely uninformed, and what better barometer than AAII's sentiment reading as the market recovered.
Bullish sentiment rebounded strongly in the latest AAII Sentiment Survey. The 12.3 percentage point rise was the largest since a 12.9 percentage point rebound on November 28, 2013. Accompanying the increase in optimism was the largest weekly drop in pessimism since August 29, 2013.
Sentiment improved further the following week, with "expectations that stock prices will rise over the next six months," reaching a six-week high of 42.2%.
So what about that U.S. economic engine that some see as recovering and others as sputtering? There are a few key points to be made, while considering that on the global stage Japan's GDP failed to impress despite "Abenomics," and China's lending is going off the cliff with a blindfold.
The New York Fed's quarterly report (pdf) on "Household Debt and Credit" for Q4-2013 provided a few facts.
- Originations, which we measure as appearances of new mortgage balances on consumer credit reports, dropped again, to $452 billion.
- Outstanding student loan balances reported on credit reports increased to $1.08 trillion (+$53 billion) as of December 31, 2013, representing a $114 billion increase for 2013.
- Auto loan originations decreased in the fourth quarter of 2013 to $88 billion.
In short, student loans continue to feed the credit expansion, which is not economically beneficial, and while overall delinquency rates have declined, that is not the case regarding student loans. In addition, student loans will curtail affordability for first time home buyers, an important link within the housing industry consumption chain. The latest Existing Home Sales report from the National Association of Realtors had interesting facts.
All-cash sales comprised 33 percent of transactions in January, up from 32 percent in December and 28 percent in January 2013. Individual investors, who account for many cash sales, purchased 20 percent of homes in January, compared with 21 percent in December and 19 percent in January 2013. Seven out of 10 investors paid cash in January.

Total housing inventory at the end of January rose 2.2 percent to 1.90 million existing homes available for sale, which represents a 4.9-month supply at the current sales pace, up from 4.6 months in December. Unsold inventory is 7.3 percent above a year ago, when there was a 4.4-month supply. A supply of 6.0 to 6.5 months represents a rough balance between buyers and sellers.
Cash sales are rising while sales are declining, which is not a healthy indicator as it relates to the traditional buyer, especially as the number of first time buyers contracted. While sales declined, the "median time on market for all homes was 67 days in January," four days less than during December 2013, indicating that the buying decision is faster and not a deterrent. In addition, the NAR partially blames tight inventory for lower sales and higher prices, but the excerpt above contradicts the premise. Mortgage rates is yet another factor accounting for reduced sales, but the chart below shows only a mild fluctuation of 50 basis points for the 30-year mortgage since June of 2013, a $59 difference on a $200,000 mortgage.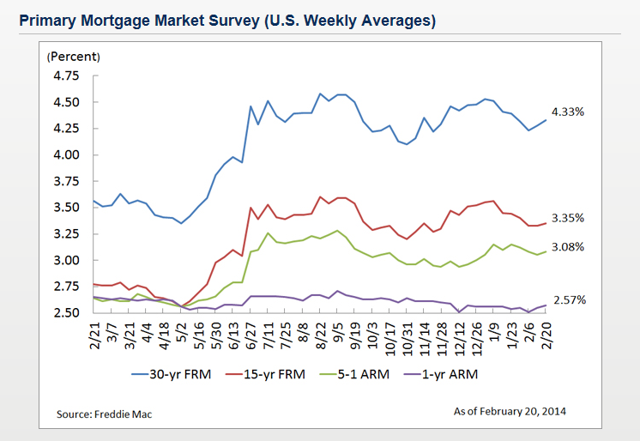 Mortgage delinquencies have declined from the high of 10.06% during Q2-2010, according to the Mortgage Bankers Association, registering 6.39% for Q4-2013 and a six-year low. But the level is still extremely elevated, and considering that the average pre-crisis delinquency rate was around 2% indicates that the problem is far from resolved. Throw in the lack of meaningful job growth, and the shape starts to form.
The recent decline in retail sales was somewhat dismissed as the weather prevented shoppers from reaching the stores. But internet sales dropped 0.6% in January, and in a common sense world people would switch, at least partially, their brick-and-mortar based purchases to the cybermall.
As far as the U.S. citizen's sentiment is concerned, a Gallup poll taken before the market rout in January provided the broad view, with the title "Americans' Satisfaction With Economy Sours Most Since 2001." A very low 28% of the people indicated to be "Very/Somewhat Satisfied" with "the state of the nation's economy," as compared to 68% in 2001, and the Fed must be very confused after the "Quantitative Extravaganza" failed to cheer us up. Much is said about our current economic condition and what we lack, but very little is uttered on why we are at this juncture. It is a consequence of the use and misuse of debt to increasingly embellish our superficial lives, and there's no better way to illustrate the root cause than the movie "The Joneses." Watch it and you'll understand.
Lastly, as an added sign of the market times and the desire to make-up for lost wealth, the investment advice du-jour is embracing leveraged ETFs, with one advisor bizarrely referring to it as an "insurance policy."
The number of registered investment advisers using leveraged and inverse ETFs - instruments that seek to deliver the opposite return of an index - has increased roughly 15 to 20 percent over the last year, according to Michael Eschmann, who heads product development at Direxion Shares, a Newton, Massachusetts-based ETF issuer with some 51 of the funds.
As the article correctly points out, leveraged exchange-traded funds are designed for short-term traders, although I can understand the greed-driven appeal and the sales pitch when "the Direxion Daily S&P 500 Bull 3x Shares ETF (NYSEARCA:SPXL), for example, gained 118.9 percent in 2013, more than triple the S&P 500's (NYSEARCA:SPY) gains." Oh, by the way, it isn't named "Daily" for nothing! So here we are, living in a bubble, some will say, which keeps expanding beyond reason and will soon become the new normal, the same "some" will eventually say.
Disclosure: I have no positions in any stocks mentioned, and no plans to initiate any positions within the next 72 hours. I wrote this article myself, and it expresses my own opinions. I am not receiving compensation for it. I have no business relationship with any company whose stock is mentioned in this article.