Overview
Last year, GameStop (NYSE:GME) saw its stock price increase by 92% and over the past three years, the stock has seen a 78% return. However, since the beginning of the year, GameStop's stock price has lost 28%. This could lead some investors to question whether now is a good time to buy shares. With a forward PE ratio right at 12x, a price to book value under 2x, and a dividend yield over 3%, at first glance the stock seems attractively valued. When looking at other factors; however, the case isn't as crystal clear.
Factor #1: Historical PE Ratio
While GameStop's PE ratio has dropped significantly over the past couple of months, it is still relatively high when looking at the company's forward PE ratio over the past five years.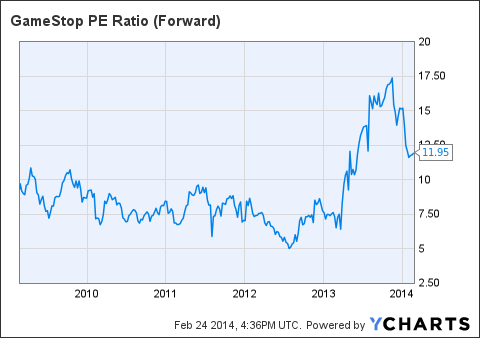 GME PE Ratio (Forward) data by YCharts
Factor #2: Dividend History
While GameStop's yield that's just over 3% is respectable, the company just started paying dividends in 2012, so its not a stock I would recommend for income investors looking for a steady stream of income.
That being said, the company has impressively raised its dividend (nearly doubling it within two years from a $0.15 quarterly dividend to its current $0.275 per share rate). So investors who don't necessarily need a reliable source of income and can tolerate more risk could potentially see large dividend growth in the future as GameStop's payout ratio remains low.
Factor #3: Difficult Market
The video game industry is not an easy market to succeed in. The somewhat recent trend toward online gaming and away from physical media makes it even more difficult. These market challenges have had a significant impact on GameStop's revenue.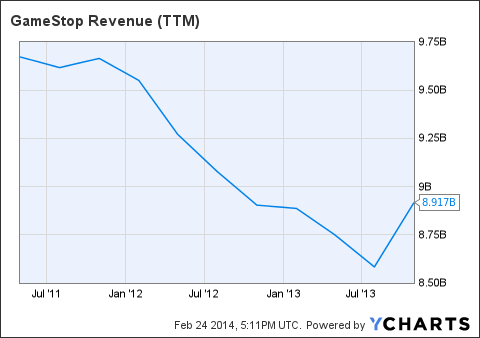 GME Revenue (TTM) data by YCharts
However, when looking at the company's longer-term history, the impact on revenue hasn't been as drastic as many have made it seem.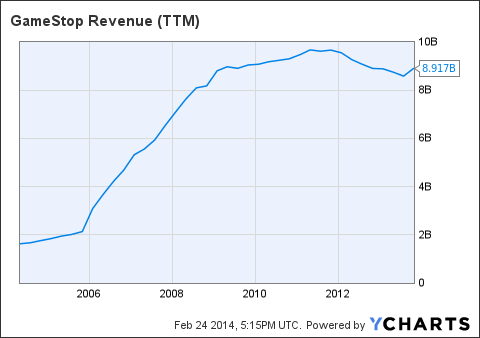 GME Revenue (TTM) data by YCharts
In its holiday sales report last month, GameStop stated that a 22.5% decline in new software occurred during the holiday period, but that overall comparable same store sales increased by 10.2%.
The new revenue sales decline did cause the company to lower its earnings guidance so it will be interesting to see what the overall 4th quarter numbers look like when released.
I do think that GameStop's newer digital and mobile businesses will help to offset some of the lost revenue of lower game sales. In Q3, mobile and digital had sales growth of 14.4% and 8.6% respectively. Over the holiday season, the same areas had increases of $23.8% and 14.9%.
Factor #4: Increased Competition
Microsoft (NASDAQ:MSFT) recently announced that it is experimenting with digital game discounts. This could lead to even bigger problems for GameStop as customers who can buy a new digital version of a game for $40 from Microsoft will be very unlikely to buy a physical version of the game for considerably more. GameStop will have to find reasons beyond just price to keep customers coming to its stores.
There are also rumors that Amazon (NASDAQ:AMZN) is close to launching its own game console (possibly as early as March), which will provide even more competition to an already saturated market.
Conclusion
While I think the demise of GameStop has been greatly exaggerated by various articles over the past several months, there are definitely some valid concerns over the future state of the company. I believe that GameStop has done a fairly decent job of diversifying its business model to help survive the challenges it faces and will continue to face in the future.
Personally, GameStop is a stock that I wouldn't buy right now. I prefer safer stocks like Coke (NYSE:KO) or AT&T (NYSE:T) that offer similar or even higher dividend yields. However, for investors that are not as risk averse, I believe that GameStop is a stock that could reward shareholders with significantly higher returns over the next several years, especially if its recent dividend growth continues.
This is definitely not a buy and forget it stock, but I do believe that at its current levels, there is still plenty of upside potential in this stock. As long as the company can continue growing its digital and mobile businesses at or near a double digit rate, I believe it is a stock worth taking a second look at. As always, I suggest individual investors perform their own research before making any investment decisions.
Disclosure: I have no positions in any stocks mentioned, and no plans to initiate any positions within the next 72 hours. I wrote this article myself, and it expresses my own opinions. I am not receiving compensation for it (other than from Seeking Alpha). I have no business relationship with any company whose stock is mentioned in this article.