Shares of Cal Dive International, Inc. (NYSE:DVR) declined during the recent market pullback and this has created a buying opportunity. The stock has started to rebound, but it is not yet back to recent highs of over $2 per share. It appears to have further upside in the long-term for a number of reasons. Cal Dive is based in Houston and it offers a variety of services to the oil and gas industry. This includes platform installations, manned diving, pipe-laying and pipe burial, as well as salvage services. These types of services are required for new construction as well as for maintenance on pipelines, production platforms, risers, etc. Cal Dive's fleet includes about 28 vessels which operate in the Gulf of Mexico, Latin America, China, Australia, and the Middle East. Let's take a look at the reasons why this stock could be heading much higher:
1) The earnings history over the past decade portends significant upside potential: This company has posted losses for the past couple of years and that is a potential downside risk worth considering. However, this company has a much longer history of strong profits and the company appears to be making major progress in returning to profitability. Naturally, the oil spill in the Gulf of Mexico in 2010 created challenges for this company as did the recession that came after the 2008 financial crisis. However, these issues are fading into the past. A look at what the company has earned in the last decade under more normal conditions suggests solid upside potential. For example, in 2008, it earned $1.05 per share. In 2007, it earned $1.24 per share. In 2006, it earned a whopping $1.91 per share. This gives a hint of the potential upside in the share price if Cal Dive even earns a fraction of these historical profits at some time in the future. The company appears to be moving towards a return to profitability and the CEO seems to be increasingly bullish about improved financial results.
2) When this company reported third quarter financial results, the CEO made bullish remarks suggesting that financial results are going to improve in coming quarters. He stated:
"Looking forward, we expect improved financial performance over the next two quarters compared to the fourth quarter last year and the first quarter this year driven by our project execution in Mexico and steady work in Australia, which is commencing its summer work season. The timing of financial improvement resulting from the Pemex awards between the fourth quarter of this year and the first quarter 2014 will ultimately depend on the percentage of each project completed by year-end. We will continue to focus on international growth while we navigate through the challenges presented by the domestic shallow water market."
The third quarter financials also show a trend of improved results. Cal Dive reported a loss of just $3.8 million or about 4 cents per share, which is a big improvement when compared to third quarter results (from a year ago), in which this company lost about $6.8 million or 7 cents per share. The company is also seeing growth, with revenues coming in at $155.2 million for the third quarter of 2013. This is nearly 14% higher than the $138.1 million in revenues generated in the third quarter of 2012. Expense reductions, tight costs controls and revenue growth can create a recipe for future profits at this company, and all these major factors appear to be trending in the right direction.
3) Exposure to Mexico is a big opportunity since Mexico's recently announced energy reforms could be a game changer: Just a few weeks ago, a bill passed that will for the first time in 75 years, allow private companies to explore for oil and gas in that country. This bill is being sent to the President of Mexico who has said he will sign it as soon as possible. This could create big opportunities for companies like Cal Dive as one Bizjournals.com article states:
"Once signed, the bill will end the 75-year monopoly the state-owned oil company, Petróleos Mexicanos, or Pemex as it's better known, has held on the country.

The energy reform could bring millions of dollars to Houston energy companies looking for exploration and production opportunities closer to home."
4) The recent pullback is a buying opportunity: As the chart below shows, this stock appears to have been impacted by year-end tax loss selling. It then spiked right around the time Mexico announced that the energy reform bill was being sent to the President for signing. The stock went over $2 per share when that news came out and it could be heading back up to that level. With the 200-day moving average at nearly $2, I would look for the stock to head back towards that level in the short-term. However, the longer-term upside potential could be significantly more, but dependent on a profit turnaround.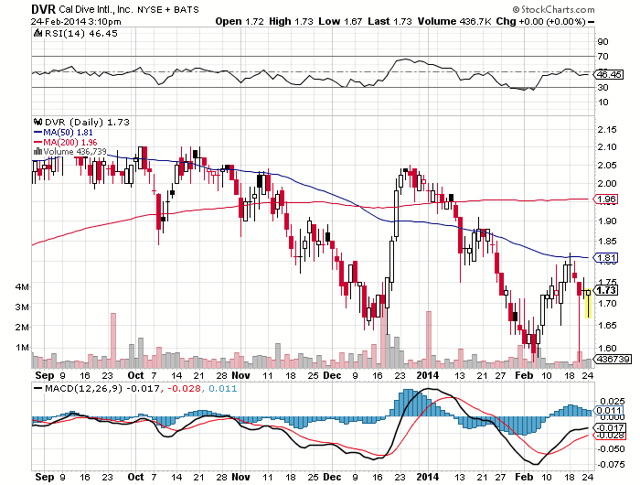 5) Cal Dive shares appear to have bottomed out from the January market pullback and shorts could help fuel the rebound. The latest data from Shortsqueeze.com shows that about 22.6 million shares or around 24% of the entire float is short. The late December rally in this stock from about $1.65 to over $2, shows how quickly this stock can make a big move on some good news. If the CEO of Cal Dive is right about expecting improved financial results in the coming quarters, a significant short-covering rally could be looming. Shorts appear complacent if they continue to believe that the oil spill shutdown in the Gulf of Mexico, or the financial crisis and ensuing recession will continue to impact this company. Cal Dive appears to be heading towards profitability and the company only has about $188 million in debt. This seems reasonable and even conservative for a company with just over $500 million per year in revenues. A reasonable level of debt also reduces potential downside risks for investors. Part of the reason shorts may feel comfortable is because this company has about $86 million in convertible bonds. As one bullish article points out, if the stock rapidly rises much beyond $2.24 per share, there could be some conversion. However, this is not something for shareholders to fear since if it occurs, it means things are going well. This $2.24 level is not a long-term cap on the stock but it could be a resistance level in the short-term. This stock has already traded above the $2.24 level as the 52-week high is $2.38 per share. Furthermore, with the shares at just $1.71 now, a jump past the $2.24 in the short-term would still provide investors with significant gains of roughly 40%, and possibly much more in the long run.
6) Huber Capital Management LLC. has amassed a very significant stake in Cal Dive. According to SEC filings made in late 2013, Huber Capital Management now has a stake equivalent to more than 17% of the entire company. This is important for a couple of reasons: First of all it shows a significant investment made by an institution that probably has done a lot of due diligence on Cal Dive before taking such a large position. Secondly, this very large investment takes even more shares off the open market and that will make it even more difficult for shorts to cover their positions. A number of other well-known funds also own a significant stake in Cal Dive, and this could be another indicator that the shares are undervalued. For example, the Fidelity Low Priced Stock Fund owns about 6.6 million shares which is equivalent to about 7% of the entire company.
In summary, this stock looks cheap now and ready to rebound in the short-term. Longer-term, the company appears to already be making solid progress to improve financial results. There are enough shorts in this stock to help fuel a short-covering rally. Finally, the recent energy reforms in Mexico could soon add to the positive momentum that appears to be gathering for Cal Dive.
Data is sourced from Yahoo Finance. No guarantees or representations
are made. Hawkinvest is not a registered investment advisor and does
not provide specific investment advice. The information is for
informational purposes only. You should always consult a financial
advisor.
Disclosure: I am long DVR. I wrote this article myself, and it expresses my own opinions. I am not receiving compensation for it (other than from Seeking Alpha). I have no business relationship with any company whose stock is mentioned in this article.