Warren Buffett (NYSE:BRK.A) again drew notice in the investment community with his company Berkshire Hathaway's (NYSE:BRK.B) purchase of 3 million shares of Liberty Global PLC (NYSE: LBTYA), a European cable operator. The move is a distinct counterpoint to the falling fortunes of the American cable industry and has many investors wondering about the reasons for the differences between the Euro and U.S. cable industries.
Berkshire's Recent Re-Alignment
Buffet began buying Berkshire Hathaway stock in 1962 and quickly became majority holder of the company's stock. He expanded the holdings of the company into a number of different businesses, and by 2014, the company became the highest-priced stock shares on the New York Stock Exchange. Under Buffett's leadership, the company became the benchmark for success in the investing community.
Berkshire's recent moves include increasing its stake in Exxon Mobile (NYSE:XOM) and General Electric (NYSE:GE). At the same time of its Liberty Global purchase, the company also eliminated its stake in Dish Network. With its reputation for timely purchases and solid results, the company has investors watching his strategy with growing interest.
Liberty Global
Liberty Global provides television, broadband Internet and telephone services. Over past years, Liberty Global has spent $50 billion dollars to consolidate the European cable industry, buying Dutch company Ziggo NV for $6.7 billion. The strategy appears to be meeting with success. Liberty stock gained 26 percent in the past year (see chart below). The company is active in 14 countries, 12 of them in Europe, and serves 24 million customers. Liberty has an aggressive strategy of using thoughtful leverage and consistent equity repurchases.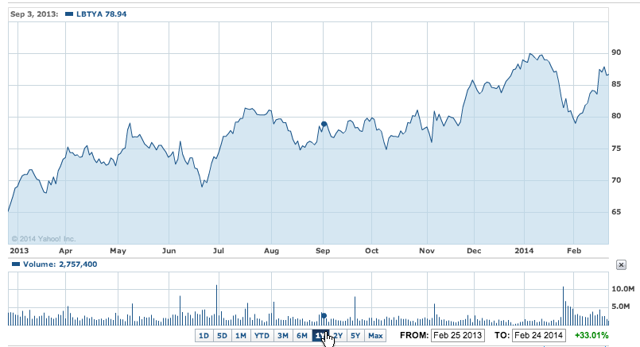 (Souce: Yahoo! Finance)
The Purchase
In Liberty Global, Buffett found a forward-thinking company with a vision for its future and an aggressive strategy for growth that is likely to pay off well in the near term. CEO Michael Fries provides the energy and vision for the company that has made a number of well-planned moves to take advantage of the improving economy in Europe and consumer's need for more broadband services.
Berkshire's Prospects
The purchase of Liberty Global appears to be just one move in a broader repositioning of investments for Buffett's Berkshire Hathaway. The company sold off a diverse range of investments recently, such as GlaxoSmithKline PLC (NYSE:GSK).
At age 83, Buffett appears to be positioning his company for the next generation of leadership, using his usual thoughtful, measured understanding of the value of companies and their likelihood to do well in the future.
Disclosure: I have no positions in any stocks mentioned, and no plans to initiate any positions within the next 72 hours. I wrote this article myself, and it expresses my own opinions. I am not receiving compensation for it (other than from Seeking Alpha). I have no business relationship with any company whose stock is mentioned in this article.