Company Overview:
Headquartered in Atlanta, Georgia, Popeyes Louisiana Kitchen (NASDAQ:PLKI) develops, operates, and franchises quick-service restaurants under the names Popeyes Chicken and Biscuits and Popeyes Louisiana Kitchen. It is the second largest quick service chicken restaurant globally by number of locations. The company operates under two separate business segments, franchised and company owned locations. At the end of December 29th 2013, the company's operation encompassed 2,225 restaurants situated in the United States, 3 territories, and 29 countries (426 were located abroad).
International markets included Afghanistan (military bases), Canada, Cayman Islands, Chile, Costa Rica, Georgia, Germany, Guam, Guyana, Honduras, Hong Kong, Italy, Jamaica, Japan, Jordan, Korea, Kuwait, Malaysia, Panama, Peru, Puerto Rico, Qatar, Saudi Arabia, Singapore, Suriname, Trinidad & Tobago, Turkey, United Arab Emirates, United Kingdom, and Vietnam.
Recommendation:
During the past 6 months Popeyes' stock has stalled after a substantial surge in which investors witnessed an 830% increase over the past five years. However, my analysis suggests that the company will continue to increase in value as stores in over-saturated markets close and further international expansion boosts net income past management's 15% long-term growth in earnings. Given the company's growth prospects, favorable commodity price trends for 2014, and product differentiation to peers, Popeyes should see its stock rise to $54 a share based on 2014 EPS of $1.75 (Representing a 38.25% increase from current levels). Further, given the company's solid financial position it could be ripe for an acquisition, either by private equity firm or a large rival seeking to diversify.
Recent News/Headlines:
On January 13th, Popeyes reported preliminary fiscal results for the year. Same-store sales growth came in at 3.7% (Guidance was for 3.5%-4%). 194 new restaurants were opened around the world while 68 closed. The company opened more restaurants in 2013 than in any single year in the past 15 years. Earnings are expected to come in at $1.42-$1.43 per diluted share for the fiscal year.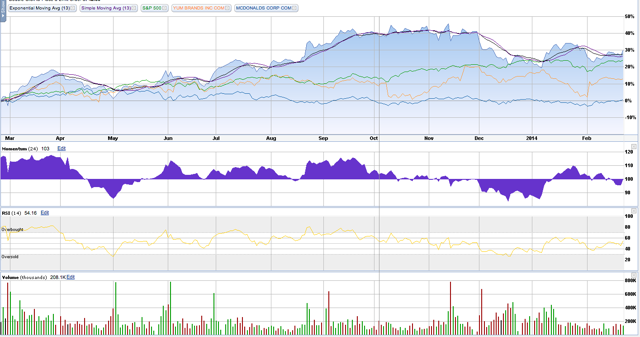 Click to enlarge
Fundamentals/Growth Prospects:
According to QSR Magazine, of 30 quick service restaurants that are publicly traded, 19 of them outperformed the S&P 500 with the overall benchmark rising 29.6%, posting the biggest annual gain in 16 years. While investors plowed money into equities in search of yield, this sector still offers attractive valuation in this space.
During the 4th quarter, Popeyes added 49 domestic and 22 international locations. For the full year, the international store count stood at 456, up from 425 at the end of 2012 (7.29% YoY increase). Domestically, Popeye's added 8 company owned stores, and 90 franchised locations bringing the total to 1,769 (5.36% increase). While domestic openings outpaced international ones, management has put a strong emphasis on global growth as an important driver to future earnings. This is evident in same store sales growth. For the full year domestic same store sales grew 3.7% but only a meager .3% in the 4th quarter. International sales however were stronger, growing 4.7% for the year and 4.2% for 4th quarter. Overall, sales grew 3.7% for 2013 and .8% for 4th quarter.

(Chart provided by Popeyes Fiscal 2013 Preliminary Results)
Expansion:
While I expect management to talk about global expansion during its next conference call on February 26th, there is no doubt that the recent sell-off in emerging markets will prove to be a risk especially in a market like Turkey which makes up a large part of their existing international franchise footprint (To be exact, 10% of the international market). While the company operates in 29 countries, they are currently looking to open in 9 new countries in South East Asia (Thailand, Philippines), Latin America (Argentina, Brazil, Columbia, Ecuador), and Eastern Europe (Czech Republic, Hungary, Poland) this year. The company is also looking to expand into Canada where it already has existing operations. While new international locations made up 24% of all new locations during 2013, I expect growth in emerging markets to accelerate this year led by progress in Brazil, Thailand, and the Philippines. With the World Cup this summer, consumer spending in Brazil should pick up (Despite inflation, consumer income has continued to grow and unemployment remains low compared to many other emerging markets).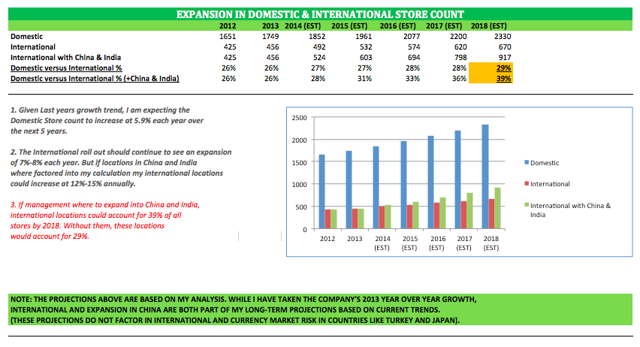 Click to enlarge
(My excel chart, estimates and opinions are solely mine)
Income Statement:
Looking at the income statement we can see that over the past 5 years the company has been able to stress efficiencies with its expenses. While sales have grown at a tepid pace (something I expect to change this year), earnings per share have increased greatly and have kept investors piling into the name. With sales expected to come in at $207 million for the most recent fiscal year (15.9% increase from 2012), my analysis suggests that this number could easily increase to $248 million during 2014 based on additional store openings (targeting a sales increase of 20%). Over the past 5 years EPS has averaged 13.66% while sales a lukewarm 4.97% over the same time frame. Yet the rapid growth target in sales I'm projecting is not without merit and investors should be willing to pay up for this name in an industry with giants such as Yum Brands (NYSE:YUM) and McDonald's (NYSE:MCD) struggling to find new growth opportunities.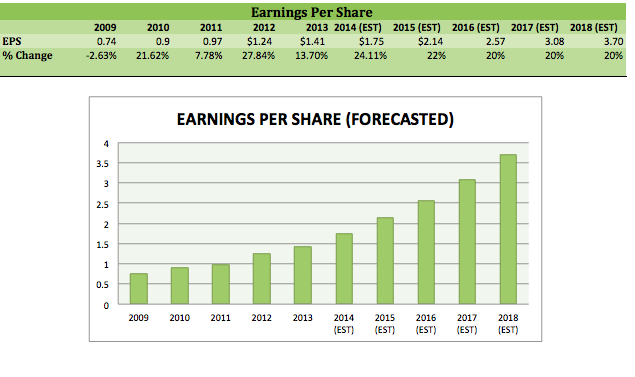 Figures are in $Millions unless otherwise noted.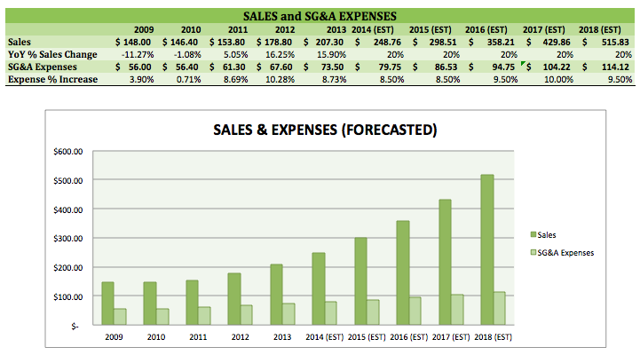 Click to enlarge
(My excel charts, estimates and opinions are solely mine)
As you will see in the competitors chart I've created, Popeyes is one of the weakest in terms of sales per store (Total sales divided by the number of existing locations). While this should worry some investors, management has caught on, and is expanding its menu offering with more attractive items in addition to closing underperforming stores. (In 2013, the company closed 68 unsatisfactory restaurants primarily in over-saturated markets such as New Orleans.)
Balance Sheet:
While only 2.3% of all stores are company owned, there still remains a significant amount of assets on the balance sheet. At the end of 2013, the company had $42 million in cash (an increase of $25 million from 2012). Total assets stood at $191.7 million driven by an increase in cash and net property, plant, and equipment. With $60.5 million in long-term debt this amount is very manageable. In fact, compared to the industry, total debt/total assets is around the average of 72.25%. In financial terms anything above 50% represents more debt leverage, but given low volatility in Year over Year sales, this should not be considered a dangerous metric. Total equity has continued to increase as well, as the negative balance in retained earnings continues to shrink. Given the current earnings trend, I suspect that by 2017 this balance could turn positive and in 2018 the company will have the option to either embark on a share repurchase program or issue a dividend.
Statement of Cash Flow:
As a growing company Popeyes has a less established and more volatile statement of cash flow. However, cash from operations continues to grow (32.2% increase from 2008 to 2012) and I'm expecting a continued increase for 2013. Investment activity on the other hand has been substantial as the company ramped up store openings both company owned and franchised. In 2012, the company spent $35 million on CAPEX. In comparison, in the 3 quarters ending in September 2013, $24.6 million was spent. By doing a back of the envelope calculation and given the fact that 71 new stores opened during the 4th quarter, I'm expecting nearly $9 million to have been spent on capital expenditures. This would translate into $33.63 million in CAPEX for 2013. Financial activity has also shown a positive trend over the past 5 years. While the company raised some additional debt from last year, this is almost non material as long-term debt has dropped 56% from 2008 to 2012. Overall, total Free Cash Flow has been stable. However, given the continued spending in CAPEX in addition to a slowdown in sales (affecting operating activity), Free Cash Flow may come in light for 2013 at around $2-$10 million. This would be down from $12.9 million in 2012 and $24.5 million in 2011.
Growth Trend in Chicken Sales:
While many do not eat chicken at quick service restaurants such as Popeyes, the evidence is clear that the growth in chicken consumption continues to eclipse that of beef, pork, and turkey. While this chart only shows data up until 2009, we can assume that the rise in chicken prices is the result of continued consumption. While I believe prices will stabilize in 2014 before showing a moderate increase in 2015, as chicken production increases to meet demand, Popeyes should benefit from this as the increase in beef will affect many of its competitors who offer beef related menu items (Burger King, McDonald's, Wendy's).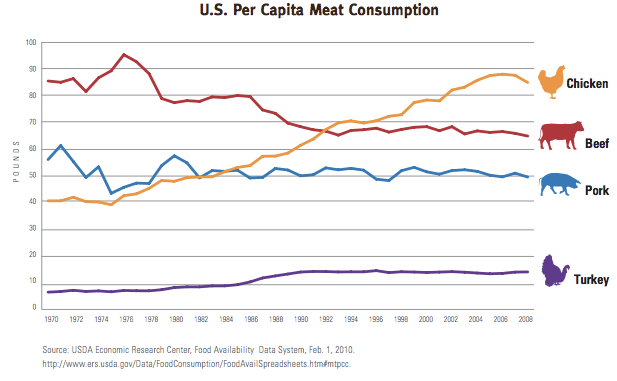 (Chart provided by the Washington Post with data collected from the USDA Economic Research Center)
Industry/Competition:
According to Standard & Poor's, the full-service restaurant segment is projected to come in essentially flat for the year with same-store sales growing .5%. The quick-service restaurant segment however is expected to grow 2%-3% and Popeyes is likely to benefit as most of this growth will likely come from emerging markets in Asia and Latin America.
While I am bullish on Popeyes and expect the company to open an additional 190 new stores in 2014 (in-line with 2013 guidance) there is growing worry that competition may hamper progress as larger competitors like McDonald's and Yum Brands use their deep pockets to remodel existing stores and develop new menu items to spur stagnant sales. Further, headline news from Yum Brands China has been dismal. The owner of the KFC brand has realized declining sales in China due to bad publicity, bird flu, and the substitution effect (wealthier consumer are trading up for pork and beef). Yet to Popeyes' benefit, they currently do not have a presence in China and only operate in 7 East Asian countries. Though an expansion into China may be rough, it's essential to my forecasted long-term growth projections for the company. In comparison to its rivals Popeyes could begin as early as this year with 7-10 locations adding 20-25 stores from 2015-2017. However, on the company's franchise opportunity website they are currently not looking for openings in China or India, which is another market that's a must in my view.
When comparing Popeyes to its 11 closest rivals, the company is rather small measured by market value. In terms of "value per store," one of my favorite industry metrics, it is one of the cheapest. Nonetheless revenue per store has been a problem. Although I mentioned that revenue and earnings are outpacing many in terms of YoY change, it's hard to argue that companies like Fiesta Corporation, Buffalo Wild Wings and Chick-Fi-La do not offer a more compelling alternative. Yet Popeyes is no longer a domestic play and should be considered an international one in which overseas operations offer an attract investment for new and existing shareholders with Same Store Sales Growth in excess of 3.5%

Click to enlarge
(My excel chart, data on store count collected from company websites and financial sales and market value from marketwatch.com)
Risks to My Recommendation:
Despite my bullishness, there are always risk factors that investors should take note of.
Firstly, Popeyes has international franchises in many emerging markets that have recently witnessed extreme market and political volatility. Turkey accounts for 42 of its stores and with the recent market correction investors are right to worry about currency fluctuations as the Lira has halved in value against the dollar. There are also 16 locations in Singapore and 9 locations in Peru. All of these countries should expose the company to currency risk and it will be interesting to see how such fluctuations affect management's decisions on hedging, marketing, and opening new stores.
Secondly, though I have emphasized rather rigorous sales projections, these are estimates and reality always differs. This is evident in actually fourth quarter same store sales figures that fell short of management expectations and guidance.
Volatility in commodity prices, primarily chicken will play a major factor in future costs and sales. While consumers are eating more chicken, the price of beef has increased and as a result may drag prices of chicken up as well as a result of the "Substitution Effect." Beef prices have been hitting new highs as a draught across the US has forced many cattle ranchers to sell their herds early, leaving stock for future slaughter at unknown levels.


Click to enlarge
(Chart provided by Index Muni)

Click to enlarge
(Chart provided by Index Muni)
One of the greatest risks to Popeyes is an unattractive menu offering. Recently one of their most popularly priced items was brought back due to demand. However, from my point of view the menu should offer some "alternatives" such as grilled chicken and salads. The company's "Live Well" selection is rather weak and the company should discover healthier options especially in markets that have been moving in that direction. Likewise, shrimp is the main ingredient in its seafood related products, and are fried always fried.
Technicals:
From a technical point of view Popeyes has moved slightly above its simple and exponential moving averages. This is a positive sign as the stock appears to have bottomed out after having hit a 6-month low of $37 in early January. Likewise the stock remains in the "Sweet Spot" of its Relative Strength Index and sits well below the overbought territory that would mark it as a sell. Momentum on the other hand is a little difficult to get a read on as daily volume in the stock is quite low (130 thousand on any given day). So any major up or down swings in terms of percentages shouldn't be over scrutinized. I'm expecting volume to pick up in the week after earnings and should trade above $42 a share (An 8% increase from the stock's close on Friday 2/21/2014).
Insider Activity/Institutional Ownership/Short Interest:
Looking at insider transactions can give us an indication of management confidence in the company, and while insiders can sell for any reason, purchases in my opinion should be viewed as a positive sign. In regards to Popeyes, there has been quite a bit of insider activity over the past year in which all transactions except for one purchase, have been sales. Primarily by the Chief Executive Cheryl Bachelder and Officer Ralph Bower who have sold 205,756 and 36,000 shares respectively. Ms. Bachelder's stake now stands at 189,658 shares with a market value of $3.83 million. Looking at the insider activity chart, there doesn't seem to be a pattern in which insiders have sold in advance of stock selloffs despite the fact that since the beginning of the year there have been quite a few sales.
(click to enlarge)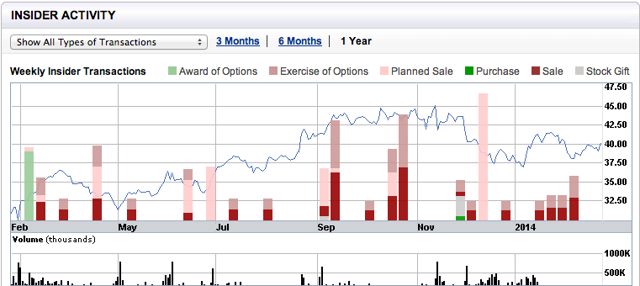 Click to enlarge
(Insider information provided by Etrade Financial)
Recommendation/Conclusion:
Despite Popeyes' run up, the company still has enormous growth potential. If management can continue to execute its current strategy along with future expansion in China and India, the stock price will continue to rise. While I have detailed a strong case for $54 a share in 2014, long term the stock price could be fairly valued at $65 (Based on EPS of $2.60 and a P/E of 25). If my projections are correct, the stock should get there in 2016 when it earns $2.57 a share.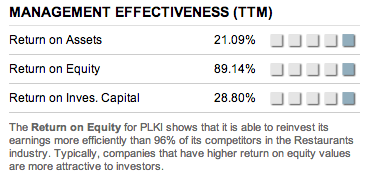 (Management Effectiveness provided by Etrade Financial)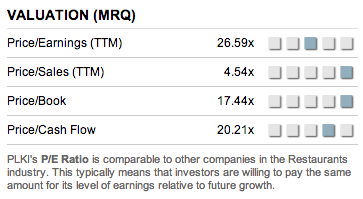 (Valuation assessment provided by Etrade Financial)


(Shareholder Equity provided by Etrade Financial)
Other names I like in this space are Arcos Dorados (NYSE:ARCO), YUM (Split up), and Domino's Pizza, Inc. (NYSE:DPZ).
Disclosure: I have no positions in any stocks mentioned, but may initiate a long position in ARCO over the next 72 hours. I wrote this article myself, and it expresses my own opinions. I am not receiving compensation for it. I have no business relationship with any company whose stock is mentioned in this article.