Health Care REIT (NYSE:HCN) is a real estate investment trust that invests in senior housing and skilled nursing facilities as well as in hospitals, medical offices and life science facilities. As a healthcare focused REIT, HCN positions itself to capitalize on the long-term trend of increasing demand for senior healthcare which is expected to increase materially over the next two/three decades as seniors make up an increasing percentage of the total US population.
In a healthcare-related article about Omega Healthcare Investors (NYSE:OHI), a strongly-growing REIT alternative to Health Care REIT, I have argued that increasing senior healthcare demand will be a defining trend in the US healthcare market to which long-term investors should get exposure to. Specifically, I have argued:
Higher living standards, less risky jobs and better healthcare have substantially increased live expectancy. The congressional budget office (CBO) issued a report in June 2013 titled 'Rising Demand for Long-Term Services and Supports for Elderly people' which substantiates the information provided in this article. Strong secular trends in the senior nursing care market (that is, longer average life expectancies and larger age cohorts in the 75+ year range) will drive demand for nursing care as well as nursing facilities in the future, particularly after 2030. The share of elderly adults as percent of the US population is expected to increase dramatically over the next decades as indicated by the graph below. Baby boomers are going to be a particular demographic driving nursing care demand going forward.
The CBO report turned out to be extremely thorough and even broke down institutionalization rates for different age cohorts. Naturally, more senior citizens (age cohort 85+) are much more likely to be institutionalized: About 13% of people aged 85 or older were either institutionalized in a nursing home or a senior care facility in 2010 (source: CBO report).
With an increasing life expectancy, higher-quality jobs and advances in the medical field, the trend of higher senior care demand will only increase in the future. Investors who want to get exposure to a leading real estate investment trust committing substantial resources to building a long-term healthcare-related property portfolio could consider Health Care REIT.
Strong FFO growth supporting dividend payments
HCN completed $5.7 billion in investments in 2013. In the fourth quarter alone HCN completed 12 property acquisitions with a transaction volume of $278 million. HCN's extensive transaction history is largely responsible for above-average normalized FFO growth: In the fourth quarter 2013 HCN's FFO stood at $0.99 per share -- a 16% y-o-y increase. For the full-year 2013 HCN reported a normalized FFO of $3.81 per share (plus 8% y-o-y) -- outperforming my previous full-year estimate of $3.75 per share.
HCN's FFO strength translates into dividend strength. The REIT currently pays investors $0.795 quarterly per share which equates to $3.18 per share annually and to a forward dividend yield of 5.48%. In addition to a strong dividend yield, investors also get exposure to the US healthcare megatrend described above.
The company itself is upbeat about future growth opportunities. Chairman and Chief Executive Officer of Health Care REIT, George L. Chapman, commented fourth quarter results:
The outstanding 16% increase in FFO and FAD this quarter demonstrates the power of our platform and its earnings
potential. We generated another quarter of excellent NOI growth and invested a sector-leading $5.7 billion last year in high quality properties occupied by the best systems and operators in healthcare and seniors housing. Entering 2014, our relationships, immersion in health care, asset quality, mix of short and long-duration leases, and international reach uniquely position us to deliver superior, consistent growth.
Share performance
Since I last covered Health Care REIT nearly three month ago, HCN's share price hardly moved: The stock is up only 4%. Shares of HCN have lost a decent chunk of their value in 2013: They are down 28% since their 52-week High of $80.07 which makes an addition to income-oriented portfolios even more attractive now.
(Source: Yahoo Finance)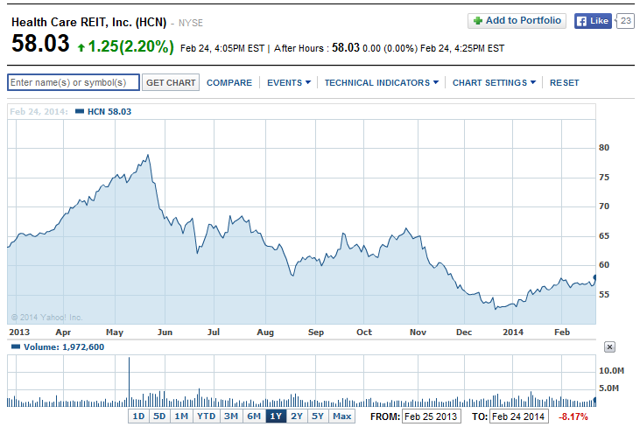 Click to enlarge
Conclusion
Health Care REIT is an acquisition-hungry real estate investment trust with a long-standing dividend record: The company just paid its 171st consecutive quarterly dividend. Credible remuneration records and dividend streams are the most important criterion for income-oriented investors and I think Health Care REIT passes the test.
HCN's acquisition drive does not only translate into strong FFO growth, but also lead to a more diversified company with a wider geographic reach. HCN is currently concentrated in the United States with 88% of its NOI (net operating income) achieved at home -- 8% of its NOI originates in Canada and 4% in the United Kingdom.
Investors who want exposure to a long-term trend such as senior healthcare demand in the United States should consider Health Care REIT. The company has a credible record in achieving growth and leveraging relationships. Strong dividend growth prospects and an international platform add to HCN's appeal as a long-term income play. Long-term BUY.
Disclosure: I am long OHI. I wrote this article myself, and it expresses my own opinions. I am not receiving compensation for it (other than from Seeking Alpha). I have no business relationship with any company whose stock is mentioned in this article.