Natural Resource Partners L.P. (NYSE:NRP) reported first quarter 2010 net income attributed to limited partners of 24 cents per unit, below the Zacks Consensus Estimate of 28 cents and last year's profit of 33 cents. This was primarily due to lower revenues and increased interest expense.

Total revenues declined 5% year over year to $63.5 million, driven by a decline in coal royalty revenues which resulted from curtailed production in Central Appalachia. Coal production in the quarter decreased 13% over last year to 10.8 million tons, while coal royalty revenues declined 10% to $47.2 million. Average coal royalty revenue per ton this quarter increased 4% to $4.37, driven by increased metallurgical coal prices and higher sales contracts of some of NRP's lessees' steam coal generated.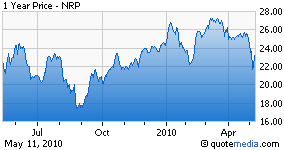 Natural Resource Partners reported distributable cash flow (DCF) of $33.8 million in the quarter, down 4% from last year and 47% from the fourth quarter 2009, predominantly due to a $1.7 million decrease in net cash provided by operations.

Total operating expenses improved 11% to $22.6 million in the quarter. Depreciation, depletion and amortization expenses declined $1.7 million due to lower production. In addition, general and administrative expenses declined $1.0 million due to a decrease in accruals under the long-term incentive compensation plan.

However, interest expense in the quarter increased $2.6 million to $10.7 million over the same period last year due to additional borrowings for acquisitions and the issuance of senior notes in the first quarter of 2009 at higher interest rates than the credit facility.

During the first quarter, NRP completed three acquisitions totaling $50.6 million. Firstly, NRP completed the second acquisition related to the Deer Run property for $40 million. Second, NRP purchased an overriding royalty interest on approximately 1.6 million tons associated with two separate properties for $3 million. Third, NRP closed an aggregate reserve acquisition related to a greenfield crushed stone property in Monon, Indiana that will service both the Gary, Indiana and Chicago, Illinois markets.

The company anticipates completing three more acquisitions on the Deer Run property during the remainder of 2010 for approximately $125 million.

Subsequent to the end of the quarter, NRP closed two additional aggregate acquisitions in California and Indiana, totaling $23.5 million. The California acquisition consists of silica sand reserves while the Indiana acquisition relates to a fine grind processing facility currently under construction that NRP will lease to the producer.

At the end of the quarter, NRP had approximately $63 million in cash, down $20 from the cash available at year-end 2009. Recently, NRP closed an equity offering that generated $112 million to the partnership of which $74 million was used to retire the outstanding balance on the credit facility and approximately $18 million was used for the purchase of acquisitions since quarter end. With the repayment of the balance outstanding, the company now has the full $300 million available on its credit facility. This results in ample liquidity to fund its Deer Run acquisitions and access the financial markets.