When regions of the United States experience worse-than-expected winter conditions, demand for coal tends to spike, and as a result of that spike the North American railroad sector benefits quite considerably.
For example, analysts at J.P. Morgan recently noted that, "the surge in demand for coal from U.S. power plants is pushing up coal prices, and since coal is by far the biggest cargo carried on U.S. rails (accounting for 41% of all rail tonnage and 21% of the rail sectors gross revenue), the recent polar vortex could benefit the sectors overall performance over the next several quarters".
With that said, I wanted to take closer look at CSX Corp. (NYSE:CSX), and highlight a number of reasons behind my decision to remain long on this particular railroad play.
Recent Performance And Trend Behavior
On Monday, shares of CSX, which currently possess a market cap of $28.05 billion, a forward P/E ratio of 12.91 and a dividend yield of 2.17% ($0.60), settled at a price of $27.32/share.
Based on their closing price of $27.32/share, shares of CSX are trading 3.00% above their 20-day simple moving average, 0.40% above their 50-day simple moving average and 6.94% above their 200-day simple moving average. These numbers indicate a short-term and long-term uptrend for the stock, which generally translates into a moderate buying mode for both near-term traders and long-term investors.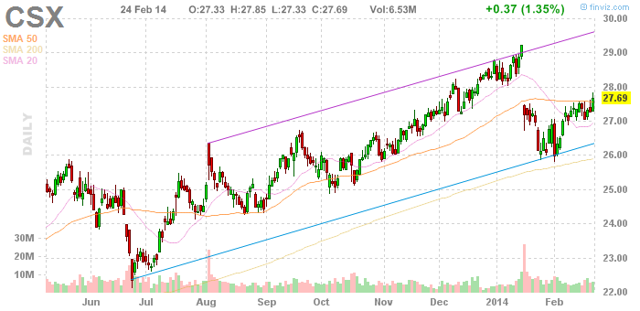 Click to enlarge
If the country's colder-than-expected winter weather continues through the end of February and into mid-March, I strongly believe CSX could see its trend-related behavior improve and its stock price jump between 5% and 8% by the end of March.
Comparative Ratios Set CSX Apart From Its Peers
Even though the above referenced numbers indicate a long-term uptrend for the stock, I actually think the company's current share price of $27.69/share offers investors a considerable point of entry; especially since shares are trading at a much better forward P/E ratio than a number of its sector-based peers.
For example, CSX's forward P/E ratio was 12.91 based on its Feb. 24 close, whereas the forward P/E ratios of Canadian Pacific Railway Ltd. (NYSE:CP) (forward P/E ratio of 15.33 as of 2/24) and Genesee & Wyoming Inc. (NYSE:GWR) (forward P/E ratio of 17.90 as of 2/24) were both considerably higher, and at a level of 15+ which some income-driven investors may find unattractive.
Recent Dividend Behavior
Since May 26, 2011, CSX has increased its quarterly distribution twice in the last two years, with the most recent increase having taken place in May of 2013. The company's forward yield of 2.20% ($0.60) coupled with its ability to maintain its quarterly distribution over last several years, make this particular railroad play a highly considerable option, especially for those who may be in the market for a moderately-yielding stream of quarterly income.
Risks Factors (Most Recent 10-K)
According to CSX's most recent 10-K, there are a number of risk factors investors should consider before establishing a position. These risk factors include but are not limited to:
#1- Climate change and other emissions-related legislation and regulation could adversely affect the Company's operations and financial results.
#2 - Changing dynamics in the U.S. energy markets could negatively impact profitability.
#3 - Failure to complete negotiations on collective bargaining agreements could result in strikes and/or work stoppages.
Conclusion
For those of you who may be considering a position in CSX Corp, there are a number of things I'd keep a close eye on over the next several months. For example, I strongly recommend keeping a close eye on the company's trend behavior over the next 3-6 months, especially since the recent polar vortex has caused an increase in the demand for coal throughout the US and Canada. I'd also look to keep a closer eye on the company's ability to continue to enhance both its dividend and shareholder value over the next 12-24 months.
Disclosure: I am long CSX. I wrote this article myself, and it expresses my own opinions. I am not receiving compensation for it (other than from Seeking Alpha). I have no business relationship with any company whose stock is mentioned in this article.