(Editors' Note: This article covers a stock trading at less than $1 per share and/or with less than a $100 million market cap. Please be aware of the risks associated with these stocks.)

Highpower Technology (NASDAQ:HPJ) is a small-cap Chinese company that makes nickel metal-hydride (Ni-MH) and lithium-ion rechargeable batteries. The company also makes battery management solutions and is a battery recycling provider. In a previous article on HPJ I reported on some bullish catalysts for the company:
A new state-of-the-art automated manufacturing facility.
Lower tax rates for its subsidiary in Shenzhen.
Rapidly increasing sales of lithium-ion rechargeable batteries
New Large EV Order
To that bullish backdrop we can now add a large order that validates the company's strategy to increase lithium-ion battery manufacturing capacity: this morning it was announced that Highpower has been awarded its first ever large scale order for large format lithium batteries to be used in electric buses from Huizhou Yipeng Energy Technology Ltd. Highpower expects sales to Huizhou Yipeng will range between $4 million and $5 million during fiscal year 2014.
Highpower will deliver two formats of product including 16 Amp-hr and 20 Amp-hr NCM [Li(NiCoMn)O2] lithium polymer batteries. These batteries have already passed the quality tests from both the China National Quality Center and Huizhou Yipeng. The batteries will be used in hybrid electric buses and plug-in hybrid electric buses. It is estimated that each hybrid electric bus will use 96 of the 16 amp-hr batteries while each plug-in hybrid electric bus will use 288 of 20 amp-hr battery.
Chairman and CEO of Highpower International George Pan had this to say:
This order represents a significant milestone for Highpower, as we now have expanded our target market from the traditional consumer electronics market into the rapidly growing electric vehicles segment. We are also pleased to have teamed up with a great customer in the EV market.
Impact of New Order
While terms of the deal were not disclosed, there are three conclusions that can be readily drawn:
The order will represent a ~4% increase in total annual revenues for 2014.
The order will help HPJ ramp up capacity utilization at the new lithium ion battery manufacturing plant.
The order validates HPJ's reputation as a high quality trusted source of lithium-ion batteries for the rapidly growing Chinese EV and plug-in hybrid vehicle market.
One of the risks identified in my earlier piece was a potential for problems with the new startup facility and/or an uncompetitive product line. Since the new battery has already passed quality testing, these two issues have been largely put to bed. It is now a much simpler issue of manufacturing the designs in volume. Of course the good news is that such a large order will go a long way in building up capacity utilization at the new facility. This will help increase efficiencies, reduce overhead, and improve margins.
The most recent quarterly earnings report was excellent:
Net sales increased 21.9% year-over-year to $38.9 million.
Lithium battery net sales up 31.8% in Q3 2013 over Q3 2012.
Total lithium battery pieces sold increased 22.5%.
A 39.0% increase in volume per Amp-hr.
Gross margin of 18.6.
Net income of $0.7 million, or $0.05 per diluted share.
Lower Income Tax Rates
In August of 2013, Highpower International subsidiary Springpower Technology received the "High Tech Enterprise" certification from the Scientific and Technology Commission of Shenzhen. As one of China's "High Tech Enterprises" Springpower will benefit from a reduced income tax rate of 15% versus 25% for non "High Tech" status companies. Total company income taxes for the first 9 months of 2013 were $579,352 versus $943,213 for the similar year earlier period - a savings of ~2.5 cents/share.
Summary & Conclusion
HPJ was one of my picks to double in 2014. Its first ever large scale order in the EV market takes the company to the next level and will improve capacity utilization, increase efficiencies, reduce overhead, and improve margins at the new state of the art manufacturing facility. It is a prelude of good things to come.
The company's stock was up nicely yesterday as this news may have leaked out a bit early. I expect further gains today and throughout 2014. I reiterate my $5 price target for 2014 - about a 60% gain from yesterday's close. The company could easily become a 3 or 4 bagger this year if it inks more sales contracts like this one. As a result, I have replaced my "Speculative STRONG BUY" rating.
HPJ is now simply a "STRONG BUY".
| | |
| --- | --- |
| Market Cap: | 44.03M |
| P/E: | 53.39 |
| EPS: | 0.06 |
| Div & Yield: | N/A |
NOTE: Q4 and full-year 2013 earnings are due out around the 3rd week of March.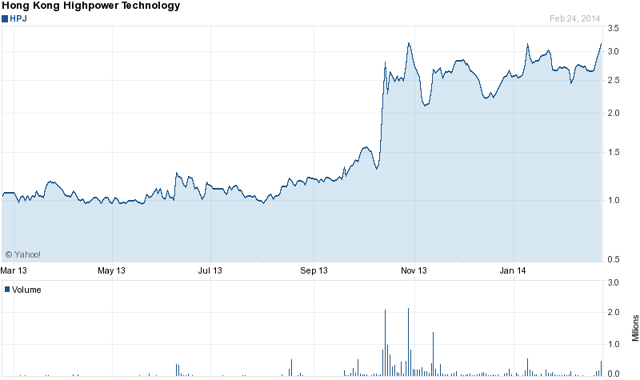 Disclosure: I am long HPJ. I wrote this article myself, and it expresses my own opinions. I am not receiving compensation for it (other than from Seeking Alpha). I have no business relationship with any company whose stock is mentioned in this article.
Additional disclosure: I am an engineer, not a CFA. The information and data presented in this article was obtained from company documents and/or sources believed to be reliable, but has not been independently verified. Therefore, the author cannot guarantee its accuracy. Please do your own research and contact a qualified investment advisor. I am not responsible for investment decisions you make. Thanks for reading and good luck!