March 2 will conclude the 25 day underwriter research quiet period that began with Revance Therapeutics Inc (NASDAQ:RVNC)'s February 5 IPO.
The end of the quiet period will likely bring a temporary increase in the price of RVNC's shares as the IPO underwriters publish positive research reports on the botox biopharmaceutical firm.
RVNC enjoyed a highly successful IPO, pricing at the high end of its expected range at $16 per share on a deal upsized from five million to six million shares. The stock saw even better results on its first day, gaining a whopping 67.8%. After holding steady for a few weeks, RVNC again shot up on February 21, closing at $29.84 per share.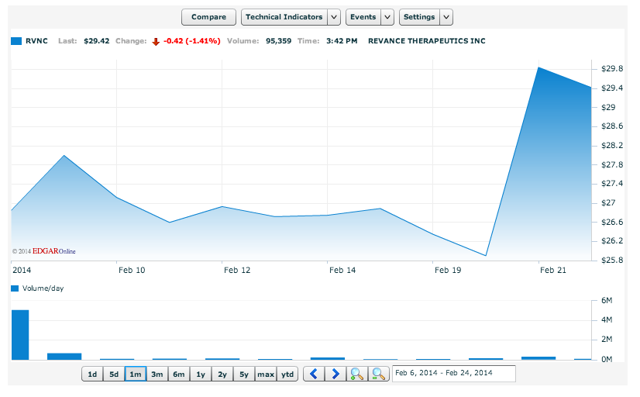 Click to enlarge
Source: Nasdaq.com
The firm's underwriters, including Cowen and Company LLC, Piper Jaffray & Co, and BMO Capital Markets Corp, will attempt to push RVNC to even greater heights with a swell of positive information beginning on the second.
Both the research that we have performed over the course of the past two years and the conclusions of recent academic research have empirically evidenced a correlation between the reputation and number of underwriters and an improved stock price near the expiration of the quiet period.
The gains in share price generally begin to take shape several days ahead of the expiration as investors anticipate the upcoming underwriter research releases and make early purchases in the hopes of profiting by those releases. These investors realize that the underwriters will only publish positive reports on companies that they recently backed. The early purchases create an atmosphere of increased demand and place upward pressure on the price of shares.
Business Overview
RVNC is a clinical-stage biopharm firm specializing in the development and commercialization of new forms of botox, the protein used in various therapeutic and aesthetic procedures. The firm's lead product candidate, known as RT001, is a formulation of botulinum toxin type A that is applied topically-a commercially promising proposition, given that existing forms of botox must be injected.
The relative lack of pain and simplicity of use of such a topical product could draw a far wider market than injectable products. RT001 could be a key element of procedures designed to remedy crow's feet (lines around the eyes), and might also be applied in therapies for conditions including hyperhidrosis and migraines. RT001 is currently in a Phase 3 clinical development program, and is on track to be submitted for regulatory approval in the United States and Europe in 2016.
If it gains approval, RT001 will face competition from similar products manufactured by cosmetics firms and other pharmaceutical firms, such as Merz Pharma, Allergan (NYSE:AGN), Ipsen Ltd, Valeant Pharmaceuticals International (NYSE:VRX), US WorldMeds, and Johnson & Johnson (NYSE:JNJ).
Management
Co-founder L. Daniel Browne has served as RVNC's President and CEO since the firm began operations in 2002. He previously served as the President and CEO of Neomend Inc and as the President of Prograft Medical Inc. He also served in leadership positions in the Gore Medical Products Division of W.L. Gore & Associates, Inc for over 16 years. He holds a B.S. from the University of Hawaii in Cell and Molecular Biology and an M.B.A. from Pepperdine University.
Investment Opportunity
RVNC's explosive start is an indication of the current enthusiasm for botox products, and we believe that the upcoming quiet expiration will be an opportunity for the firm's underwriters to stoke that excitement to new heights.
RT001's easy application gives it obvious market appeal, and though RVNC hardly needs a boost from underwriter reports, the expiration of the quiet period will be as good a time as any to get a piece of this firm.
Disclosure: I am long RVNC. I wrote this article myself, and it expresses my own opinions. I am not receiving compensation for it (other than from Seeking Alpha). I have no business relationship with any company whose stock is mentioned in this article.