Lumenis Ltd (NASDAQ:LMNS), a maker of medical lasers for minimally invasive procedures with principal offices in Yokneam, Israel, plans to raise $100 million in its upcoming IPO. The firm will offer 6.3 million shares at an expected price range of $15-$17 per share. If the IPO can reach the midpoint of that range at $16 per share, LMNS will command a market value of $597 million.
LMNS filed on December 6, 2013.
Lead Underwriters: Credit Suisse Securities LLC, Goldman Sachs & Co, Jefferies LLC
Underwriters: Wells Fargo Securities LLC
Summary
Lumenis Ltd is a global provider of energy-based clinical solutions-lasers, in a word. The firm offers products for both medical and elective procedures across its surgical, ophthalmic and aesthetic segments. The company's collection of lasers are pictured below.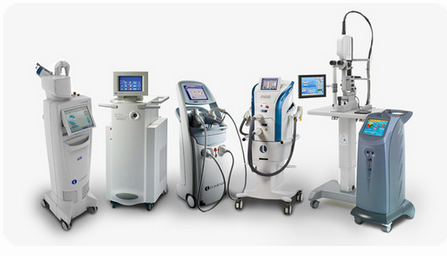 (http://lumenis.com/About)
These products include the VersaPulse PowerSuite platform, which uses high-powered holmium lasers for urologic work, the M22 platform for the treatment of skin conditions, and the Selecta multi-modality platform for retinal, secondary cataract, and glaucoma therapies. LMNS's emphasis on development has paid off in the form of a potent product development pipeline, and the firm plans to launch one to two new platforms in each of its segments by the end of 2014. The firm markets its products through an in-house service organization of over 200 employees.
Valuation
LMNS offers the following figures in its F-1 balance sheet for the year ending December 31, 2013:
Revenue: $265,356,000.00
Net Income: $17,393,000.00
Total Assets: $206,445,000.00
Total Liabilities: $188,745,000.00
Stockholders' Equity: $17,700,000.00
For the year ended December 31, 2013, LMNS generated $265.4 million in revenues, a 6.7% increase from the previous year, $17.4 million in net income, a 148.6% increase from the previous year, and $26.0 million in adjusted EBITDA, a 45.7% increase from the previous year.
Business
LMNS must compete with other producers of medical lasers, some of which have superior financial resources. The firm's competitors vary from segment to segment. In the surgical segment, competitors include Deka Laser Technologies, OmniGuide, Dornier MedTech America, American Medical Systems, Lisa Laser Products, and Karl Storz; in the aesthetic segment, competitors include Cynosure (NASDAQ:CYNO), Alma Lasers, Solta Medical, Cutera (NASDAQ:CUTR) and Syneron (NASDAQ:ELOS); in the ophthalmic segment, competitors include Ellex, Iridex (NASDAQ:IRIX), Carl Zeiss Meditec, Nidek and Quantel Medical. Competition in aesthetic lasers is particularly problematic because the lasers used in aesthetic applications are much less sophisticated, meaning that there is little barrier to entry for new competitors.
Management
CEO Zipora Ozer-Armon joined Lumenis in May 2012. She previously held various management positions at Teva Pharmaceutical Industries Ltd, most recently serving as head of Teva's Japanese market activities, and at SanDisk Corporation, including Senior Vice President, Retail Sales and Marketing. Ms. Ozer-Armon holds a bachelor's degree magna cum laude in economics and an MBA degree majoring in finance and marketing from Tel Aviv University, Israel.
Investment Opportunity
We rate this IPO a buy in the current proposed price range of $15 to $17. Recent IPOs from Israel have performed well and we like the line up of underwriters for the deal.
LMNS has recorded an impressive six consecutive quarters of revenue and profitability growth, and now seems to be hitting its stride with a rapidly expanding Asia-Pacific market, which now accounts for approximately a third of its total revenues-China is the firm's second largest market.
The installation of a new management team led by Zipora seems to have paid quick dividends, as the firm has improved its gross margins from 45.6% in calendar 2011 to 53.6% in calendar 2013.
We believe that LMNS is a firm on the rise, and as laser procedures continue to increase in popularity, its solid brand and well-developed product pipeline should lead to success.
Disclosure: I have no positions in any stocks mentioned, but may initiate a long position in LMNS over the next 72 hours. I wrote this article myself, and it expresses my own opinions. I am not receiving compensation for it (other than from Seeking Alpha). I have no business relationship with any company whose stock is mentioned in this article.